printer friendly version
SA antennas used in major European tunnel project
19 July 2017
News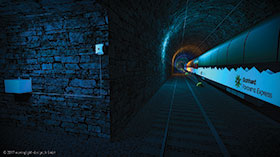 The Gotthard Base Tunnel, the world's longest and deepest train tunnel through the Swiss Alps, makes exclusive use of South African antenna technology from Poynting Antennas to ensure a seamless digital communication service underground over a route length of more than 57 km.
The R130 billion project was completed recently and consists of two single-track tunnels connecting Switzerland with Italy, as part of the so-called New Railway Link through the Alps.
"We are very proud of the fact that a South African company was chosen as the preferred antenna supplier for this colossal project," says the CEO of Poynting South Africa, Michael Howard. "For the pan-European project team to choose our antenna, the XPOL 2 v2, as part of their highly sophisticated communications network in the tunnel is significant, as it highlights the competitiveness of our technology."
According to Howard the XPOL 2 v2 antenna is 4G/LTE and 2G/3G compatible and is also capable of operating over a wide frequency range that caters for the requirements of the many network operators in different countries. "Many competitors have either/or scenarios, but not a versatile antenna that is as robust as ours," he boasts.
Poynting Antennas has years of experience with the supply of antennas for communications and data transfer. They are developed specifically for tunnels and mining operations. These antennas operate in hazardous mining environments and tunnels where performance and safety are necessary. With up to 250 trains (200 freight trains, 50 passenger trains) per day passing through the tunnel at speeds of up to 200 km/h, engineers and tunnel operators must be able to rely on a seamless and uninterrupted communications service to manage the traffic.
"Our XPOL 2 v2 was specifically developed with this in mind," says Howard. "The radome is made of the same vandal- and water-resistant material used in our other antennas. It has been extensively field-tested in extreme temper-atures under harsh conditions." He adds that Poynting was confident the high performance LTE antenna would operate flawlessly in temperatures as low as -40°C, making it perfect for the extreme weather experienced during the winter months in Switzerland.
The antenna is ideal for a wide range of applications, including areas with poor data signal reception, for capacity enhancement in urban and rural areas.
"Being a wideband antenna, the XPOL 2 v2 increases network operator flexibility, as it works on most networks meaning a new antenna is not needed per network operator," says Howard, adding that this also improves system transmission reliability.
For more information contact Poynting Antennas, +27 (0)12 657 0050, info@poynting.tech, www.poynting.tech
Credit(s)
Further reading:
SAAB Avionics approves Elmatica auditor for PCB subcontractors
29 January 2020, Elmatica , News
Expanding on its international relationship with SAAB Avionics, printed circuit board supplier Elmatica's Jan Pedersen successfully completed the Part 21, Subpart G training, regarding auditing of printed 
...
Read more...
---
Electronics news digest
29 January 2020 , News
South Africa
• More than 2400 people braved pouring rain in Gauteng to attend the 5th Science Forum South Africa (SFSA) at the CSIR International Convention Centre in December. The annual Department 
...
Read more...
---
Appointment: ExecuKit
29 January 2020, ExecuKit , News
ExecuKit has appointed Marshant Benadie in a technical support role.    His duties will include developing business with clients within the electronics distribution and manufacturing industry; managing 
...
Read more...
---
Repro installs new SMT production line
29 January 2020 , News
The company is actively seeking business for this new assembly line, which promises extensive flexibility and high accuracy, and can easily be expanded for higher production volumes.
Read more...
---
AREI's plans for 2020
29 January 2020 , Editor's Choice, News
Erich Nast, chairman of AREI, discusses what the association's plans are to tackle the challenges and opportunities that lie ahead.
Read more...
---
Check out Dataweek's new-look website
29 January 2020, Technews Publishing , Editor's Choice, News
Our technical design elves have been locked away in our basement for months, improving the visual design and functionality of the Dataweek website.
Read more...
---
From the editor's desk: A fresh start, but a sad farewell?
29 January 2020, Technews Publishing , News
A couple of years ago, not many people had heard of Yekani. The company bought a stake in the well-known East London-based satellite decoder maker, Vektronix, and subsequently acquired it in its entirety. When 
...
Read more...
---
Actum Group merges its brands under one roof
29 January 2020, Actum Electronics , News
Over the years, Actum Group has been built through partnerships, collaborations and acquisitions of leading companies with a long history and rich legacy in the industry. These companies include Actum 
...
Read more...
---
Company profile: ETION Create
EMP 2020 Electronics Manufacturing & Production Handbook, ETION Create , News
ETION Create is an original design manufacturer (ODM) that has been in operation for more than 25 years. Originally known as Parsec, the company was founded in 1993, focusing on the design, development 
...
Read more...
---
Company profile: Laser Stencil Technology
EMP 2020 Electronics Manufacturing & Production Handbook, Laser Stencil Technology , News
Since its inception in 2004, Laser Stencil Technology has grown into a prominent figure in the South African electronics manufacturing industry. Having been involved in circuit board manufacturing using 
...
Read more...
---