printer friendly version
Practically educating Gauteng's technical educators
16 August 2017
News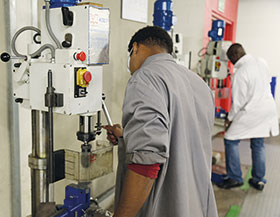 The annual Gauteng Department of Education training, which has been running for three years in partnership with Resolution Circle, took place in July.
The training was for electrical (electrical, electronics and digital systems or logics) and mechanical (fitting and machining) technology subjects. The first week of the training took place on the 3rd to the 6th of April this year, and covered the first six months of the new syllabus which will be implemented in 2018. The second week of the training took place on the 3rd to the 7th July, covering the last six months of the new syllabus.
This training takes place at Resolution Circle-Perskor in Doornfontein, Johannesburg. The building is equipped with all the necessary equipment and designated stations for both electrical and mechanical fields, with access to the University of Johannesburg for additional facilities and equipment. The building in itself is able to accommodate a large number of people.
Because Resolution Circle is accredited by the University of Johannesburg and the Engineering Council of South Africa (ECSA) to offer practical and theoretical training to engineering graduates, the company also created the content for the training and provided instructors to help guide the educators throughout the training. Resolution Circle's electrical and mechanical engineers put together all the presentations, notes and activities for the training, while qualified engineers that train graduates at Perskor served as instructors to help train the teachers.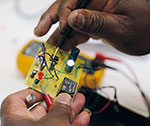 The electrical technology trainees were tasked with creating a printed circuit board (PCB) which they had to complete by the end of the training. Electrical engineer, Michelin Della Tamin, explained that, "We want teachers to start inducing entrepreneurship into the learners, you don't have to live in Johannesburg to do a small project on your own... you can solve a problem in your small area". The board is something that educators can teach students to do with their own resources and for different functions.
One of the educators, Devos Muzu; who teaches digital systems at the Vosloorus technical high school, said that he finds the training necessary because it is important to understand what one is teaching the students. Mr Muzu also said that he would advise students who have technological ideas to approach Resolution Circle for help in developing them into actual products.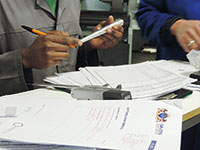 Jan Bredenhann, an electrical technology teacher at Princess High School, who has been teaching for 32 years, said that "I still learn new things as well, with coming here and seeing other teachers doing things in a different method, or I teach them a different method". Mr Bredenhann also said that he is more of a technical person and enjoys practicals more than theory, which has always been the structure of the training as the subjects covered are highly practical. This is confirmed by Alain Richard Ndjiongwe, an electrical instructor from the University of Johannesburg, who explained that the reason behind the training is to help teachers understand the curriculum in terms of practical implementation. "A little bit of theory and more practicals," he said.
The fitting and machining trainees were given a task to complete using conventional milling and lathe machines, dividing heads, grinding wheels and specialised tooling, all available at the Perskor building. Annah Mothoa, who teaches fitting and machining at the Soshanguve technical high school, said that she considers the training relevant as it makes it easier to teach the content to learners when, as a teacher, one has done it themselves.
In addition to the training, Resolution Circle's engineers offered additional material and help to the teachers. Adriaan de Villiers, a mechanical engineer, said: "We've worked with the teachers and we've given them a lot more extra information that they can carry over to the students, and we have told the teachers that if they want help we will go out to the high schools". The engineers have also given out their email addresses to the teachers, for any additional information that they might be unsure about or material that the teachers might need in future.
Resolution Circle not only provided the content, facilities and instructors for the training, but its hospitality department catered for the trainees, serving them breakfast, tea, lunch and an afternoon snack throughout the training. At the end of the training, the educators described the training as very helpful in terms of skills development. Most of them said that they learned new things and one educator even went on to say that "whoever did not come for training, they are missing out."
For more information visit www.resolutioncircle.co.za
Further reading:
Coalition calls on European Commission to postpone SCIP deadline
30 September 2020 , News
A coalition of 40 industry organisations has written a letter to European Commission President Ursula von der Leyen calling for decisive action to solve implementation issues within the EU Waste Framework 
...
Read more...
---
Follow this engineering journey of a 3D-printed boat
30 September 2020, RS Components (SA) , News
RS Components is releasing a 10-episode documentary series – titled SeaQuest – featuring members of its DesignSpark engineering community who embarked on a first-of-its-kind challenge to design, test 
...
Read more...
---
Mouser revamps technical resource centre
30 September 2020, TRX Electronics , News
Mouser Electronics has redesigned its Technical Resource Centre, which contains the global distributor's ever-expanding collection of technical articles, blogs, eBooks, and Methods technology and solutions 
...
Read more...
---
IPC teams up with PSMA on standards and more
30 September 2020 , News
IPC and the Power Sources Manufacturers Association (PSMA) have signed a memorandum of understanding (MoU) pledging to build a strong complementary relationship between the two entities with a focus on 
...
Read more...
---
Battery Technologies Conference goes virtual
30 September 2020 , News
Vukani Communications is back again with the 6th edition of the Battery Technologies Conference, and this time around the gathering is virtual. Topics to be discussed include, but are not limited to:
...
Read more...
---
A journey into the automation unknown
31 August 2020 , News
From small-town specialised machine builder to global technology company, Jendamark Automation's business journey has been characterised by calculated leaps into the unknown. And, as South African manufacturers 
...
Read more...
---
Resources for home and building automation
31 August 2020, TRX Electronics , News
Mouser Electronics is expanding its comprehensive range of building automation solutions from Silicon Labs, TE Connectivity (TE), and Littelfuse for the rapidly growing smart home and building automation 
...
Read more...
---
From the editor's desk: Enough of 2020 already
31 August 2020, Technews Publishing , News
Forgive me, but I don't think I'm alone in being a bit all over the place mentally at the moment. So far, two of my colleagues have been diagnosed positive for COVID-19 and have fortunately recovered. 
...
Read more...
---
Tribute to Paul Soteriou
31 August 2020 , News
Paul Soteriou, a man always willing to share what he had with a smile and with a deep-found love for South Africa, passed away earlier this year.
Read more...
---
Personality profile: Brian Andrew
31 August 2020, RS Components (SA) , News
With a father who is a civil engineer and an older brother who is a chemical engineer, you could say engineering was in the DNA of Brian Andrew.
Read more...
---