printer friendly version
Actum Group remains resilient and optimistic for 2020
25 November 2019
News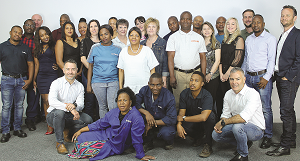 Running a profitable business in South Africa is not for the fainthearted. With the national treasury downgrading this year's growth forecast from 1,5% to 0,5%, and state-owned entities like Eskom negotiating more bail-out terms, local businesses and South African residents feel the urge to throw in the towel and look for greener pastures.
The truth, however, is that business is tough all over the world. Looking at protests in Hong Kong, Brexit and trade negotiations between China and the US, it is clear that there is no 'perfect' economy or country.
Our business has without a doubt experienced the weight of tough economic trading conditions, and we've had to work hard to remain competitive and profitable. But even though there are multiple economic factors within South Africa that we cannot control, we can determine how we respond to them. Difficult conditions have forced us to streamline our business and product offering to ensure we remain competitive and relevant.
Security within the Actum Group structure
Actum Group started with the acquisition of Actum Electronics in 2004, when current management took over what was a relatively small, niche importer and distributor of electronic interconnect components. The business had been around for 35 years at the time, with an excellent name and reputation in the local electronics market. Actum Electronics is synonymous with quality and our customers have access to the best global brands on an exclusive basis.
In an ongoing effort to remain competitive and give our clients the best service, our business has matured into Actum Group. In 2006 we acquired Altico Static Control Solutions, as we realised a growing number of our electronics manufacturing customers needed static control. Actum Group has since acquired Dowson and Dobson Industrial, Peter Jones Electronic Equipment and most recently, Banding and Identification Solutions Africa.
By acquiring like-minded, specialist businesses, we have access to a diverse customer database that enables us to trade across different industries and cross-sell quality products. If one industry experiences difficulties, another might be trading favourably and enables us to remain competitive.
Two more pillars of success that will form a key focus for our Group in 2020 include quality products and strong supplier and customer relationships. The key to our ongoing success is our product offering of specialised quality products. Over the years we have partnered with the leading suppliers in the industry to offer our customers quality that they won't find anywhere else. Through improved communication, stock management and lead times, we have significantly improved our customer service, and aim to continue doing so next year.
In conclusion
We believe that Actum Group is in a favourable position to make a positive difference within the South African economy. We believe that honesty and integrity are more important than ever when doing business on our developing continent.
We know that in a harsh economic climate and hard world, that a company that cares, is a company that's strong. We are believers. We build trust. We invest in relationships and we will not compromise on quality. We look forward to continue growing our business and making a difference in South Africa in 2020.
For more information contact Actum Group, +27 11 608 3001, sales@actum.co.za, www.actum.co.za
Credit(s)
Further reading:
Plan your media strategy with Technews Publishing
23 October 2019, Technews Publishing , News
Dear Marketer, Have you ever looked back on a year and wondered how you survived it? For the majority of South Africans, 2019 started benignly enough, cosily wrapped in the blanket of Ramaphoria that 
...
Read more...
---
From the editor's desk: Getting charged up for the new year
25 November 2019, Technews Publishing , News
The Springboks' Rugby World Cup triumph in Japan couldn't have come at a better time for South Africa, as the country was in desperate need of a jolt of positive energy going into the festive season. 
...
Read more...
---
Battery Technologies Conference 2019
25 November 2019 , News, Editor's Choice
Batteries are a critical enabler of the Fourth Industrial Revolution, powering technology in products from laptops and handheld devices to electric vehicles and renewable energy storage.
Read more...
---
Boom, doom and gloom, or something completely different?
25 November 2019, Technews Publishing , News, Editor's Choice
As the end of 2019 looms, it's time to look ahead to what next year might have in store, and reflect on the year gone by. And what a year it's been.
Read more...
---
Additional renewable energy development zones proposed
25 November 2019 , News
The second phase of the Strategic Environmental Assessment (SEA) for wind and solar photovoltaic (PV) energy in South Africa proposes three additional Renewable Energy Development Zones (REDZs) for wind 
...
Read more...
---
Locally developed electronic circuit builder for students
25 November 2019, K Measure , News, Editor's Choice
K Measure, creator of the award-winning Seebox engineering education solution, has created a new innovation to enable quick and easy electronic circuit-building. The SeeBlocks electronic circuit creator 
...
Read more...
---
Clearing the Static:Topic 9: Time to audit your ESD environment
25 November 2019, Actum Electronics , News
Now that we are nearing the end of the year, it is a good time to audit your existing static control products and procedures. The first line of defence should be your antistatic floor, since this is the 
...
Read more...
---
Winning hackathon entry curbs cell tower battery theft
25 November 2019 , News
The fourth annual TADHackJHB was held at MTN's head office in Fairland, Johannesburg, on 12 and 13 October, with a cell tower protection app emerging as the winner. The theme for the 2019 global TADHack 
...
Read more...
---
Products of the Year 2019
25 November 2019 , News
SmartServer IoT by Adesto
BAW-based chips for comms infrastructure
Cellular modules for LPWA applications
SoCs and software for smart home and IIoT
Secure element for IoT authentication
MPU for embedded 
...
Read more...
---
Additive manufacturing developments powered by RAPDASA
25 November 2019 , News
Over the past two decades, South Africa has seen significant advancements in Additive Manufacturing (AM), otherwise known as 3D printing. As a key player in enabling and developing the fourth industrial 
...
Read more...
---