printer friendly version
Actum Group remains resilient and optimistic for 2020
25 November 2019
News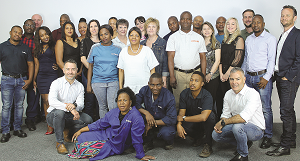 Running a profitable business in South Africa is not for the fainthearted. With the national treasury downgrading this year's growth forecast from 1,5% to 0,5%, and state-owned entities like Eskom negotiating more bail-out terms, local businesses and South African residents feel the urge to throw in the towel and look for greener pastures.
The truth, however, is that business is tough all over the world. Looking at protests in Hong Kong, Brexit and trade negotiations between China and the US, it is clear that there is no 'perfect' economy or country.
Our business has without a doubt experienced the weight of tough economic trading conditions, and we've had to work hard to remain competitive and profitable. But even though there are multiple economic factors within South Africa that we cannot control, we can determine how we respond to them. Difficult conditions have forced us to streamline our business and product offering to ensure we remain competitive and relevant.
Security within the Actum Group structure
Actum Group started with the acquisition of Actum Electronics in 2004, when current management took over what was a relatively small, niche importer and distributor of electronic interconnect components. The business had been around for 35 years at the time, with an excellent name and reputation in the local electronics market. Actum Electronics is synonymous with quality and our customers have access to the best global brands on an exclusive basis.
In an ongoing effort to remain competitive and give our clients the best service, our business has matured into Actum Group. In 2006 we acquired Altico Static Control Solutions, as we realised a growing number of our electronics manufacturing customers needed static control. Actum Group has since acquired Dowson and Dobson Industrial, Peter Jones Electronic Equipment and most recently, Banding and Identification Solutions Africa.
By acquiring like-minded, specialist businesses, we have access to a diverse customer database that enables us to trade across different industries and cross-sell quality products. If one industry experiences difficulties, another might be trading favourably and enables us to remain competitive.
Two more pillars of success that will form a key focus for our Group in 2020 include quality products and strong supplier and customer relationships. The key to our ongoing success is our product offering of specialised quality products. Over the years we have partnered with the leading suppliers in the industry to offer our customers quality that they won't find anywhere else. Through improved communication, stock management and lead times, we have significantly improved our customer service, and aim to continue doing so next year.
In conclusion
We believe that Actum Group is in a favourable position to make a positive difference within the South African economy. We believe that honesty and integrity are more important than ever when doing business on our developing continent.
We know that in a harsh economic climate and hard world, that a company that cares, is a company that's strong. We are believers. We build trust. We invest in relationships and we will not compromise on quality. We look forward to continue growing our business and making a difference in South Africa in 2020.
Credit(s)
Further reading:
Extended ST offering from RS
26 May 2021, RS Components (SA) , News
The scope of the supply chain agreement between RS Components and STMicroelectronics has been significantly extended. This new phase in the relationship between the two companies will result in a substantial 
...
Read more...
---
Structural battery breakthrough towards 'massless' energy storage
26 May 2021 , News
Chalmers University of Technology researchers have produced a structural battery that performs 10 times better than all previous versions. It contains carbon fibre that serves simultaneously as an electrode, 
...
Read more...
---
BAMR celebrates 75th anniversary
26 May 2021, BAMR , News
BAMR is celebrating its 75th year of serving the local industry, having been founded on 22 May 1946 by Fred Duk, a former Major in the South African Air Force, upon his return from the Second World 
...
Read more...
---
A tribute to Mark Schroeder
26 May 2021, S.J. Andrews Electronics , News
Written by Mark's family, with pride as we remember our husband, our dad, our granddad – a man who was and will always be so loved.
Read more...
---
Company profile: RS Components SA
26 May 2021, RS Components (SA) , News
The history of RS Components is a long and storied one, having been founded in London in 1937 by J.H. Waring and P.M. Sebestyen under the name Radiospares. In those early days, the company was run out 
...
Read more...
---
Electronics news digest
26 May 2021 , News
Overseas
Business
ams reported robust first quarter of 2021 group results with revenues of $1,55 billion and an adjusted operating (EBIT – earnings before interest and taxes) margin of 11%. This was 
...
Read more...
---
Events
26 May 2021 , Events, News
Tech Snacks
7-18 June 2021 Virtual A new learning concept from Arrow Electronics allowing visitors to choose from up to five Tech Snacks from across all the event's headline topics. Each snack is a 15-minute 
...
Read more...
---
From the editor's desk: The continued relevance of Moore's Law in the IoT age
26 May 2021, Technews Publishing , News, Editor's Choice
The end of Moore's Law (which famously posits that the number of transistors in a dense IC doubles about every two years, assuming an optimal price/performance ratio) has repeatedly been predicted, yet 
...
Read more...
---
Machine learning scholarships on offer at Wits University
26 May 2021 , News
DeepMind, an Alphabet company (Alphabet is the holding company of Google) and a world leader in the field of artificial intelligence (AI) research and its applications in the real world, has donated scholarship 
...
Read more...
---
Bosch opens advanced silicon wafer fab
26 May 2021 , News
Bosch has opened one of the world's most modern silicon wafer fabrication plants (fabs) in Dresden, Germany. Production will start as early as July – six months earlier than planned. From that time on, 
...
Read more...
---