printer friendly version
Actum Group remains resilient and optimistic for 2020
25 November 2019
News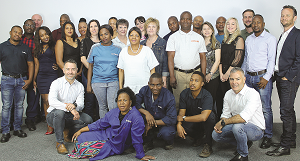 Running a profitable business in South Africa is not for the fainthearted. With the national treasury downgrading this year's growth forecast from 1,5% to 0,5%, and state-owned entities like Eskom negotiating more bail-out terms, local businesses and South African residents feel the urge to throw in the towel and look for greener pastures.
The truth, however, is that business is tough all over the world. Looking at protests in Hong Kong, Brexit and trade negotiations between China and the US, it is clear that there is no 'perfect' economy or country.
Our business has without a doubt experienced the weight of tough economic trading conditions, and we've had to work hard to remain competitive and profitable. But even though there are multiple economic factors within South Africa that we cannot control, we can determine how we respond to them. Difficult conditions have forced us to streamline our business and product offering to ensure we remain competitive and relevant.
Security within the Actum Group structure
Actum Group started with the acquisition of Actum Electronics in 2004, when current management took over what was a relatively small, niche importer and distributor of electronic interconnect components. The business had been around for 35 years at the time, with an excellent name and reputation in the local electronics market. Actum Electronics is synonymous with quality and our customers have access to the best global brands on an exclusive basis.
In an ongoing effort to remain competitive and give our clients the best service, our business has matured into Actum Group. In 2006 we acquired Altico Static Control Solutions, as we realised a growing number of our electronics manufacturing customers needed static control. Actum Group has since acquired Dowson and Dobson Industrial, Peter Jones Electronic Equipment and most recently, Banding and Identification Solutions Africa.
By acquiring like-minded, specialist businesses, we have access to a diverse customer database that enables us to trade across different industries and cross-sell quality products. If one industry experiences difficulties, another might be trading favourably and enables us to remain competitive.
Two more pillars of success that will form a key focus for our Group in 2020 include quality products and strong supplier and customer relationships. The key to our ongoing success is our product offering of specialised quality products. Over the years we have partnered with the leading suppliers in the industry to offer our customers quality that they won't find anywhere else. Through improved communication, stock management and lead times, we have significantly improved our customer service, and aim to continue doing so next year.
In conclusion
We believe that Actum Group is in a favourable position to make a positive difference within the South African economy. We believe that honesty and integrity are more important than ever when doing business on our developing continent.
We know that in a harsh economic climate and hard world, that a company that cares, is a company that's strong. We are believers. We build trust. We invest in relationships and we will not compromise on quality. We look forward to continue growing our business and making a difference in South Africa in 2020.
For more information contact Actum Group, +27 11 608 3001, sales@actum.co.za, www.actum.co.za
Credit(s)
Further reading:
SAAB Avionics approves Elmatica auditor for PCB subcontractors
29 January 2020, Elmatica , News
Expanding on its international relationship with SAAB Avionics, printed circuit board supplier Elmatica's Jan Pedersen successfully completed the Part 21, Subpart G training, regarding auditing of printed 
...
Read more...
---
Electronics news digest
29 January 2020 , News
South Africa
• More than 2400 people braved pouring rain in Gauteng to attend the 5th Science Forum South Africa (SFSA) at the CSIR International Convention Centre in December. The annual Department 
...
Read more...
---
Appointment: ExecuKit
29 January 2020, ExecuKit , News
ExecuKit has appointed Marshant Benadie in a technical support role.    His duties will include developing business with clients within the electronics distribution and manufacturing industry; managing 
...
Read more...
---
Repro installs new SMT production line
29 January 2020 , News
The company is actively seeking business for this new assembly line, which promises extensive flexibility and high accuracy, and can easily be expanded for higher production volumes.
Read more...
---
AREI's plans for 2020
29 January 2020 , Editor's Choice, News
Erich Nast, chairman of AREI, discusses what the association's plans are to tackle the challenges and opportunities that lie ahead.
Read more...
---
Check out Dataweek's new-look website
29 January 2020, Technews Publishing , Editor's Choice, News
Our technical design elves have been locked away in our basement for months, improving the visual design and functionality of the Dataweek website.
Read more...
---
From the editor's desk: A fresh start, but a sad farewell?
29 January 2020, Technews Publishing , News
A couple of years ago, not many people had heard of Yekani. The company bought a stake in the well-known East London-based satellite decoder maker, Vektronix, and subsequently acquired it in its entirety. When 
...
Read more...
---
Actum Group merges its brands under one roof
29 January 2020, Actum Electronics , News
Over the years, Actum Group has been built through partnerships, collaborations and acquisitions of leading companies with a long history and rich legacy in the industry. These companies include Actum 
...
Read more...
---
Company profile: ETION Create
EMP 2020 Electronics Manufacturing & Production Handbook, ETION Create , News
ETION Create is an original design manufacturer (ODM) that has been in operation for more than 25 years. Originally known as Parsec, the company was founded in 1993, focusing on the design, development 
...
Read more...
---
Company profile: Laser Stencil Technology
EMP 2020 Electronics Manufacturing & Production Handbook, Laser Stencil Technology , News
Since its inception in 2004, Laser Stencil Technology has grown into a prominent figure in the South African electronics manufacturing industry. Having been involved in circuit board manufacturing using 
...
Read more...
---