printer friendly version
Locally developed electronic circuit builder for students
25 November 2019 News Editor's Choice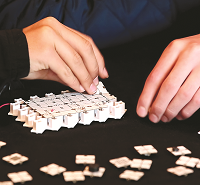 K Measure, creator of the award-winning Seebox engineering education solution, has created a new innovation to enable quick and easy electronic circuit-building. The SeeBlocks electronic circuit creator comes from a different angle to address a real problem for engineering students in a novel way.
An essential part of mastering electrical and electronic engineering is practical circuit-building. Those new to electronics find building circuits difficult because they have to interpret the circuit diagram and then translate that to actual components, which look nothing like the symbols. SeeBlocks remove this barrier by integrating the abstract symbols and the actual circuit boards into one easy-to-use circuit-builder kit.
The patented SeeBlocks are component blocks each containing one electronic component on the bottom of the block, with the symbol on the top. The blocks fit together with an innovative locking mechanism on an expandable baseboard. With SeeBlocks you build circuits almost like you would a puzzle, fitting together the blocks by following the symbols.
SeeBlocks aim to make it easy for users, young and old, to explore the world of science and electronics through lots of practical experimentation. SeeBlocks also come with a free introductory online course with videos and experiments to get the user started.
Paid follow-up courses cover the fundamentals of electricity and electronics and give a good basic foundation for further studies in engineering. The online courses consist of explainer videos, questions and maths problems, integrated with practical experiments done on the SeeBlocks circuit-builder system.
The creators of SeeBlocks say this innovation was born from their passion for engineering education, and after many educators told them that the practical component of electrical and electronic technology is especially challenging to learners. They set out to create an easier way to build electronic circuits, in the belief that the actual building of the circuit should not be a barrier to understanding electronics, but rather should enlighten and illuminate the subject for the learner. It was with this goal in mind that they set out to make circuit-building easier, with SeeBlocks being the result.
For more information contact K Measure, info@seeblocks.education, https://seebox.education
Credit(s)
Further reading:
From the editor's desk: Are electromagnetic waves culpable in making us sick?
30 June 2020, Technews Publishing , News
When I started writing my column for this issue, I was determined to come up with a topic and a way to avoid mentioning the 'C' word. I came close – you will only find 'COVID-19' mentioned once or twice 
...
Read more...
---
To fake or not to fake
30 June 2020 , News
Prof. Johan Meyer explores the complex and controversial topic of the potential link between the global rollout of 5G networks and the COVID-19 pandemic.
Read more...
---
Clearing the Static: Curb the spread of COVID-19 with stringent floor hygiene
30 June 2020, Actum Electronics , News
According to the World Health Organisation (WHO), COVID-19 is primarily transmitted from person to person through respiratory droplets that emerge from the nose and mouth when an infected person speaks, 
...
Read more...
---
Personality profile: Warren Mande
30 June 2020, Altron Arrow , News
"It is said that "culture eats strategy for breakfast". Look to join companies whose culture fits your personal belief system."
Read more...
---
Not the end, but a journey
30 June 2020, ExecuKit , News
ExecuKit's Renita Fleischer and Elizna Classen offer local companies a route to help them navigate their way through what has become the 'new normal.'
Read more...
---
Elmatica CEO to vice chair IPC cybersecurity task group
30 June 2020, Elmatica , News
Didrik Bech, CEO of printed circuit broker Elmatica, has been appointed to serve as vice chair for IPC's new cybersecurity task group. The 2-12c Task Group leadership is a representation of IPC as an 
...
Read more...
---
From the editor's desk: Making and sending things to space
29 May 2020, Technews Publishing , News
In this issue, one of the topics we are featuring is the aerospace and military/defence sector. The feature includes an analysis of what it takes to successfully design and manufacture products in this 
...
Read more...
---
Electronics news digest
29 May 2020, Technews Publishing , News
South Africa
• Acting minister of communications and digital technologies, Jackson Mthembu, joined the world in observing World Telecommunication and Information Society Day (WTISD). Proclaimed by the 
...
Read more...
---
Personality profile: David Power
29 May 2020, Cadshop , News
"Aspire to work for a company that you admire, and for a boss that you want to serve, that shares your passion and motivation."
Read more...
---
Designing for military and defence applications
29 May 2020, Omnigo, Kreon Technology , News
No business can stand on its own without strong partnerships and stakeholder relationships. In this regard the military and defence industry is no exception.
Read more...
---