printer friendly version
SKA to cooperate with CERN on big data
13 September 2017
News
The SKA Organisation and CERN, the European Laboratory for Particle Physics, have signed an agreement formalising their growing collaboration in the area of extreme-scale computing. The agreement establishes a framework for collaborative projects that addresses joint challenges in approaching Exascale (on the order of billions of Gigabytes) computing and data storage, and comes as the Large Hadron Collider (LHC) will generate even more data in the coming decade and SKA is preparing to collect a vast amount of scientific data as well.
Around the world, countries are engaged in efforts to cope with a leap in the demands of information and communication technology. The Square Kilometre Array (SKA) project, the world's largest radio telescope when built, and CERN's LHC, the world's largest particle accelerator, famous for discovering the Higgs Boson, will contribute in driving the required technological developments.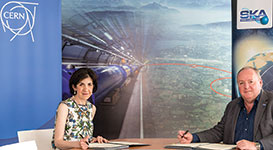 Dr. Fabiola Gianotti, CERN director-general, and Prof. Philip Diamond, SKA director-general, signing a cooperation agreement between the two organisations on big data.
"The signature of this collaboration agreement between two of the largest producers of science data on the planet shows that we are really entering a new era of science worldwide," said Prof. Philip Diamond, SKA director-general. "Both CERN and SKA are and will be pushing the limits of what is possible technologically, and by working together and with industry, we are ensuring that we are ready to make the most of this upcoming data and computing surge."
"The LHC computing demands are tackled by the Worldwide LHC computing grid which employs more than half a million computing cores around the globe interconnected by a powerful network," elaborated Prof. Eckhard Elsen, CERN director of research and computing. "As our demands increase with the planned intensity upgrade of the LHC we want to expand this concept by using common ideas and infrastructure, into a scientific cloud. SKA will be an ideal partner in this endeavour."
CERN and SKA have identified the acquisition, storage, management, distribution and analysis of scientific data as particularly burning topics to meet the technological challenges. In the case of the SKA, it is expected that phase 1 of the project – representing approximately 10% of the whole SKA – will generate around 300 PB (petabytes) of data products every year. This is 10 times more than today's biggest science experiments.
CERN has just surpassed the 200 PB limit for raw data collected by the experiments at the LHC over the past seven years. A layered (tiered) system provides for data storage in the remote centres. The High-Luminosity LHC is estimated to exceed this level every year.
"This in itself will be a challenge for both CERN and SKA given the step change in the amounts of data we will have to handle in the next 5-10 years", explains Miles Deegan, high-performance computing specialist for the SKA. "Transferring an average dataset will take days on the SKA's ultra-fast fibre optic networks, which are 300 times faster than your average broadband connection, so storing or even downloading this data at home or even at your local university is clearly impractical."
As is already the case at CERN, SKA data will also be analysed by scientific collaborations distributed across the planet. There will be common computational and storage resource needs by both institutions and their respective researchers, with a shared challenge of taking this volume of data and turning them into science that can be published, understood, explained, reproduced, preserved and presented.
"Processing such volumes of complex data to extract useful science is an exciting challenge that we face," adds Antonio Chrysostomou, head of science operations planning for the SKA. "Our aim is to provide that processing capability through an alliance of regional centres located across the world in SKA member countries. Using cloud-based solutions, our scientific community will have access to the equivalent of today's 35 biggest supercomputers to do the intensive processing needed to extract scientific results. In short, we need to fundamentally change how science is done."
"CERN has proposed the concept of the Federated Open Science Cloud with other EIROForum members. This agreement is an important step in this direction," said Ian Bird, responsible at CERN for the worldwide LHC computing grid. "Essentially, we will provide a giant cloud-based, Dropbox-like facility to science users around the world, where they will be able to not only access incredibly large files, but will also be able to do extremely intensive processing on those files to extract the science."
For more information visit www.skatelescope.org
Further reading:
From the editor's desk: Yes, it's that thing everyone's talking about
25 March 2020, Technews Publishing , News
Call me a pessimist, but I'm absolutely, 100% certain that I'm going to catch COVID-19 (or the 'novel coronavirus' if you prefer to call it that) – if I haven't done so already. At least the mortality 
...
Read more...
---
Electronics news digest
25 March 2020 , News
Overseas
Business
• ams reported record revenues and results for full year 2019, with revenues up 32% year-on-year, and fourth quarter revenues exceeding expectations with strong adjusted operating 
...
Read more...
---
XinaBox – Reaching for the stars
25 March 2020, RS Components (SA) , News
From collecting data in sub-zero Antarctica to rapid circuit prototyping on the International Space Station this South African company is reinventing the way we approach IoT while inspiring students to follow STEM careers.
Read more...
---
Electrocomp launches new website
25 March 2020, Electrocomp , News
Electrocomp is inviting visitors to explore its new website, which has been designed to offer a user-friendly experience with improved navigation and functionality while allowing customers to see their 
...
Read more...
---
Looking beyond radar, the car's virtual eye
25 March 2020, Altron Arrow , News
Faster, higher-resolution radar sensors have enabled the next generation of driver assistance technologies through improvements in vehicle safety and comfort in view.
Read more...
---
Disposing of e-waste in space
26 February 2020 , News
According to BBC, there are over half a million pieces of debris floating around the Earth's orbit. Most debris within the atmosphere are lost parts from space crafts, disused rocket stages or waste from 
...
Read more...
---
IPC revises five standards
26 February 2020 , News
IPC announced the release of five newly revised standards covering several areas of the supply chain:      
· IPC/WHMA-A-620D, Requirements and Acceptance for Cable and Wire Harness Assemblies. · IPC-2223E, 
...
Read more...
---
Testerion to represent ITW EAE in SA
26 February 2020, Testerion , News
ITW EAE announced a new extended partnership agreement with Testerion South Africa to represent and distribute all ITW EAE equipment including MPM printers, Camalot dispensers, Electrovert soldering systems, 
...
Read more...
---
Würth helps produce PCBs for ventilators
25 March 2020, Würth Elektronik eiSos , News
The worldwide spread of the coronavirus is not only increasing the demand for personal protective equipment, but also for medical ventilators. In order to ensure the supply in Germany, the German government 
...
Read more...
---
u-blox acquires Thingstream
25 March 2020 , News
u-blox has acquired IoT communication-as-a-service provider, Thingstream. Thingstream provides a comprehensive, end-to-end solution for global IoT connectivity using the industry standard MQTT protocol. 
...
Read more...
---