printer friendly version
Contenders for the future king of battery technologies
13 June 2018
Power Electronics / Power Management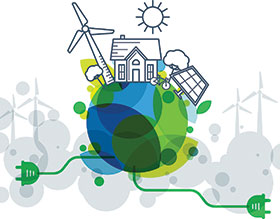 The increased need for low-cost and large-scale storage of electricity from renewable sources has led to a new wave of research on advanced battery technology.
The current king of the hill is still lead-acid. It's the cheapest and most stable when compared to the other chemistries.
Lead-acid batteries are a tried and tested technology that has been used in off-grid energy systems for decades. If you want to go off the grid and need lots of energy storage, lead-acid is still the best option. However, the search is on for innovative battery technology, be it for an increase in your smartphone battery lifespan or a storage bank for the electrical power you harvest from renewable sources such as solar, wind, water, etc.
Best of the rest
So, lead-acid claims the current king of the hill top spot for renewable energy storage, but what else looks promising for the future? Without a doubt, lithium-ion (Li-ion) is perhaps a future contender for the coveted top spot. It is a promising battery chemistry and low maintenance – an advantage for sure. There is no 'memory' effect and no scheduled cycling is required to prolong the battery's life.
From cellphones and laptops to electric vehicles, lithium-ion batteries are the power source that fuel everyday applications.
However, safety and price are still a drawback, but manufacturers are constantly improving the chemistry of the Li-ion battery to develop a cheaper, safer battery.
The traditional lithium-ion battery has given birth to a variety of other advanced lithium batteries. The lithium-sulphur battery is such an example. The lithium-sulphur battery has been hailed as the next generation of batteries to replace the current lithium-ion variety. Lithium-sulphur batteries are more cost-effective and energy-dense than lithium-ion batteries. A contender perhaps? We wait and see.
The more recently developed lithium-air battery in the lithium-ion battery family could be our next revolutionary technology. It has the potential to hold up to five times more energy than the lithium-ion batteries that power our everyday devices. The batteries work by combining lithium present in the anode with oxygen from the air to produce lithium peroxide on the cathode during the discharge phase. The lithium peroxide is broken down into its lithium and oxygen components during the charge phase. However, several obstacles have plagued this development and there is still more work to be done to commercialise this type of battery. A future contender perhaps, but not just yet.
There have also been some developments in the water-based batteries. Stanford University researchers have developed a water-based battery that could provide a cheap way to store wind or solar energy. The prototype manganese-hydrogen battery stands just three inches tall and generates 20 milliwatt-hours of electricity. It's a long way off but, if perfected, could challenge the price of the current king of the hill. Research is still in progress to find new ways to achieve low-cost, long-lasting, utility-scale batteries of the water-based variety.
In the now booming power and energy industry, there has been a high degree of fragmentation in the global supercapacitor market. In Australia, a new project is underway to develop hybrid supercapacitors into power rolling stock with high energy and power densities, and advanced supercapacitor management systems.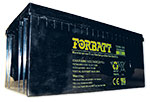 S.J. Andrews Electronics is a leading supplier of lead-acid batteries, including the full range of Forbatt lead-acid and other chemistries.
The supercapacitors are believed to have the potential to revolutionise the rail industry – these technologies could reduce the need for overhead electrical infrastructure and aid the future development of hybrid-powered trains. The new technology will effectively provide voltage stabilisation for rail systems; advancing the locomotive engine starting technologies and improving the performance of propulsion for light rail vehicles.
There you have it, the current winner and a promising fight for the renewables and energy storage industry. At the end of the day, it's the best kind of fight there is because the winner is the future generations that will have affordable, renewable power for their next great leap in the human race.
Article by S.J. Andrews, a leading supplier of lead-acid batteries including the full range of Forbatt lead-acid and other chemistries, electronics components, lighting solutions and all things electronic.
For more information contact S.J. Andrews Electronics, +27 11 444 1521, sjandrew@icon.co.za, www.sjandrews.co.za
Credit(s)
Further reading:
Miniature 4,4 A boost converter
28 October 2020, iCorp Technologies , Power Electronics / Power Management
The SGM6623 from SG Micro is a general-purpose, miniature boost DC-DC switching regulator with high efficiency for battery backup and standby power systems. The acceptable input voltage range is between 
...
Read more...
---
Maintaining backup battery systems for maximum usage and reliability
30 September 2020, Comtest , Power Electronics / Power Management
Standby battery backup systems play a critical role in keeping essential operations functional in the event of a utility outage. Facilities like data centres, hospitals, airports, utilities, oil and gas 
...
Read more...
---
Double the power output from new Tadiran battery
30 September 2020, Altron Arrow , Power Electronics / Power Management
Tadiran has developed the latest in its PulsesPlus HLC battery range, doubling the power output of its previous offering. Recently the company launched the C-type HLC which represented a huge improvement 
...
Read more...
---
SABS addresses dangers of power adaptors to consumers
28 October 2020 , Power Electronics / Power Management
The increased use of devices and appliances has resulted in the increased use of adaptors as well as adaptors-on-adaptors in South Africa. This creates a risk of fires, short circuiting and damage or 
...
Read more...
---
Just Batteries develops Li-ion battery pack for drones
28 October 2020, Just Batteries , Power Electronics / Power Management
The commercial market for drones is ever growing, ranging from delivering your pizza or shoes to supplying medical equipment to rural and inaccessible areas. Just Batteries' design, development and 
...
Read more...
---
1200 V SiC MOSFETs
28 October 2020, RS Components (SA) , Power Electronics / Power Management
RS Components now stocks ON Semiconductor's latest 1200 V-rated MOSFETs. Based on silicon-carbide (SiC) technology, these power discretes are able to push the performance envelope. The new N-channel 
...
Read more...
---
LTO batteries in mining applications
28 October 2020 , Power Electronics / Power Management
The mining industry in Africa provides numerous jobs and essential raw materials for the Fourth Industrial Revolution, critical to rebuilding economies and industry after the Covid-19 epidemic. However, 
...
Read more...
---
Bidirectional DC power supply for lab testing
30 September 2020, Conical Technologies , Power Electronics / Power Management
The new IT-M3400 bidirectional DC power supply from ITECH integrates the features of a bidirectional power supply and a regenerative load. It inherits the advantages of high power density and modular 
...
Read more...
---
Global analysis of the solid-state battery market
30 September 2020 , Power Electronics / Power Management
The rapid growth of the electric vehicle market has driven the development, manufacture and sales of batteries, especially lithium-ion batteries. In the meantime, market research firm IDTechEx has identified 
...
Read more...
---
Solar lithium storage system
30 September 2020, Vepac Electronics , Power Electronics / Power Management
The US2000 Plus is a latest-generation lithium storage unit. Combining enhanced safety with a long service life – even when at low levels of charge on a regular basis – it meets the demanding requirements 
...
Read more...
---