printer friendly version
STM8 development boards in Nucleo-32 format
1 December 2019 Design Automation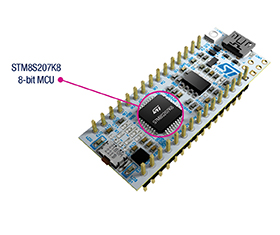 STMicroelectronics is making design starts using 8-bit STM8 microcontrollers (MCUs) faster, more affordable, and more accessible by introducing new development boards in the Nucleo-32 form factor.
The compact boards are controlled and powered conveniently through a USB connection. An ST-LINK debugger/programmer is integrated, which saves using an external debug probe and allows simple drag-and-drop Flash programming. Arduino Nano pins simplify functional expansion using off-the-shelf shields and let users connect with open-source hardware communities. The boards are supported by major development toolchains including IAR Embedded Workbench for STM8 and Cosmic CXSTM8.
The first available STM8 Nucleo-32 board, the NUCLEO-8S207K8, contains a 32-pin STM8S207K8 MCU, which provides features including 12 high-current outputs and multiple capture-compare channels.
Credit(s)
Further reading:
Time-of-flight multi-zone ranging sensor
29 September 2021, EBV Electrolink , Opto-Electronics
STMicroelectronics has announced the first multi-zone FlightSense time-of-flight sensor to be offered for general-purpose applications, bringing sophisticated distance sensing to the full spectrum of 
...
Read more...
---
A UI to build better UIs
25 August 2021, Altron Arrow , Design Automation
TouchGFX Designer 4.17 has become available for download, the latest version of STMicroelectronics' user interface (UI) design software featuring a user interface overhaul to make the application more 
...
Read more...
---
Baseless power modules qualified for aerospace use
29 September 2021, EBV Electrolink , Power Electronics / Power Management
In the race to reduce aircraft emissions, developers are increasingly moving toward more efficient designs, including electrical systems that replace today's pneumatics and hydraulics powering everything 
...
Read more...
---
Altium Designer component creation webinar
29 September 2021 , Design Automation
Component creation is a necessary evil when it comes to design and it's something we all need to do. But instead of spending hours creating your components and having them turn into a complete roadblock, 
...
Read more...
---
Deep learning APIs for Espressif SoCs
29 September 2021, iCorp Technologies , Design Automation
ESP-DL, recently introduced by Espressif Systems, provides APIs for neural network (NN) inference, image processing, maths operations and deep learning (DL) models. With ESP-DL, developers can use Espressif's 
...
Read more...
---
Xilinx design tool with machine-learning optimisation
25 August 2021, Avnet Silica , Design Automation
Xilinx recently introduced Vivado ML Editions, the industry's first FPGA EDA tool suite based on machine learning (ML) optimisation algorithms, as well as advanced team-based design flows for design time 
...
Read more...
---
Rugged silicon carbide power devices
25 August 2021, EBV Electrolink , Power Electronics / Power Management
Today's energy-efficient electric charging systems powering commercial vehicle propulsion, as well as auxiliary power systems, solar inverters, solid-state transformers and other transportation and industrial 
...
Read more...
---
EBV helps bring long-life tracker to market
25 August 2021, EBV Electrolink , Telecoms, Datacoms, Wireless, IoT
General Mechatronics, a Budapest-based company, enlisted the support of EBV Elektronik to devise an award-winning smart sensor device designed for use in asset tracking systems and applications.  
...
Read more...
---
Totem pole PFC controller
25 August 2021, EBV Electrolink , Power Electronics / Power Management
A new addition has been made to ON Semiconductor's solution set for ultra-high density offline power supplies in the form of the NCP1680, a dedicated critical conduction mode totem pole PFC controller. 
...
Read more...
---
HLS tool suite for PolarFire FPGAs
25 August 2021, EBV Electrolink , Programmable Logic
The need to combine performance with low power consumption in edge compute applications has driven demand for field programmable gate arrays (FPGAs) to be used as power-efficient accelerators while also 
...
Read more...
---