printer friendly version
STM8 development boards in Nucleo-32 format
1 December 2019 Design Automation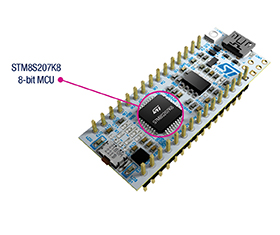 STMicroelectronics is making design starts using 8-bit STM8 microcontrollers (MCUs) faster, more affordable, and more accessible by introducing new development boards in the Nucleo-32 form factor.
The compact boards are controlled and powered conveniently through a USB connection. An ST-LINK debugger/programmer is integrated, which saves using an external debug probe and allows simple drag-and-drop Flash programming. Arduino Nano pins simplify functional expansion using off-the-shelf shields and let users connect with open-source hardware communities. The boards are supported by major development toolchains including IAR Embedded Workbench for STM8 and Cosmic CXSTM8.
The first available STM8 Nucleo-32 board, the NUCLEO-8S207K8, contains a 32-pin STM8S207K8 MCU, which provides features including 12 high-current outputs and multiple capture-compare channels.
Credit(s)
Further reading:
Wireless asset tag supporting Quuppa RTLS
EBV Electrolink Telecoms, Datacoms, Wireless, IoT
onsemi unveiled a new system solution that overcomes the main challenges associated with developing asset tracking tags. Battery life has been a major obstacle to asset tag adoption, particularly within 
...
Read more...
---
3D simulation IDE boosts factory productivity
Omron Electronics Design Automation
Omron's updated Sysmac Studio 3D Simulation integrated development environment (IDE) integrates and verifies the movements of robots and peripheral devices. It can digitally reproduce an entire facility 
...
Read more...
---
Crossover MCU with 3D camera
EBV Electrolink DSP, Micros & Memory
NXP Semiconductors has announced the expansion of its NXP EdgeReady solution portfolio, adding a solution for secure face recognition that leverages a high-performance 3D structured light module (SLM) 
...
Read more...
---
Totem pole PFC controller
EBV Electrolink Power Electronics / Power Management
A new addition was made to ON Semiconductor's solution set for ultra-high density offline power supplies in the form of the NCP1680, a dedicated critical conduction mode totem pole PFC controller. It 
...
Read more...
---
Features added to DesignSpark PCB Pro
RS Components (SA) Design Automation
RS Components added new features to DesignSpark PCB Pro and introduced an RS stock number to make it easier to purchase. The free-of-charge version of DesignSpark PCB, part of the award-winning RS DesignSpark 
...
Read more...
---
Compact offline switcher ICs
EBV Electrolink Power Electronics / Power Management
Power Integrations introduced LinkSwitch-TNZ, a new switching power supply IC that combines offline power conversion, lossless zero-crossing detection and optionally, X-capacitor discharge functions in 
...
Read more...
---
Evaluation kit for formaldehyde sensor
Electrocomp Design Automation
The SEK-SFA30 evaluation kit has been designed for easy evaluation of Sensirion's SFA30 formaldehyde sensor. The SFA30 is designed for easy integration into air purifiers, demand-controlled ventilation 
...
Read more...
---
mikroSDK adds support for Kinetis MCUs
Dizzy Enterprises Design Automation
MikroElektronika's multi-architectural software development kit, mikroSDK 2.0, now supports 147 microcontrollers (MCUs) from NXP Semiconductors. mikroSDK is a collection of open-source software libraries 
...
Read more...
---
Altium Designer component creation webinar
Design Automation
Component creation is a necessary evil when it comes to design and it's something we all need to do. But instead of spending hours creating your components and having them turn into a complete roadblock, 
...
Read more...
---
Deep learning APIs for Espressif SoCs
iCorp Technologies Design Automation
ESP-DL, recently introduced by Espressif Systems, provides APIs for neural network (NN) inference, image processing, maths operations and deep learning (DL) models. With ESP-DL, developers can use Espressif's 
...
Read more...
---