Although consumer devices tend to grab the headlines, the best use of technology has always been to increase productivity, and the same is true for the IoT. Smart home automation is perhaps the exception, and one that is growing rapidly, but for now at least the real-world applications for IoT-based technology are still in the non-consumer sectors. This creates opportunities for manufacturers eager to embrace the new.
Wireless connectivity is a crossover technology in this respect; a horizontal sector that touches and empowers every vertical, including consumer. However, there is one wireless technology that is now, and may remain, positioned for industrial applications. LPWAN, or Low-Power Wide-Area Networking, is optimised for the IoT in terms of power, range and data bandwidths.
There are relatively fewer competing solutions in the LPWAN sector, which differs from Personal-Area Networks (PANs), such as Bluetooth, ZigBee, Thread and even Wi-Fi in more than just range. The underlying physical layer isn't intended to provide high-speed bidirectional channels between many devices; the applications for LPWAN are typically remote monitoring, where a relatively small amount of data is sent over a long distance (in the order of tens of kilometres) on a relatively infrequent basis.
The main technologies in the LPWAN arena are LTE (thanks to new technologies introduced in Release 13 of the 3GPP specification), LoRa (and LoRaWAN, which is different, as explained later) and Sigfox. Those based on LTE operate in the licensed spectrum and are largely owned by cellular network providers, while LoRa and Sigfox operate in the licence-free spectrum, so are perhaps more accessible but do not necessarily avoid the cost of using a network, as covered below.
Low bandwidth, no problem
It may be argued that a wireless technology that doesn't offer a high bandwidth is of limited use in a world where technologies like Wi-Fi are so abundant. However, for many applications, access to a Wi-Fi access point or even power is still limited. It is these kinds of applications where LPWANs can have a real impact, and that is no more apparent than in the agricultural sector.
Asset monitoring in an agricultural environment takes on an entirely new meaning. For example, Digitanimal is a Spanish company specialising in tracking animals, including cattle, horses and sheep. Using an LPWAN-enabled tag, the animals' locations are monitored and relayed to the customer on a regular basis and the platform can even use geotagging to send alerts if the asset moves outside a designated geographical area.
Similarly, Green Citizen, based in France, ­offers a range of products targeting the agricultural sector, including the Hummbox soil and weather sensor. This sensor measures humidity as well as soil moisture and temperature, and uses LPWAN (it is compatible with both LoRa and Sigfox) to communicate that information to the cloud.
The ecosystem around the 'Internet of Agricultural Things' is growing and includes cloud platforms to process the sensor data. An example, Master Of Things, is described as an 'application enablement platform' that offers a plug and play experience for users putting Sigfox devices into service.
The same, but different
While LoRa and Sigfox are both LPWAN technologies, they differ in their implementation. LPWANs in general use a star network topology, as opposed to the now dominant mesh network topology used in PANs. This means each endpoint has a direct connection to a gateway, bridge or, in cellular terminology, base-station.
Rather than leapfrogging from one endpoint to another until the signal reaches a gateway/bridge, as in a mesh network, the signal is received by all of the gateways within range. In order to achieve the range that this topology needs, the data rate is minimised, which effectively restricts their use to remote sensors, actuators and similar devices.
As with the cellular experience, users of LoRa and Sigfox LPWANs are not expected to build their own network; instead a growing number of providers are doing this. Getting an endpoint online using an LPWAN is, in theory, as simple as turning the device on (or, more likely, putting batteries in) and subscribing to a service. All of the network management is handled in the cloud by the platform, which again isn't the responsibility of the user.
Of course, the option is there to build a proprietary LPWAN network, specifically using the LoRa physical layer, and there are proprietary solutions now available that make use of the LoRa physical layer running their own protocol. However, the LoRaWAN protocol, created by the same association that manages the physical layer, has been developed to meet the needs of the IoT and doesn't rely on any proprietary technology.
For example, the LoRaWAN protocol adds Adaptive Data Rate (ADR), which allows the gateway to control the data rate of the endpoint, based on factors such as link budget. Those endpoints with a good connection can afford to transmit at a higher data rate and thereby reduce their time on the network, which helps manage the overall network ­capacity.
Another important feature of the protocol is the device class (see Figure 1).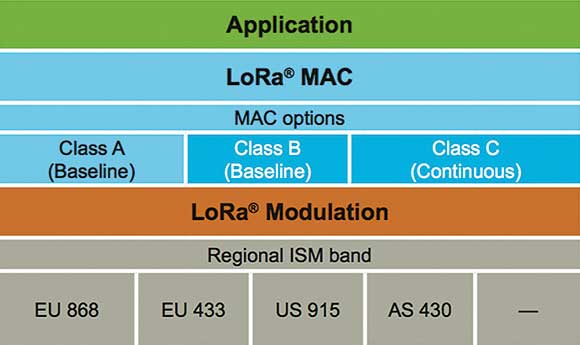 Figure 1. The LoRaWAN protocol provides a range of features necessary for the IoT.
There are a total of three bidirectional classes available: A, B and C. Devices operating solely from battery power are likely to be Class A devices, which is the most energy efficient of the three. In this class, the device will likely be a sensor transmitting data when it needs to. Only after transmitting will it go into receive mode for a short while; it is this feature that minimises power.
Class B devices may also be battery powered but they will need a lower latency on the downlink; this may include actuators, for example. Class C supports endpoints that have access to continuous power, allowing them to listen more often and for longer.
LPWAN hardware
As most of the network management is handled by the cloud-based platform, LPWANs are arguably the simplest form of wireless connectivity to use and this is made even simpler by the availability of pre-certified modules, like the Murata Type ABZ LoRa module (part number CWMX-1ZZABZ-078). It integrates an RF frontend and baseband chipset in the form of the SX1276 from Semtech, alongside an ARM Cortex-M0+ based STM32L0 Series microcontroller from STMicroelectronics (see Figure 2).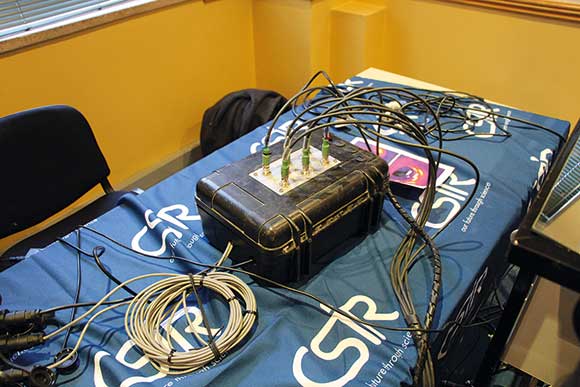 Figure 2. The CWMX-1ZZABZ-078 LPWAN module from Murata provides simple access to LoRaWAN connectivity.
The module is also LoRaWAN-certified, as it fully supports the protocol. The module itself meets all radio regulatory approvals for the 868 to 915 MHz part of the spectrum, which falls within the licence-free ISM band observed by most world regions. Interfacing to the module is achieved through either a UART, SPI or I2C interface and with 192 KB of Flash the microcontroller offers enough on-chip memory for customer applications. An ADC and 18 GPIOs are also included for this purpose; as such, the module can easily interface to a number of analog or digital sensors.
All of the features of the module can be easily accessed for development purposes, using the STM32 LoRaWAN Discovery Board from STMicroelectronics (part number B-L072Z-LRWAN1, see Figure 3), which is ARM mbed compatible. It also comes with ST's I-CUBE-LRWAN software, which is Class A certified and supports Class C operation.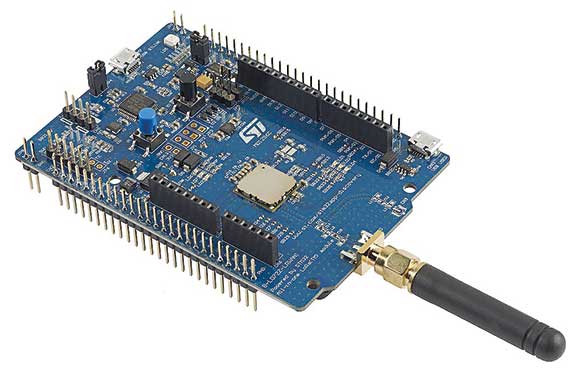 Figure 3. This STM32 LoRaWAN Discovery Board from STMicroelectronics provides full access to all the features of the Murata LoRa module.
Conclusion
LPWANs offer a way to get more assets online over longer distances, but perhaps most importantly they can remove the complexity of using a wireless technology in the IoT.
The availability of pre-certified modules, cloud-based platforms and managed networks means getting online using LPWAN can be as simple as flicking a switch and logging into a website. It is a technology that can, and is, connecting cities, towns and rural areas across the globe.
For more information contact TRX Electronics, authorised Mouser partner in South Africa, +27 12 997 0509, info@trxe.com, www.trxe.com