printer friendly version
Breaking par for security at ­Woodhill
29 January 2020 Smart Home Automation Integrated Solutions Security Services & Risk Management Residential Estate (Industry)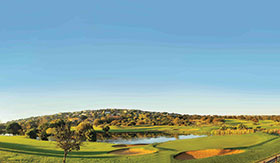 Woodhill Residential Estate and Golf Course is a sought-after luxury residential estate east of Pretoria, offering a highly rated championship golf course, conferencing and wedding amenities. Ensuring its residents and their guests, as well as short-term visitors to the estate, be it for home, golf or an event, are able to enjoy this pristine location without concern for their safety and security, Woodhill has engaged the services of Xone Integrated Security.
Ian Downie, group sales and marketing executive of Xone, says the company was tasked with providing a fully integrated security service and function to the estate, from the perimeter inwards. This entailed managing the technology through a state-of-the-art control room, manage the access control functions and providing all the security manpower and management required to deliver the service. Xone does this for other prestigious residential estates, for example: Leopard Creek Golf Estate, Copperleaf Golf Estate, Helderberg Village and Fancourt Hotel and Country Club, amongst others.
Downie says Xone started by ensuring it acquired a full understanding of the customer's needs and the specific risk environment at Woodhill, and then formulated bespoke security processes specific to the estate.
With many years of experience in the hands of its management team, Xone understands the relevant risks and applies best security practices to ensure estates are safe and secure, without residents losing the feeling of freedom and open spaces desired, ensuring residents do not feel as if they are those being watched.

Xone's hands-on management approach ensures its staff are always on site, adhering to the practices and processes devised. Site-based security staff are backed up by the onsite control centre, recently rebuilt by Xone and staffed by the company's staff with specific control room expertise. Xone also has an offsite control centre hosted at its national head office, situated in a business park adjacent to Cape Town International Airport from where it manages its onsite control rooms.
Centred in the control room, Xone makes use of intelligent applications to guide its staff and ensure standard operating procedures (SOPs) are adhered to at all times. All events and SOPs are captured on the incident management system, which also records everything security related for review and reporting.
Intelligent use of technology and people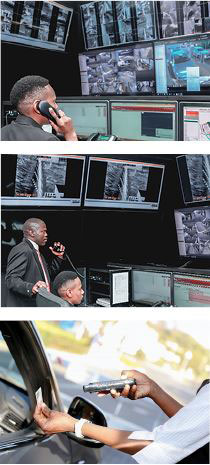 Xone managed the installation of technology to enhance security at Woodhill. A particular area in which technology has helped improve security dramatically is the perimeter. In the four years since its appointment, Xone has improved perimeter security and all facets of access control to ensuring extremely high levels of reliability and service. While there were a number of perimeter breaches prior to Xone's appointment, Downie says there have been no perimeter-based security breaches or incidents at Woodhill. In fact, he adds that since the date of Xone's appointment in March 2015, there have been zero theft-related incidents on the estate at all.
Xone oversaw the installation of thermal cameras along the estate's perimeter, supported by the latest video analytics and an electric fence, among other barriers. Biometric access control and handheld scanners are now used at access points to more carefully control access and egress of residents, guests and contractors. All of these systems are integrated into the incident management system in the on-site control room, where all events are recorded and reported to estate management.
As far as the required manpower is concerned, Xone provides the staff to manage the control centre as well as tactical response teams that have been trained to respond to any situation, whether criminal, medical or other emergencies, such as fire. The tactical teams are made up of handpicked individuals (less than 5% of those who apply make it through the vetting process), and are then sent on intensive training programmes. Xone is committed to continual skills development of its entire staff in its SASSETA accredited training centre to ensure they are ready for any eventuality.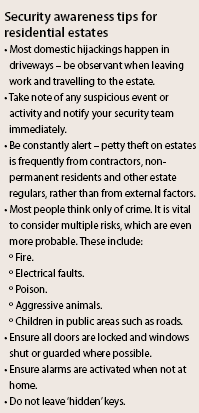 The people aspect is a critical skill all security service providers require, and interaction with residents in dealing with various security and safety issues forms an integral part of the daily activities of Xone employees. Downie remarks that the company is proud of its team and understands the challenges each member faces given the need to be vigilant and alert at all times, and firm yet friendly as they engage with all styles of personalities.
The control room is the hub of the security operation and any incident is dealt with in a coordinated manner, making the best use of technology and security personnel. Downie explains that when a team responds to an event, the control room is able to prepare them in advance for what they will find, leading to more efficient response actions and faster resolution.
Between the onsite and remote control rooms, officers are assigned the task of making sure everyone is doing what they are supposed to be doing in accordance with the estate's SOPs. However, Downie adds that the success of estate security is also heavily dependent on onsite management. The people responsible for managing security at Woodhill are well-trained and experienced security managers that are continually mentored and empowered to ensure the estate remains a relaxed safe haven for residents and visitors.
Downie also notes the importance of the quality working relationship with the Woodhill Homeowners Association, which has grown from strength to strength. This partnership has been instrumental to the success of Woodhill and Xone in this mandate.
For further information contact Ian Downie, Xone Integrated Security, +27 82 906 7600, ian@xone.co.za, www.xone.co.za
Credit(s)
Further reading:
The year resilience paid off
Issue 8 2020 , Editor's Choice, Security Services & Risk Management
Hi-Tech Security Solutions spoke to Michael Davies about business continuity and resilience in a year when everything was put to the test.
Read more...
---
Looking back with a new perspective on the future
Issue 9 2020, Axis Communications SA , Editor's Choice, Security Services & Risk Management
Peter Lindström reflects on predictions he made about the macro trends affecting the sector in 2020 in the light of the pandemic.
Read more...
---
Is a wireless home automation system a good investment?
25 November 2020
Wireless home automation systems come with so much developed technology that they are impossible to ignore if you want to create a smart home.
Read more...
---
Adapt your home to your lifestyle
25 November 2020
The Came Domotic3.0 home automation system allows people to manage all the automated devices in their home according to their lifestyle needs.
Read more...
---
Six smart home trends that will transform life in the home and far beyond
25 November 2020
The Transformational Smart Home will expand in capability, function and activity, and will reflect the wider global needs of the planet, economies, societies and individuals.
Read more...
---
Maximising off-grid energy in South Africa
25 November 2020
xStorage Home lets households store energy to use when needed, reducing their CO
2
footprint.
Read more...
---
Smart home weather stations
25 November 2020, Legrand Southern Africa
Legrand's Netatmo smart home weather stations are an easy and efficient way to understand and monitor a home's indoor and outdoor environment.
Read more...
---
Free-flow smart weapons detection system
Issue 8 2020, XPro Security Solutions , News, Security Services & Risk Management, Products
Detecting people carrying weapons and preventing them from entering your venue is now possible, without sacrificing the visitor experience.
Read more...
---
Ring Africa launches new cameras in SA
Issue 8 2020 , News, CCTV, Surveillance & Remote Monitoring, Smart Home Automation
Ring Africa has officially launched a range of indoor and outdoor home security cameras in South Africa.
Read more...
---
7 Arrows becomes a part of Fidelity ADT
Issue 8 2020, Fidelity ADT , News, Security Services & Risk Management
Fidelity ADT and 7 Arrows have concluded an acquisition agreement effective 1 October 2020. 7 Arrows will now form a part of Fidelity ADT.
Read more...
---