printer friendly version
Repro installs new SMT production line
29 January 2020
News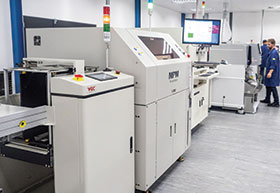 Repro Supplies recently procured its own full, state-of-the-art SMT production line allowing it to offer customers a complete one-stop solution for turnkey projects, right from design to assembly to final packaging.
At the heart of the line is a Fuji AIMEX3C SMD placement machine, capable of handling up to 130 different SMD components (on tape or reels) from 0402 (01005") up to 74 mm2, with 0,2 mm pitch at accuracies of 20 microns, and speeds up to 26 000 cph (components per hour).
In order to keep tight control on quality, the company also added a Speedline MPM 100 stencil printer together with an in-line TRI Model TR7007 Di 3D SPI (solder paste inspection) machine. The system is capable of fully checking all solder paste printed within 15 seconds per panel, and automatically rejecting any out-of-specification prints, thus ensuring 100% perfect solder paste printing.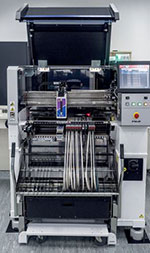 Any prints not within specification are automatically rejected from the line and do not go into the SMD placement machine. In this way the Fuji AIMEX3C is guaranteed to have 100% perfectly printed PCBs, and SMD placement can commence.
The Fuji AIMEX3C SMD placement system uses the latest Fuji NEXIM software, along with Fuji Trax which guarantees that the correct component is placed in the correct feeder, and consequently can only be picked up at the correct feeder location in the placement machine. To further improve system reliability and stable performance, the system was supplied with a Fuji Vpd Plus system, which automatically generates the correct parts data necessary when creating a program. Not only does this save time in program, but it also guarantees that the parts data for complex components is 100% correct, resulting in zero mispicks and perfect placement every time.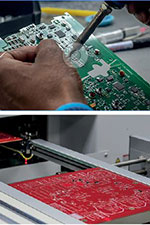 In the case of extremely high-tech products, complex connectors, although they are not active components as such, can actually be more difficult to handle than active components. The Fuji Vpd Plus system ensures that the parts data for all component types, no matter how complex, is generated in under 2 minutes, and is 100% correct.
In addition to using SPI as well as the Fuji AIMEX3C SMD placement system, Repro decided to install a TRI Model TR7700QI 3D AOI (automatic optical inspection) system at the end of the line, to not only check for correct component placement, but also for correct solder joints on every PCB, all in less than 20 seconds.
In the unlikely event of any board failing during production, it goes directly into a separate magazine unloader, where it is quarantined for later inspection at an off-line TRI inspection system, where any faults are verified, and repaired if necessary.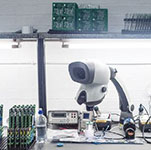 A Heller MK5 1707 reflow oven ensures that solder quality is always kept consistently high, as verified by the AOI system.
Repro is actively seeking business for this new SMD assembly line, which promises extensive flexibility and high accuracy, and can easily be expanded for higher production volumes at a later stage, should customer requirements demand an increase in production capability. This is because the system is modular, and production can be doubled within a day by installing additional modules. Soon to be added to the system will be a fully automatic component storage system, manufactured by Essegi in Italy.
For more information contact Gavin O'Connor, Repro Supplies, +27 11 826 5364, gavo@mweb.co.za, www.reprosupplies.co.za
Further reading:
From the editor's desk: Yes, it's that thing everyone's talking about
25 March 2020, Technews Publishing , News
Call me a pessimist, but I'm absolutely, 100% certain that I'm going to catch COVID-19 (or the 'novel coronavirus' if you prefer to call it that) – if I haven't done so already. At least the mortality 
...
Read more...
---
Electronics news digest
25 March 2020 , News
Overseas
Business
• ams reported record revenues and results for full year 2019, with revenues up 32% year-on-year, and fourth quarter revenues exceeding expectations with strong adjusted operating 
...
Read more...
---
XinaBox – Reaching for the stars
25 March 2020, RS Components (SA) , News
From collecting data in sub-zero Antarctica to rapid circuit prototyping on the International Space Station this South African company is reinventing the way we approach IoT while inspiring students to follow STEM careers.
Read more...
---
Electrocomp launches new website
25 March 2020, Electrocomp , News
Electrocomp is inviting visitors to explore its new website, which has been designed to offer a user-friendly experience with improved navigation and functionality while allowing customers to see their 
...
Read more...
---
Looking beyond radar, the car's virtual eye
25 March 2020, Altron Arrow , News
Faster, higher-resolution radar sensors have enabled the next generation of driver assistance technologies through improvements in vehicle safety and comfort in view.
Read more...
---
Disposing of e-waste in space
26 February 2020 , News
According to BBC, there are over half a million pieces of debris floating around the Earth's orbit. Most debris within the atmosphere are lost parts from space crafts, disused rocket stages or waste from 
...
Read more...
---
IPC revises five standards
26 February 2020 , News
IPC announced the release of five newly revised standards covering several areas of the supply chain:      
· IPC/WHMA-A-620D, Requirements and Acceptance for Cable and Wire Harness Assemblies. · IPC-2223E, 
...
Read more...
---
Testerion to represent ITW EAE in SA
26 February 2020, Testerion , News
ITW EAE announced a new extended partnership agreement with Testerion South Africa to represent and distribute all ITW EAE equipment including MPM printers, Camalot dispensers, Electrovert soldering systems, 
...
Read more...
---
Würth helps produce PCBs for ventilators
25 March 2020, Würth Elektronik eiSos , News
The worldwide spread of the coronavirus is not only increasing the demand for personal protective equipment, but also for medical ventilators. In order to ensure the supply in Germany, the German government 
...
Read more...
---
u-blox acquires Thingstream
25 March 2020 , News
u-blox has acquired IoT communication-as-a-service provider, Thingstream. Thingstream provides a comprehensive, end-to-end solution for global IoT connectivity using the industry standard MQTT protocol. 
...
Read more...
---