printer friendly version
Selection software for capacitors
29 January 2020
Passive Components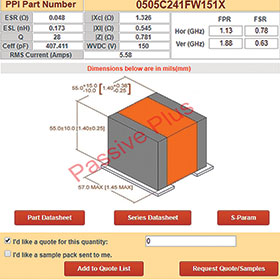 Passive Plus Inc.'s (PPI) brand new Capacitor Application Program (CAP) helps engineers and designers select capacitors according to parameters such as capacitor value and frequency. CAP will provide options (case size, terminations, mounting), and parameters (ESR, Q, impedance) along with datasheets.
The program, which is accessible from the website www.passiveplus.com, allows engineers to insert capacitors requirements, producing scattering matrices (S2P) charts. Once engineers have determined their capacitor requirements, CAP also includes online requests for quotes (RFQs) and/or sample requests.
PPI is a manufacturer of high-performance RF/microwave passive components for the medical, semiconductor, military, broadcast, and telecommunications industries. It specialises in high-Q, low-ESR/ESL capacitors, broadband capacitors, single-layer capacitors, non-magnetic resistors (high power and thin film) and trimmer capacitors.
For more information contact Andrew Hannay, RFiber Solutions, +27 82 494 5466, sales@rfibersolutions.com , www.rfibersolutions.com
Credit(s)
Further reading:
RFiber adds specialist PCB manufacturer to its stable
25 March 2020, RFiber Solutions , Manufacturing / Production Technology, Hardware & Services
RFiber Solutions recently announced the addition of Transline Technologies Inc. (TTI) to its growing portfolio of electronics and RF/microwave suppliers. "The addition of TTI adds a competitive and very 
...
Read more...
---
Thick film resistors with wide terminals
26 February 2020, TRX Electronics , Passive Components
High reliability and enhanced terminal strength are essential in power designs. KOA's wide-terminal resistors offer several advantages compared to standard footprints. The 0612 chip size allows a 6 times 
...
Read more...
---
Antenna switch with receive limiter
26 February 2020, RFiber Solutions , Telecoms, Datacoms, Wireless, IoT
The MASW-010370, made by Macom Technology Solutions, is a fully integrated 10 W PIN diode antenna switch assembled in a lead-free 3 mm 16-lead PQFN plastic package. This module is designed to handle 10 W 
...
Read more...
---
Precision RF test adaptors
25 March 2020, RFiber Solutions , Interconnection
Withwave's precision test adaptors are designed based on precision microwave interconnection technologies. The precision microwave connector interfaces ensure excellent microwave performance from DC up 
...
Read more...
---
Innovative power capacitor technologies for wide band-gap semiconductors
26 February 2020, Electrocomp , Passive Components
Conventional semiconductors based on silicon are being replaced by wide band-gap (WBG) technologies based on GaN (gallium nitride) and SiC (silicon carbide). These demand a great deal from the passive 
...
Read more...
---
Automotive-compliant power transformers
26 February 2020, Electrocomp , Passive Components
Bourns' inductive components product line is introducing the high clearance/creepage distance isolation power transformer Model HCT Series. These AEC-Q200 compliant high-voltage isolation push-pull transformers 
...
Read more...
---
Halo invests in high-speed data transformers
29 January 2020, ASIC Design Services , Passive Components
Halo Electronics, a leading supplier of Ethernet transformers, has invested in UWB X Limited, a UK based technology company focused on creating a new high-speed transformer technology. As part of Halo's 
...
Read more...
---
LAN transformers with automotive certification
29 January 2020 , Passive Components
Bourns' signal magnetics product line has introduced three new LAN transformers: Model SM91071AL, SM91072AL and SM91073AL. These new products are single-port LAN 10/100 Base-T/isolation transformer modules 
...
Read more...
---
RF power amplifier for 18 - 26 GHz
29 January 2020, RFiber Solutions , Telecoms, Datacoms, Wireless, IoT
The MAAP-118260 is a packaged linear power amplifier that operates over the frequency range 17,7 – 26,5 GHz. The device, manufactured by MACOM, provides 28,5 dB of gain and 37,0 dBm output third order 
...
Read more...
---
28 GHz bandpass filter for mm-Wave
29 January 2020, RF Design , Passive Components
The B274MB1S from Knowles is a bandpass filter with a passband from 26,5 to 29,5 GHz, ideally suited for 5G mm-Wave applications. It has an insertion loss of less than 3,5 dB and a rejection of 40 dB 
...
Read more...
---