printer friendly version
Double pulse test software for Tektronix AFG
29 January 2020
Test & Measurement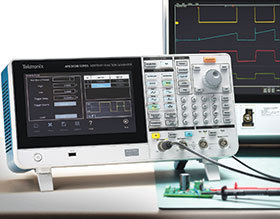 Comtest announced the availability of Tektronix' new software plugin for its AFG31000 arbitrary function generator (AFG), making it possible to perform crucial double pulse testing in less than a minute, and thus saving a significant amount of time when compared to alternative methods.
With the new Double Pulse Test software, engineers can quickly define pulse parameters from a single window on the AFG31000's large touchscreen display and then generate the pulses they need to perform testing. The application offers impedance adjustment of pulse width and the time gap between each pulse, up to 30 pulses. Pulse widths can range from 20 ns to 150 µs.
Double pulse testing is used by researchers and design and test engineers in the power and semiconductor industries to measure and evaluate the switching parameters and dynamic behaviour of power devices, including those made from wide bandgap materials such as silicon carbide (SiC) and gallium nitride (GaN).
To perform a double pulse test, an engineer needs to precisely generate at least two voltage pulses with varying pulse widths and timing to trigger a MOSFET or IGBT power device. Measurements are taken with an oscilloscope like a Tektronix 5 Series MSO. However, generating these pulses has been challenging with today's test equipment, forcing researchers and engineers to manually create waveforms using PCs or microcontrollers – a time-consuming and error-prone approach.
Introduced last year, the AFG31000 features a large touchscreen, a new user interface, the patented InstaView technology feature that automatically detects and compensates for impedance mismatches, programmable waveform sequencing, and a new ArbBuilder tool for easily creating and editing arbitrary waveforms.
Featuring a 9-inch touchscreen display, AFG31000 series instruments are available in 1- or 2-channel configurations and deliver 14-bit vertical resolution along with 250 MSps, 1 GSps or 2 GSps sample rate performance.
For more information contact Comtest, +27 10 595 1821, sales@comtest.co.za , www.comtest.co.za
Credit(s)
Further reading:
Miniature SMT noise sources
31 August 2020, RF Design , Test & Measurement
Pasternack has released a new series of miniature SMT packaged noise sources that are ideal for built-in test equipment, dithering for increased dynamic range of A/D converters and as a source for bit 
...
Read more...
---
New digital storage oscilloscope
31 August 2020, RS Components (SA) , Test & Measurement
RS Components is now stocking the Tektronix TBS1000C digital storage oscilloscope. Affordable, compact and easy-to-use, the TBS1000C comes with enhanced user interface and courseware, proving a great 
...
Read more...
---
High-spec, low-cost oscilloscope for industry and education
31 August 2020, RS Components (SA) , Test & Measurement
RS Components has introduced the Tektronix TBS2000B digital storage oscilloscope, aimed at industrial design and maintenance engineers and the educational sector. A higher-specification but low-cost drop-in 
...
Read more...
---
RS PRO queue management system
31 August 2020, RS Components (SA) , Test & Measurement
The RS PRO SMART-Q queue management system is a high-quality and robust configurable beacon tower that manages the flow of customers and staff, by helping them to move around safely and efficiently in 
...
Read more...
---
Network metrology training kit coupled with Microwave Office
29 July 2020, Comtest , Test & Measurement
Pico Technology has added significant functionality and value to its low-cost, high-performance vector network analyser, by joining the NI/AWR Connected Partner community. The PicoVNA interface wizard 
...
Read more...
---
UCT chooses Tektronix instruments for training lab
29 July 2020, Comtest , News
Comtest, local partner to Tektronix, recently assisted the University of Cape Town (UCT) physics department in refurbishing its electrical training laboratory. All of the existing analog oscilloscopes 
...
Read more...
---
Smart oscilloscope for faster debug
30 June 2020, Comtest , Test & Measurement
PicoTechnology announced the PicoScope 6000E Series FlexRes oscilloscopes, featuring 8 channels with 500 MHz bandwidth, 16 digital channels, and resolution of 8, 10 or 12 bits. The products work with 
...
Read more...
---
New range of Tektronix DSOs
30 June 2020, Comtest , Test & Measurement
Comtest has released Tektronix's new TBS2000B series of digital storage oscilloscopes (DSOs) that was developed to meet the performance, usability and affordability needs of both engineers and educators. 
...
Read more...
---
Contactless ESD testing and access control unit
30 June 2020, Actum Group , Test & Measurement
In the electronics manufacturing industry, an electrostatic discharge (ESD) can cause irreparable damage to electronic components. This micro-lightning bolt can burn holes through insulating layers and 
...
Read more...
---
How are IR cameras calibrated and how does ambient temperature affect readings?
30 June 2020, Instrotech , Test & Measurement
Infrared thermometers are calibrated with the help of reference radiation sources, so-called 'black bodies'. These radiant sources are able to produce different temperatures with a high stability.  
...
Read more...
---