printer friendly version
EERAM memory solutions retain data at power loss
29 January 2020
DSP, Micros & Memory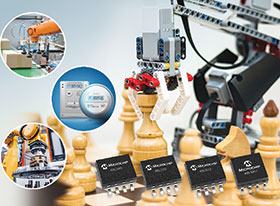 Microchip Technology announced a new family of Serial Peripheral Interface (SPI) EERAM memory products that offers system designers up to 25% cost savings over the current serial non-volatile ram (NVRAM) alternatives. The family introduces four reliable SPI densities to Microchip's EERAM portfolio, ranging from 64 Kb up to 1 Mb.
Applications from smart meters to manufacturing lines, that require repetitive task data-logging, must be able to automatically restore content if power is disrupted during processing. Current low-density (64 Kb to 1 Mb) NVRAM solutions used for these data logs are typically the highest price-per-bit memory in the resulting end products.
EERAM is a standalone non-volatile RAM memory that uses the same SPI and I2C protocols as serial SRAM, enabling devices to retain SRAM content during power loss without using an external battery. All non-volatile aspects of the part are essentially invisible to the user. When the device detects power going away, it automatically transfers the SRAM data to non-volatile storage and moves it back to the SRAM once power returns to the part. In manufacturing lines, for example, stations handle up to millions of tasks over their lifetimes and lost data during a task can require overhauling or discarding items. EERAMs automatically store SRAM content in these settings, allowing the manufacturing line to resume where the task was disrupted.
The primary reason EERAM is available at a lower price point is the use of standard CMOS and Flash processes. Because these are the highest volume and most widely used processes, they offer the best reliability and lowest cost in the industry.
Alternative solutions such as Ferroelectric RAM (FRAM) use a specialty process, resulting in much higher costs and unstable long-term supply. The new EERAM family comes with Microchip's customer-driven obsolescence practice, which helps ensure availability to customers for as long as needed.
The following devices are available in 8-pin SOIC, SOIJ and DFN packages in volume production:
• 48L640: 64 Kb SPI.
• 48L256: 256 Kb SPI.
• 48L512: 512 Kb SPI.
• 48LM01: 1 Mb SPI.
For more information contact Shane Padayachee, Avnet South Africa, +27 11 319 8600, shane.padayachee@avnet.eu, www.avnet.co.za
Credit(s)
Further reading:
MEMS-based environmental pressure sensors
25 March 2020, Avnet South Africa , Analogue, Mixed Signal, LSI
Bourns Sensors & Controls' product line is introducing four new series of environmental sensors based on microelectromechanical systems (MEMS) technology. These four new series are designed for the customer 
...
Read more...
---
Bluetooth 5.0 Low Energy module
25 March 2020, Avnet South Africa , Telecoms, Datacoms, Wireless, IoT
An output power of up to +8 dBm and the high sensitivity of the nRF52840, in combination with the LE coded PHY, make the module very attractive for applications that require a long range. The Bluetooth 
...
Read more...
---
Complete design solution for energy efficient motor driving system
25 March 2020, Avnet South Africa , Power Electronics / Power Management
Electric motors are a powerhouse user of electricity worldwide, accounting for about two-thirds of industrial electricity consumption. The International Energy Agency reports that electric motors account 
...
Read more...
---
Miniature automotive MOSFETs
25 March 2020, Avnet South Africa , Power Electronics / Power Management
Diodes Incorporated announced the introduction of the 40 V-rated DMTH4008LFDFWQ and 60 V-rated DMTH6016LFDFWQ automotive-compliant MOSFETs packaged in DFN2020. These miniature MOSFETs occupy just 10% 
...
Read more...
---
New PIC MCU family
25 March 2020, Avnet South Africa , DSP, Micros & Memory
In microcontroller (MCU)-based system design, software is often the bottleneck for both time to market and system performance. By offloading many software tasks to hardware, Microchip Technology's new 
...
Read more...
---
Modern flanged enclosures for IIoT and sensor applications
25 March 2020, Avnet South Africa , Enclosures, Racks, Cabinets & Panel Products
OKW Gehäusesysteme has expanded its range of enclosures with the new EASYTEC. The special feature of this enclosure range is that there are fully integrated lugs on the short end faces of the bottom part. 
...
Read more...
---
Hybrid capacitors combine the best of both worlds
26 February 2020, Avnet South Africa , Power Electronics / Power Management
The different properties of EDLCs, Li-ion batteries and Li-ion capacitors suits each technology to various different applications.
Read more...
---
MCUs for new-generation smart objects
26 February 2020, Altron Arrow , DSP, Micros & Memory
STMicroelectronics' latest STM32H7A3, STM32H7B3, and STM32H7B0 Value Line microcontrollers (MCUs) combine 280 MHz Arm Cortex-M7 core performance, high memory density, and power savings for future generations 
...
Read more...
---
DRAM for memory expansion
26 February 2020, Future Electronics , DSP, Micros & Memory
Cypress Semiconductor's HyperRAM 2.0 is a high-speed, low-pin-count, self-refresh Dynamic RAM (DRAM) for high-performance embedded systems requiring expansion memory. HyperRAM 2.0 offers HyperBus and 
...
Read more...
---
Bluetooth MCUs with NFC peripheral
26 February 2020, EBV Electrolink , DSP, Micros & Memory
NXP Semiconductors announced the availability of its QN9090 and QN9030 Bluetooth 5 System on Chip (SoC) with hardware compatible options for 802.15.4, multiprotocol RF, and optional NFC technology. The 
...
Read more...
---