printer friendly version
32-bit Arm microcontrollers
29 January 2020
DSP, Micros & Memory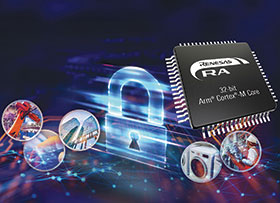 Renesas Electronics unveiled the Renesas Advanced (RA) family of 32-bit Arm Cortex-M microcontrollers (MCUs).
They deliver a combination of optimised performance, security, connectivity, peripheral IP, and easy-to-use flexible software package (FSP) to address the next generation of embedded solutions. To support the new family, Renesas has built a comprehensive partner ecosystem to deliver an array of software and hardware building blocks that will work out of the box with RA MCUs.
The RA family ecosystem will help accelerate the development of IoT applications with core technologies such as security, safety, connectivity and HMI. Designing with RA MCUs makes it easy for engineers to develop Internet of Things (IoT) endpoint and edge devices for industrial and building automation, metering, healthcare, and home appliance applications. The RA family is PSA Certified Level 1 and includes the RA2 series (up to 60 MHz), RA4 series (up to 100 MHz), RA6 series (up to 200 MHz), and the dual-core RA8 Series, to be released later.
The first five RA MCU groups available are comprised of 32 scalable MCUs with Arm Cortex-M4 and Cortex-M23 processor cores. They feature pin counts of 32 pins to 176 pins, along with 256 KB to 2 MB of code Flash memory, 32 KB to 640 KB SRAM, and connectivity such as USB, CAN and Ethernet. It is easy to transition within the RA family thanks to feature and pin compatibility. Each RA MCU group provides low active and standby power, and enhanced features such as Renesas' popular HMI capacitive touch technology.
The RA Family FSP provides an open architecture that allows customers to reuse their legacy code and combine it with software examples from Renesas and ecosystem partners to speed implementation of complex functions like connectivity and security. The FSP features Amazon FreeRTOS and will also add out-of-box support for ThreadX RTOS and middleware on Cortex-M23 and Cortex-M33 MCUs by early 2020, offering a premium device-to-cloud option for developers. These out-of-box options can be easily replaced and expanded with any other RTOS or middleware.
For more information contact Jody Botha, Hi-Q Electronics, +27 11 894 8083, jody@hi-q.co.za, www.hi-q.co.za
Credit(s)
Further reading:
New PIC MCU family
25 March 2020, Avnet South Africa , DSP, Micros & Memory
In microcontroller (MCU)-based system design, software is often the bottleneck for both time to market and system performance. By offloading many software tasks to hardware, Microchip Technology's new 
...
Read more...
---
MCUs for new-generation smart objects
26 February 2020, Altron Arrow , DSP, Micros & Memory
STMicroelectronics' latest STM32H7A3, STM32H7B3, and STM32H7B0 Value Line microcontrollers (MCUs) combine 280 MHz Arm Cortex-M7 core performance, high memory density, and power savings for future generations 
...
Read more...
---
DRAM for memory expansion
26 February 2020, Future Electronics , DSP, Micros & Memory
Cypress Semiconductor's HyperRAM 2.0 is a high-speed, low-pin-count, self-refresh Dynamic RAM (DRAM) for high-performance embedded systems requiring expansion memory. HyperRAM 2.0 offers HyperBus and 
...
Read more...
---
Bluetooth MCUs with NFC peripheral
26 February 2020, EBV Electrolink , DSP, Micros & Memory
NXP Semiconductors announced the availability of its QN9090 and QN9030 Bluetooth 5 System on Chip (SoC) with hardware compatible options for 802.15.4, multiprotocol RF, and optional NFC technology. The 
...
Read more...
---
Wi-Fi 6 front-end module
29 January 2020, Hi-Q Electronics , Telecoms, Datacoms, Wireless, IoT
Skyworks has introduced the SKY85772-11, a new addition to its family of front-end modules (FEMs) that are designed for growing retail, carrier and enterprise Wi-Fi 6 applications. The 5 GHz FEM offers 
...
Read more...
---
Prototyping board for IoT equipment
29 January 2020, Hi-Q Electronics , Telecoms, Datacoms, Wireless, IoT
Renesas Electronics recently launched the RL78/G14 fast prototyping board – a low-cost, function-rich board to enable rapid product development for IoT endpoint equipment. The company also introduced 
...
Read more...
---
EERAM memory solutions retain data at power loss
29 January 2020, Avnet South Africa , DSP, Micros & Memory
Microchip Technology announced a new family of Serial Peripheral Interface (SPI) EERAM memory products that offers system designers up to 25% cost savings over the current serial non-volatile ram (NVRAM) 
...
Read more...
---
Photocouplers for industrial equipment and solar inverters
29 January 2020, Hi-Q Electronics , Opto-Electronics
Renesas Electronics announced five new 8,2 mm creepage photocouplers that are the world's smallest isolation devices for industrial automation equipment and solar inverters. With a package width of 2,5 mm, 
...
Read more...
---
Applications processor for machine learning at the edge
29 January 2020, EBV Electrolink , DSP, Micros & Memory
NXP Semiconductors has expanded its advanced EdgeVerse portfolio with the i.MX 8M Plus application processor – the first i.MX family to integrate a dedicated Neural Processing Unit (NPU) for advanced 
...
Read more...
---
Single-chip buck and LDO regulator for satellite power
29 January 2020, Hi-Q Electronics , Power Electronics / Power Management
Renesas Electronics recently announced the industry's first single-chip synchronous buck and low dropout (LDO) regulator targeting low-power FPGAs, DDR memory and other digital loads for spaceflight payload 
...
Read more...
---