printer friendly version
32-bit Arm microcontrollers
29 January 2020
DSP, Micros & Memory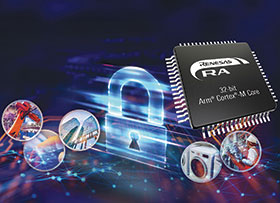 Renesas Electronics unveiled the Renesas Advanced (RA) family of 32-bit Arm Cortex-M microcontrollers (MCUs).
They deliver a combination of optimised performance, security, connectivity, peripheral IP, and easy-to-use flexible software package (FSP) to address the next generation of embedded solutions. To support the new family, Renesas has built a comprehensive partner ecosystem to deliver an array of software and hardware building blocks that will work out of the box with RA MCUs.
The RA family ecosystem will help accelerate the development of IoT applications with core technologies such as security, safety, connectivity and HMI. Designing with RA MCUs makes it easy for engineers to develop Internet of Things (IoT) endpoint and edge devices for industrial and building automation, metering, healthcare, and home appliance applications. The RA family is PSA Certified Level 1 and includes the RA2 series (up to 60 MHz), RA4 series (up to 100 MHz), RA6 series (up to 200 MHz), and the dual-core RA8 Series, to be released later.
The first five RA MCU groups available are comprised of 32 scalable MCUs with Arm Cortex-M4 and Cortex-M23 processor cores. They feature pin counts of 32 pins to 176 pins, along with 256 KB to 2 MB of code Flash memory, 32 KB to 640 KB SRAM, and connectivity such as USB, CAN and Ethernet. It is easy to transition within the RA family thanks to feature and pin compatibility. Each RA MCU group provides low active and standby power, and enhanced features such as Renesas' popular HMI capacitive touch technology.
The RA Family FSP provides an open architecture that allows customers to reuse their legacy code and combine it with software examples from Renesas and ecosystem partners to speed implementation of complex functions like connectivity and security. The FSP features Amazon FreeRTOS and will also add out-of-box support for ThreadX RTOS and middleware on Cortex-M23 and Cortex-M33 MCUs by early 2020, offering a premium device-to-cloud option for developers. These out-of-box options can be easily replaced and expanded with any other RTOS or middleware.
Credit(s)
Further reading:
Fujitsu FRAM and ReRAM now available from Mouser
TRX Electronics DSP, Micros & Memory
Fujitsu Semiconductor Memory Solution's ferroelectric random access memory (FRAM) and large-density resistive random access memory (ReRAM) products are now being distributed by Mouser Electronics. Fujitsu 
...
Read more...
---
Functional safety packages for Microchip MCUs and DSCs
EBV Electrolink DSP, Micros & Memory
Safety is a primary concern in automotive applications to ensure reliable operation and end users' wellbeing. Microchip Technology is offering newly certified functional safety packages to enable engineers 
...
Read more...
---
MCU with enhanced security and innovative sensing features
EBV Electrolink DSP, Micros & Memory
Enabled with Bluetooth Low Energy wireless connectivity, onsemi's new low-power RSL15 microcontroller (MCU) addresses the growing demand of connected industrial applications for security without sacrificing 
...
Read more...
---
Discovery kit for IoT nodes using STM32U5 MCU
Altron Arrow DSP, Micros & Memory
The B-U585I-IOT02A Discovery kit provides a complete demonstration and development platform for STMicroelectronics' STM32U585AI microcontroller, featuring an Arm Cortex-M33 core with Arm TrustZone and 
...
Read more...
---
RS-485/422 differential transceivers
Hi-Q Electronics Telecoms, Datacoms, Wireless, IoT
Renesas has expanded its RS-485/422 portfolio with the RAA78815x family of 5 V differential transceivers with electrical fast transient (EFT) immunity of ±5000 V and ESD protection up to ±16 000 V, making 
...
Read more...
---
200 MHz MCUs backed by TrustZone security
Hi-Q Electronics DSP, Micros & Memory
Renesas Electronics now offers a 200 MHz RA6E1 microcontroller (MCU) which uses a high-performance Arm Cortex M33 core and TrustZone. The device is built on a highly efficient 40 nm process and supported 
...
Read more...
---
32-bit MCU for IoT edge applications
NuVision Electronics DSP, Micros & Memory
Silicon Labs launched the EFM32PG22 (PG22) 32-bit microcontroller (MCU), a low-cost, high-performance solution with an optimised combination of energy efficiency, performance and security. With easy-to-use, 
...
Read more...
---
Crossover MCU with 3D camera
EBV Electrolink DSP, Micros & Memory
NXP Semiconductors has announced the expansion of its NXP EdgeReady solution portfolio, adding a solution for secure face recognition that leverages a high-performance 3D structured light module (SLM) 
...
Read more...
---
Automotive RF switches and LNA front-end modules
Hi-Q Electronics Telecoms, Datacoms, Wireless, IoT
Recent introductions to Skyworks' product range are the SKYA21038, SKYA21039, SKYA21040 and SKYA21041 for automotive, cellular compensator and cellular telematics. The SKYA21038 is a single-pole, 
...
Read more...
---
Renesas/Dialog synergy delivers winning combinations
Hi-Q Electronics News
Renesas Electronics and Dialog Semiconductor have officially joined forces, resulting in an immediate benefit to customers as Renesas announces 39 new 'Winning Combinations'. These expert designs showcase 
...
Read more...
---