printer friendly version
The importance of surge protection in the lightning protection arena
29 January 2020
Circuit & System Protection
In order to understand the need for surge protection, it is important to understand how lightning causes damage. The sources of lightning damage are quite different, and we use different types of mitigation techniques and equipment to protect different items.
There are two areas of concern when evaluating a building or structure, namely the structure itself, and all incoming cables, meaning IT equipment as well as power. From this, the four sources of damage are derived, as per the following possibilities:
• Having a lightning strike directly to the building, or
• Near the building, or
• Directly to an incoming line, or
• Near the incoming line.
Nearby strikes cause lightning surges. In striking neighbouring buildings, surrounding objects or areas next to incoming lines, the lightning current coming down generates a magnetic field, which is cast over the structure or lines. This magnetic field that is cast generates an induced current on the incoming line or on the cables inside the structure.
To prevent resulting damage to electrical equipment, we use surge protective devices (SPD) to reduce the induced effects of lightning. To prevent burning or mechanical damage, we attempt to avoid direct strikes to a structure by means of a system of lightning rods, also known as external lightning protection.
By installing external protection, you will protect yourself from structural damage, but this will not necessarily prevent your electronic equipment from being damaged (for example TVs, Internet routers and appliances such as kettles, fridges, microwaves and so on). Therefore, in order to protect equipment, you need surge protective devices.
The calculation from the SANS 62305-2 standard to evaluate the risks are as follows:
• The area to be considered for direct strikes is a radius around the structure, which is three times the height of the structure.
• The area to be considered for surges is a radius of 500 m around the structure and can be up to 2 kilometres away in both directions for incoming lines.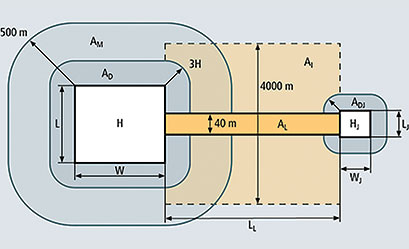 Figure 1. Areas from which lightning strikes can cause damage to a building, its incoming lines and its systems.
Referring to Figure 1, we can see that the risk of resultant surges exceeds that of direct lightning strikes, meaning that the correct installation of surge protection devices is extremely important. Other benefits of surge arrestors include the minimising of switching surges coming from the grid. This is a very relevant topic when seen against the background of recent load shedding from the South African grid.
Over the years, DEHN has developed numerous market-leading surge arrestors, with the latest offering being the new DEHNguard ACI surge protective device. This technology is a first in the market and a product of DEHN exclusively. The DEHNguard surge arrestor with ACI technology allows the user to save space, time and costs. DEHNguard is a pre-wired, complete unit that consists of a base part and plug-in protection modules. Its benefits include:
• Safe dimensioning and the elimination of mistakes: The new switch/spark gap combination is integrated directly into, and ideally adjusted to, the arrestor. A connection cross-section of just 6 mm² makes for easier installation and saves time that otherwise needs to be spent dimensioning the cross-section.
• Being able to withstand temporary over-voltages (TOV) to increase system availability and save on maintenance and repair costs. Temporary over-voltages – for example, caused by loss of neutral – can destroy conventional surge protective devices. The new ACI arrestors have a much better TOV withstand.
• Zero leakage current increases the service lifetime of arrestors. ACI arrestors also avert the accidental tripping of the insulation monitoring and contribute towards operational safety.
DEHNguard with ACI technology has recently become available in South Africa through DEHN Africa and its partners.
For more information contact DEHN Africa, +27 11 704 1487, info@dehn-africa.com
Credit(s)
Further reading:
3 kW TVS diode arrays
30 June 2020, Avnet South Africa , Circuit & System Protection
To ensure critical operations, aviation and space systems rely on digital and logic functionality and circuitry in engine control units, environmental controls, instruments and actuators. Data centres, 
...
Read more...
---
Integrated EMC line filters and design kit
29 May 2020 , Circuit & System Protection
Würth Elektronik provides solutions to help prevent EMI problems with non-compliant equipment. It offers complete WE-CLFS EMC line filters that have most components one needs for an EMC filter inside 
...
Read more...
---
Advanced EMI shielding solutions
29 May 2020, Actum Group , Circuit & System Protection
All electronic devices generate electromagnetic radiation that can be transmitted through the air from one electronic device to another. This is known as electromagnetic interference (EMI). In certain 
...
Read more...
---
Dual-channel high-speed protector
29 April 2020, Electrocomp , Circuit & System Protection
Bourns announced the release of the Model TBU-RS085-300-WH, for use in RS-485 communication interface protection. The part is an integrated dual-channel transient blocking unit (TBU) over-current and 
...
Read more...
---
Reliably protect LED applications
29 April 2020, Phoenix Contact , Circuit & System Protection
The Type 2 surge protective device from the Blocktrab series from Phoenix Contact protects all lighting systems and is particularly suitable for LED applications. LED technology has become indispensable 
...
Read more...
---
Rectifier chip diodes
25 March 2020, Electrocomp , Circuit & System Protection
Portable electronics, communications, computing and video equipment manufacturers are challenging the semiconductor industry to develop increasingly power efficient solutions with smaller electronics 
...
Read more...
---
Steering diode/TVS array for display interfaces
25 March 2020, Altron Arrow , Circuit & System Protection
ProTek Devices has introduced a new steering diode transient voltage suppressor (TVS) array for circuit protection across popular consumer electronic display interfaces. The new PUSB403 device is ideal 
...
Read more...
---
SMD fuse with automotive qualification
25 March 2020, Electrocomp , Circuit & System Protection
Bourns announced the introduction of two new series of AEC-Q200 compliant SMD fuses to complement its already successful line of SinglFuse SMD Fuse products.    The new Model SF-0603HIA-M and SF-1206HIA-M 
...
Read more...
---
USB Type-C port protector
26 February 2020, Altron Arrow , Circuit & System Protection
Designers can easily migrate small electronic devices from legacy USB Micro-A or Micro-B interconnects to the latest Type-C style with the STMicroelectronics TCPP01-M12 port protector, which satisfies 
...
Read more...
---
Spring finger stocks and contact gaskets
26 February 2020, Vepac Electronics , Circuit & System Protection
Kemtron's beryllium copper (BeCu) spring finger stocks and contact gaskets are manufactured by punching or etching a thin BeCu strip which is pressed and formed into the required final shape and then 
...
Read more...
---