printer friendly version
Company profile: ETION Create
EMP 2020 Electronics Manufacturing & Production Handbook
News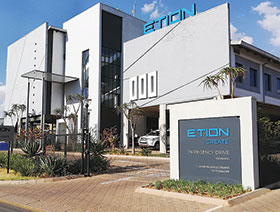 ETION Create is an original design manufacturer (ODM) that has been in operation for more than 25 years. Originally known as Parsec, the company was founded in 1993, focusing on the design, development and manufacture of a wide range of advanced electronic and digital products. In 2015, Parsec was acquired by Alt-X-listed company, Ansys Limited, and changed its name to ETION Create as part of the holding company rebrand from Ansys to ETION Limited.
The repositioning of ETION Limited created a platform for the group to create a new value chain and enabled it to take an integrated offering to the market. With its proudly South African roots, ETION Create forms a critical part of the ETION value chain and its overarching proposition to create, digitalise, connect and secure digital products and systems.
Other divisions within the ETION Group include ETION Digitise which specialises in digital systems that help improve the safety and productivity of client operations in sectors that include transport and logistics, mining and energy; ETION Connect which offers connectivity and communications products, solutions and services for fibre wireless deployments, data and digital radio communications networks; and ETION Secure, incorporating the newly acquired LAWTrust, which provides cybersecurity solutions that focus on establishing positive identity, ensuring authenticity and protecting privacy.
By joining forces with ETION Ltd, ETION Create now offers turnkey professional engineering solutions spanning from the early system concept stages through to final product manufacturing and logistics support. Its proven ISO certified project management, system engineering, design and development and manufacturing processes guarantee professional and consistent end results which are a key requirement on all defence platforms. Where possible, the company leverages its range of in-house commercial off-the-shelf (COTS) embedded products.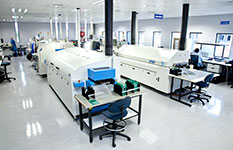 Offering and capabilities
ETION Create carries certifications for ISO 9001, IPC-A-610-Class 2 and 3 (inspection), IPC-3-STD-001-Class 2 and 3 (workmanship) and IPC-7711/7721 (rework, modifications and repair).
As an environment-conscious entity, the company supports efforts to eliminate the use of conflict minerals (e.g. columbite-tantalite, cassiterite, gold, wolframite, or their derivatives such as tantalum, tin, gold and tungsten) from improper sources and is committed to promoting transparency and consumer awareness regarding the use of these minerals.
ETION Create has also been involved in the information security market since 2007 with the development of its range of high-security network encryption (SOLIDnet) products. The SOLIDnet products provide a military-grade Virtual Private Network (VPN) solution which addresses the need of government and enterprises to communicate securely over public networks such as the Internet.
ETION Create has recently expanded its product offering to include a USB-based Public Key Infrastructure (PKI) cryptographic token solution known as the SOLIDid which covers a wide range of information and cybersecurity applications of interest to government, enterprises and individuals alike. The applications are numerous and include the digital signing and encryption of emails, files and documents.
The company has also embraced the new world of Internet of Things (IoT) technologies, big data and the cloud, by creating the right platforms for collecting, analysing and understanding information crucial to your business. Its expertise and deep understanding of its customers' needs assures them of peace of mind for them to remain focused on their own core competencies.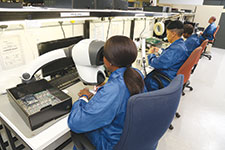 Value proposition and vision
With a workforce that includes more than 150 individuals, highly specialised engineers and project managers, and long-standing industry experts, ETION Create delivers the crucial expertise and support that its customers need for their business.
The bulk of its business is derived from the South African market with a number of other countries in the Middle East and sub-Saharan Africa geographies. It has ambitions to grow significantly beyond its border to reduce its reliance on the South African market. Both its home and international markets are constantly changing, and the company's approach is to have enough flexibility to tailor its business to the ever-changing market dynamics.
ETION Create would like to be known as an iconic group known for accelerated growth and value creation for all stakeholders. It continuously strives to be a place where people with ideas can turn these into sustainable business despite the constraints present in the markets that it operates in.
For more information contact ETION Create, +27 12 678 9740, www.etion.co.za/create/
Credit(s)
Further reading:
From the editor's desk: Yes, it's that thing everyone's talking about
25 March 2020, Technews Publishing , News
Call me a pessimist, but I'm absolutely, 100% certain that I'm going to catch COVID-19 (or the 'novel coronavirus' if you prefer to call it that) – if I haven't done so already. At least the mortality 
...
Read more...
---
Electronics news digest
25 March 2020 , News
Overseas
Business
• ams reported record revenues and results for full year 2019, with revenues up 32% year-on-year, and fourth quarter revenues exceeding expectations with strong adjusted operating 
...
Read more...
---
XinaBox – Reaching for the stars
25 March 2020, RS Components (SA) , News
From collecting data in sub-zero Antarctica to rapid circuit prototyping on the International Space Station this South African company is reinventing the way we approach IoT while inspiring students to follow STEM careers.
Read more...
---
Electrocomp launches new website
25 March 2020, Electrocomp , News
Electrocomp is inviting visitors to explore its new website, which has been designed to offer a user-friendly experience with improved navigation and functionality while allowing customers to see their 
...
Read more...
---
Looking beyond radar, the car's virtual eye
25 March 2020, Altron Arrow , News
Faster, higher-resolution radar sensors have enabled the next generation of driver assistance technologies through improvements in vehicle safety and comfort in view.
Read more...
---
Disposing of e-waste in space
26 February 2020 , News
According to BBC, there are over half a million pieces of debris floating around the Earth's orbit. Most debris within the atmosphere are lost parts from space crafts, disused rocket stages or waste from 
...
Read more...
---
IPC revises five standards
26 February 2020 , News
IPC announced the release of five newly revised standards covering several areas of the supply chain:      
· IPC/WHMA-A-620D, Requirements and Acceptance for Cable and Wire Harness Assemblies. · IPC-2223E, 
...
Read more...
---
Testerion to represent ITW EAE in SA
26 February 2020, Testerion , News
ITW EAE announced a new extended partnership agreement with Testerion South Africa to represent and distribute all ITW EAE equipment including MPM printers, Camalot dispensers, Electrovert soldering systems, 
...
Read more...
---
Würth helps produce PCBs for ventilators
25 March 2020, Würth Elektronik eiSos , News
The worldwide spread of the coronavirus is not only increasing the demand for personal protective equipment, but also for medical ventilators. In order to ensure the supply in Germany, the German government 
...
Read more...
---
u-blox acquires Thingstream
25 March 2020 , News
u-blox has acquired IoT communication-as-a-service provider, Thingstream. Thingstream provides a comprehensive, end-to-end solution for global IoT connectivity using the industry standard MQTT protocol. 
...
Read more...
---