printer friendly version
Company profile: Laser Stencil Technology
EMP 2020 Electronics Manufacturing & Production Handbook
News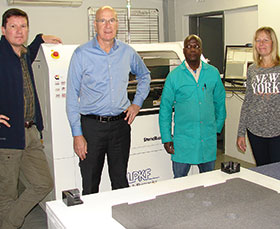 Since its inception in 2004, Laser Stencil Technology has grown into a prominent figure in the South African electronics manufacturing industry. Having been involved in circuit board manufacturing using the same photographic and etching technology since 1983, things changed for the company's founder, Donovan Jeffery, when the first brass SMT stencil was produced and bonded directly to a steel frame. This led to the birth of Stencils CC in 1989, which ran concurrently with his involvement in PCB manufacturing, and ultimately, to the formation of Laser Stecil Technology (LST) in 2002.
Over time, stencil durability became an issue and brass was replaced with stainless steel, and by then the stencils were being bonded onto frames stretched with polyester mesh. This manufacturing method began to show its limitations around 2002 as technology became more advanced and customers began to express their need for smaller and more precise apertures. It was at this point that the inevitable decision had to be taken to purchase a stencil laser, and so the search began to find the best machine for the job. Together with the procurement of the new equipment, a new company was formed and Laser Stencil Technology (LST) was born.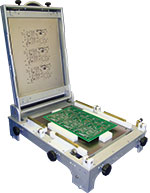 In 2005, the company became the sole agent for Zelflex pneumatic frames, which proved to be substantially more cost effective for its customers by eliminating the aluminium frame, mesh and bonding costs. What is more, a stencil could now be engineered, cut and delivered within hours of the order being placed.
LST purchased the distribution licence for Vectorguard Stencil Foils in South Africa in 2010, giving its customers the choice of two systems to meet their specific assembly requirements. In the same year, a second stencil laser was purchased to improve production time during peak demand, as well as to provide redundancy in the event of downtime on the first laser.
July 2015 saw the company move into its own building in Strijdom Park, one of the busiest industrial centres in Johannesburg and conveniently positioned with easy access from the highway.
"As we know in this industry, nothing stands still, and in recent years new technology has presented many challenges to the assembly industry," Jeffery muses. "There are occasions where PCB designs contain a large variety of parts including fine-pitch devices that require a thinner stencil and larger parts that require a thicker stencil. In this case it is possible for a multilevel or 'stepped' stencil to be designed and manufactured on our recently acquired laser which is unsurpassed in terms of capability and accuracy."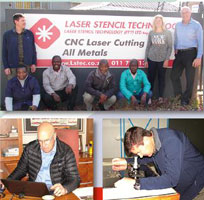 Step-up areas are created by adding material to the stencil and are used to increase the volume and height of the solder paste in selected areas – useful for 'pin in paste' and large format devices. Step-down areas are created by removing material from the stencil and are used to reduce the volume and height of the solder paste deposit in selected areas. The multilevel stencil enables one to deposit the correct volume of paste for every device and therefore achieve optimum results.
"In June 2019, Laser Stencil Technology celebrated its 15th year of serving the South African electronics industry with an uncompromising attitude towards service and quality. One thing is certain, and that is that we could not have achieved what we have done without the loyal and unwavering support of our customers," Jeffery concludes.
For more information contact Laser Stencil Technology, +27 11 793 1318, stencils@lstec.co.za, www.lstec.co.za
Credit(s)
Further reading:
From the editor's desk: Yes, it's that thing everyone's talking about
25 March 2020, Technews Publishing , News
Call me a pessimist, but I'm absolutely, 100% certain that I'm going to catch COVID-19 (or the 'novel coronavirus' if you prefer to call it that) – if I haven't done so already. At least the mortality 
...
Read more...
---
Electronics news digest
25 March 2020 , News
Overseas
Business
• ams reported record revenues and results for full year 2019, with revenues up 32% year-on-year, and fourth quarter revenues exceeding expectations with strong adjusted operating 
...
Read more...
---
XinaBox – Reaching for the stars
25 March 2020, RS Components (SA) , News
From collecting data in sub-zero Antarctica to rapid circuit prototyping on the International Space Station this South African company is reinventing the way we approach IoT while inspiring students to follow STEM careers.
Read more...
---
Electrocomp launches new website
25 March 2020, Electrocomp , News
Electrocomp is inviting visitors to explore its new website, which has been designed to offer a user-friendly experience with improved navigation and functionality while allowing customers to see their 
...
Read more...
---
Looking beyond radar, the car's virtual eye
25 March 2020, Altron Arrow , News
Faster, higher-resolution radar sensors have enabled the next generation of driver assistance technologies through improvements in vehicle safety and comfort in view.
Read more...
---
Disposing of e-waste in space
26 February 2020 , News
According to BBC, there are over half a million pieces of debris floating around the Earth's orbit. Most debris within the atmosphere are lost parts from space crafts, disused rocket stages or waste from 
...
Read more...
---
IPC revises five standards
26 February 2020 , News
IPC announced the release of five newly revised standards covering several areas of the supply chain:      
· IPC/WHMA-A-620D, Requirements and Acceptance for Cable and Wire Harness Assemblies. · IPC-2223E, 
...
Read more...
---
Testerion to represent ITW EAE in SA
26 February 2020, Testerion , News
ITW EAE announced a new extended partnership agreement with Testerion South Africa to represent and distribute all ITW EAE equipment including MPM printers, Camalot dispensers, Electrovert soldering systems, 
...
Read more...
---
Würth helps produce PCBs for ventilators
25 March 2020, Würth Elektronik eiSos , News
The worldwide spread of the coronavirus is not only increasing the demand for personal protective equipment, but also for medical ventilators. In order to ensure the supply in Germany, the German government 
...
Read more...
---
u-blox acquires Thingstream
25 March 2020 , News
u-blox has acquired IoT communication-as-a-service provider, Thingstream. Thingstream provides a comprehensive, end-to-end solution for global IoT connectivity using the industry standard MQTT protocol. 
...
Read more...
---