printer friendly version
Company profile: Repro Supplies
EMP 2020 Electronics Manufacturing & Production Handbook
News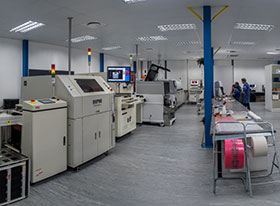 Repro Supplies is a systems integration company that specialises in turnkey systems for the mining industry, industrial, traffic and LED markets, both locally as well as internationally. The company was started in Germiston in 2000 by Gavin O'Connor, with a primary focus on consultancy, design and approval for explosion-proof equipment for hazardous locations, and has evolved to embrace a full design and assembly business model.
The company started off with just two staff members and it now boasts over 83 employees. Hand in hand with this growth in staff over the years, Repro moved to Boksburg in 2008 and then relocated in 2012 to bigger premises, and yet again in 2014 to its current premises. This was due to expansion plans for additional office and workshop space it required.
Repro offers a complete turnkey solution for the design and manufacturing of electronic and electrical equipment. It is ISO 9001:2005 certified, and has mark permits from MASC for flameproof, increased safety, intrinsic safety, and encapsulation categories. It also has its own IECEx QAR/QAN quality assurance. Its advantages include its in-house capabilities in terms of:
• Electronic design.
• Mechanical design with 3D printing and
full SolidWorks development.
• Firmware development.
• SMT production line plus a full prototype assembly line.
• Electronic component sourcing.
• Printing and laser engraving.
Furthermore, the company is completely self-sufficient and uses very little outsourcing, and it sees itself playing a big role as South Africa is losing much of its ability to manufacture, with many local companies outsourcing to China to manufacture their goods. Repro's ambition is to become a 'one-stop shop' in order to entice these companies to use its local expertise and production facility, to take advantage of its advanced capabilities while also stimulating the local market.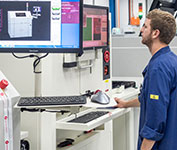 Repro places a strong emphasis on training, and has many success stories of taking unskilled labour and turning them into highly skilled labour. Repro is proud of having given people a proper skill which they can use in the future to secure job success for themselves.
New SMT production capabilities
Repro Supplies recently procured its own full, state-of-the-art SMT production line allowing it to offer customers a complete one-stop solution for turnkey projects, right from design to assembly to final packaging. It is actively seeking business for this new SMD assembly line, which promises extensive flexibility and high accuracy, and can easily be expanded for higher production volumes at a later stage, should customer requirements demand an increase in production capability. This is because the system is modular, and production can be doubled within a day by installing additional modules.
At the heart of the line is a Fuji AIMEX3C SMD placement machine, capable of handling up to 130 different SMD components (on tape or reels) from 0402 (01005") up to 74 mm2, with 0,2 mm pitch at accuracies of 20 microns, and speeds up to 26 000 cph (components per hour).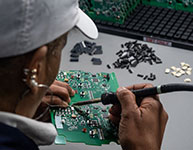 In order to keep tight control on quality, the company also added a Speedline MPM 100 stencil printer together with an in-line TRI Model TR7007 Di 3D SPI (solder paste inspection) machine. The system is capable of fully checking all solder paste printed within 15 seconds per panel, and automatically rejecting any out-of-specification prints, thus ensuring 100% perfect solder paste printing.
A TRI Model TR7700QI 3D AOI (automatic optical inspection) system is installed at the end of the line, to not only check for correct component placement, but also for correct solder joints on every PCB, all in less than 20 seconds.
In the unlikely event of any board failing during production, it goes directly into a separate magazine unloader, where it is quarantined for later inspection at an off-line TRI inspection system, where any faults are verified, and repaired if necessary. A Heller MK5 1707 reflow oven ensures that solder quality is always kept consistently high, as verified by the AOI system.
Soon to be added to the system will be a fully automatic component storage system, manufactured by Essegi in Italy.
For more information contact Gavin O'Connor, Repro Supplies, +27 11 826 5364, gavo@mweb.co.za, www.reprosupplies.co.za
Credit(s)
Further reading:
Resources for home and building automation
31 August 2020, TRX Electronics , News
Mouser Electronics is expanding its comprehensive range of building automation solutions from Silicon Labs, TE Connectivity (TE), and Littelfuse for the rapidly growing smart home and building automation 
...
Read more...
---
From the editor's desk: Enough of 2020 already
31 August 2020, Technews Publishing , News
Forgive me, but I don't think I'm alone in being a bit all over the place mentally at the moment. So far, two of my colleagues have been diagnosed positive for COVID-19 and have fortunately recovered. 
...
Read more...
---
Tribute to Paul Soteriou
31 August 2020 , News
Paul Soteriou, a man always willing to share what he had with a smile and with a deep-found love for South Africa, passed away earlier this year.
Read more...
---
Personality profile: Brian Andrew
31 August 2020, RS Components (SA) , News
With a father who is a civil engineer and an older brother who is a chemical engineer, you could say engineering was in the DNA of Brian Andrew.
Read more...
---
SA company scores in major international renewable energy project
31 August 2020, ETION Create , News
South African-based Etion Create has been selected as one of the preferred suppliers in the Sofia offshore wind farm project in the United Kingdom, one of the largest in the world. Etion Create, an original 
...
Read more...
---
Company profile: Vepac Electronics
31 August 2020, Vepac Electronics , News
Vepac Electronics was formed in 1987 and has been operating in South Africa since 1976 as Vero UK. Vepac Electronics was formed as a management buyout of Vero UK by the management at the time led by 
...
Read more...
---
South African stakeholders commit to responsible AI
31 August 2020 , News
Much like a microcosm of our socio-economic context, the artificial intelligence (AI) landscape in South Africa is uneven and burdened with regulatory challenges. If not addressed, these challenges could 
...
Read more...
---
Clearing the Static
31 August 2020, Actum Electronics , News
Ionisation and static control
Electronic products normally consist of conductors and insulators. Within the ESD-protected workstation, insulators can be found on products such as PCBs, onthe tools being 
...
Read more...
---
Women taking the lead in engineering
31 August 2020 , Editor's Choice, News
Alaris Antennas is an engineering company specialising in the design and production of (often) customised antennas for electronic warfare. This is not an industry that typically attracts women to steer 
...
Read more...
---
Promoting women in the smart meter sector
31 August 2020 , News
Trade careers have traditionally been more male dominated, but they are also a fantastic opportunity for women and this should be a focus of the smart meter market.
Read more...
---