printer friendly version
Company profile: Repro Supplies
EMP 2020 Electronics Manufacturing & Production Handbook
News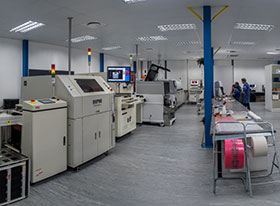 Repro Supplies is a systems integration company that specialises in turnkey systems for the mining industry, industrial, traffic and LED markets, both locally as well as internationally. The company was started in Germiston in 2000 by Gavin O'Connor, with a primary focus on consultancy, design and approval for explosion-proof equipment for hazardous locations, and has evolved to embrace a full design and assembly business model.
The company started off with just two staff members and it now boasts over 83 employees. Hand in hand with this growth in staff over the years, Repro moved to Boksburg in 2008 and then relocated in 2012 to bigger premises, and yet again in 2014 to its current premises. This was due to expansion plans for additional office and workshop space it required.
Repro offers a complete turnkey solution for the design and manufacturing of electronic and electrical equipment. It is ISO 9001:2005 certified, and has mark permits from MASC for flameproof, increased safety, intrinsic safety, and encapsulation categories. It also has its own IECEx QAR/QAN quality assurance. Its advantages include its in-house capabilities in terms of:
• Electronic design.
• Mechanical design with 3D printing and
full SolidWorks development.
• Firmware development.
• SMT production line plus a full prototype assembly line.
• Electronic component sourcing.
• Printing and laser engraving.
Furthermore, the company is completely self-sufficient and uses very little outsourcing, and it sees itself playing a big role as South Africa is losing much of its ability to manufacture, with many local companies outsourcing to China to manufacture their goods. Repro's ambition is to become a 'one-stop shop' in order to entice these companies to use its local expertise and production facility, to take advantage of its advanced capabilities while also stimulating the local market.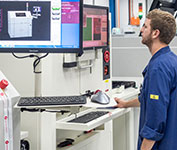 Repro places a strong emphasis on training, and has many success stories of taking unskilled labour and turning them into highly skilled labour. Repro is proud of having given people a proper skill which they can use in the future to secure job success for themselves.
New SMT production capabilities
Repro Supplies recently procured its own full, state-of-the-art SMT production line allowing it to offer customers a complete one-stop solution for turnkey projects, right from design to assembly to final packaging. It is actively seeking business for this new SMD assembly line, which promises extensive flexibility and high accuracy, and can easily be expanded for higher production volumes at a later stage, should customer requirements demand an increase in production capability. This is because the system is modular, and production can be doubled within a day by installing additional modules.
At the heart of the line is a Fuji AIMEX3C SMD placement machine, capable of handling up to 130 different SMD components (on tape or reels) from 0402 (01005") up to 74 mm2, with 0,2 mm pitch at accuracies of 20 microns, and speeds up to 26 000 cph (components per hour).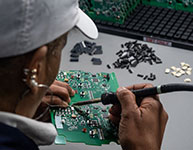 In order to keep tight control on quality, the company also added a Speedline MPM 100 stencil printer together with an in-line TRI Model TR7007 Di 3D SPI (solder paste inspection) machine. The system is capable of fully checking all solder paste printed within 15 seconds per panel, and automatically rejecting any out-of-specification prints, thus ensuring 100% perfect solder paste printing.
A TRI Model TR7700QI 3D AOI (automatic optical inspection) system is installed at the end of the line, to not only check for correct component placement, but also for correct solder joints on every PCB, all in less than 20 seconds.
In the unlikely event of any board failing during production, it goes directly into a separate magazine unloader, where it is quarantined for later inspection at an off-line TRI inspection system, where any faults are verified, and repaired if necessary. A Heller MK5 1707 reflow oven ensures that solder quality is always kept consistently high, as verified by the AOI system.
Soon to be added to the system will be a fully automatic component storage system, manufactured by Essegi in Italy.
For more information contact Gavin O'Connor, Repro Supplies, +27 11 826 5364, gavo@mweb.co.za, www.reprosupplies.co.za
Further reading:
SAAB Avionics approves Elmatica auditor for PCB subcontractors
29 January 2020, Elmatica , News
Expanding on its international relationship with SAAB Avionics, printed circuit board supplier Elmatica's Jan Pedersen successfully completed the Part 21, Subpart G training, regarding auditing of printed 
...
Read more...
---
Electronics news digest
29 January 2020 , News
South Africa
• More than 2400 people braved pouring rain in Gauteng to attend the 5th Science Forum South Africa (SFSA) at the CSIR International Convention Centre in December. The annual Department 
...
Read more...
---
Appointment: ExecuKit
29 January 2020, ExecuKit , News
ExecuKit has appointed Marshant Benadie in a technical support role.    His duties will include developing business with clients within the electronics distribution and manufacturing industry; managing 
...
Read more...
---
Repro installs new SMT production line
29 January 2020 , News
The company is actively seeking business for this new assembly line, which promises extensive flexibility and high accuracy, and can easily be expanded for higher production volumes.
Read more...
---
AREI's plans for 2020
29 January 2020 , Editor's Choice, News
Erich Nast, chairman of AREI, discusses what the association's plans are to tackle the challenges and opportunities that lie ahead.
Read more...
---
Check out Dataweek's new-look website
29 January 2020, Technews Publishing , Editor's Choice, News
Our technical design elves have been locked away in our basement for months, improving the visual design and functionality of the Dataweek website.
Read more...
---
From the editor's desk: A fresh start, but a sad farewell?
29 January 2020, Technews Publishing , News
A couple of years ago, not many people had heard of Yekani. The company bought a stake in the well-known East London-based satellite decoder maker, Vektronix, and subsequently acquired it in its entirety. When 
...
Read more...
---
Actum Group merges its brands under one roof
29 January 2020, Actum Electronics , News
Over the years, Actum Group has been built through partnerships, collaborations and acquisitions of leading companies with a long history and rich legacy in the industry. These companies include Actum 
...
Read more...
---
Company profile: ETION Create
EMP 2020 Electronics Manufacturing & Production Handbook, ETION Create , News
ETION Create is an original design manufacturer (ODM) that has been in operation for more than 25 years. Originally known as Parsec, the company was founded in 1993, focusing on the design, development 
...
Read more...
---
Company profile: Laser Stencil Technology
EMP 2020 Electronics Manufacturing & Production Handbook, Laser Stencil Technology , News
Since its inception in 2004, Laser Stencil Technology has grown into a prominent figure in the South African electronics manufacturing industry. Having been involved in circuit board manufacturing using 
...
Read more...
---