printer friendly version
Company profile: Saflec
EMP 2020 Electronics Manufacturing & Production Handbook
News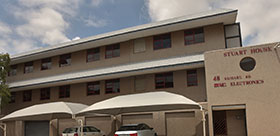 Saflec was founded in 1980 as an owner-managed company, designing, manufacturing and marketing security and industrial metal detectors. The staff complement consisted of a handful of key people, but grew rapidly and within two years a move to bigger premises in Roodepoort was necessary. In 1994 the company moved to its own three-storey premises to further expand production.
When starting to manufacture its own products, a fibreglass manufacturing facility was also constructed to build the walk-through security metal detector frames. Saflec's electronic designs are continually developed and advanced using local engineers.
Saflec's products have continually evolved over the years with an in-house design capability for both the electronics and fibreglass frame design, which has resulted in a number of firsts, such as a five-piece portable walkthrough metal detector featuring multi-zone detection.
Today Saflec's designs are comparable to those produced by the major metal detector companies from Europe and the US, and are superior to many cheaper and less reliable products currently available from the East. The benefits Saflec offers to the local market, apart from its advanced designs, are the reliability of its products and the company's local service capacity.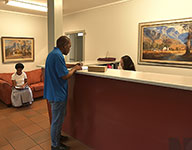 More than box-dropping
Saflec prides itself on its excellent backup service, made possible by having local control of its manufacturing, ample stock of spare parts and a dedicated team of engineers. A large percentage of Saflec's staff complement has been with the company for more than 20 years.
Over the years, Saflec has been able to score some major successes, such as supplying all the cricket stadiums with walk-through metal detectors for the Cricket World Cup in 2002, as well as the World Summit on Sustainable Development. Saflec is also a firm favourite in government departments.
The company has also expanded beyond South Africa's borders and supplied large quantities of security detectors to the government of Uganda, and public and private organisations throughout Africa.
Saflec's products are all locally designed, developed, manufactured and supported, and the company has a long relationship with various South African government departments, such as the SAPS.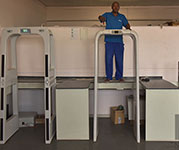 Products in the market
The company's top-of-the-range detector is the Panache, which has 15 individual zones which can be calibrated separately. It also includes an audio function that varies the tone of the audio alarms dependent on the height at which the metal is carried. The unit uses microprocessor technology with touchscreen input to the various functions. The indication of where the metal is located is also displayed down each side, as well as on the central display.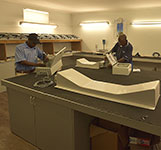 The MZ15 is also a 15 zone unit, but the position of the metal is only on the display. This reduces the cost of the unit.
The third unit is the P21 which gives an audio alarm when a pre-set level of metal is exceeded. The position of the metal would then need to be determined by using a handheld detector.
All the units are manufactured from durable fibreglass, which is unique to Saflec's models and can be made in different colours or custom designed to suit the insignia of government departments. A battery backup facility is available which will allow operation for an average of eight hours during power outages.
Saflec also has a range of industrial metal detection systems in the market, currently being used in a variety of industries where detecting even small amounts of metal is a vital part of the organisations' security and health and safety programmes.
Credit(s)
Further reading:
From the editor's desk: Yes, it's that thing everyone's talking about
25 March 2020, Technews Publishing , News
Call me a pessimist, but I'm absolutely, 100% certain that I'm going to catch COVID-19 (or the 'novel coronavirus' if you prefer to call it that) – if I haven't done so already. At least the mortality 
...
Read more...
---
Electronics news digest
25 March 2020 , News
Overseas
Business
• ams reported record revenues and results for full year 2019, with revenues up 32% year-on-year, and fourth quarter revenues exceeding expectations with strong adjusted operating 
...
Read more...
---
XinaBox – Reaching for the stars
25 March 2020, RS Components (SA) , News
From collecting data in sub-zero Antarctica to rapid circuit prototyping on the International Space Station this South African company is reinventing the way we approach IoT while inspiring students to follow STEM careers.
Read more...
---
Electrocomp launches new website
25 March 2020, Electrocomp , News
Electrocomp is inviting visitors to explore its new website, which has been designed to offer a user-friendly experience with improved navigation and functionality while allowing customers to see their 
...
Read more...
---
Looking beyond radar, the car's virtual eye
25 March 2020, Altron Arrow , News
Faster, higher-resolution radar sensors have enabled the next generation of driver assistance technologies through improvements in vehicle safety and comfort in view.
Read more...
---
Disposing of e-waste in space
26 February 2020 , News
According to BBC, there are over half a million pieces of debris floating around the Earth's orbit. Most debris within the atmosphere are lost parts from space crafts, disused rocket stages or waste from 
...
Read more...
---
IPC revises five standards
26 February 2020 , News
IPC announced the release of five newly revised standards covering several areas of the supply chain:      
· IPC/WHMA-A-620D, Requirements and Acceptance for Cable and Wire Harness Assemblies. · IPC-2223E, 
...
Read more...
---
Testerion to represent ITW EAE in SA
26 February 2020, Testerion , News
ITW EAE announced a new extended partnership agreement with Testerion South Africa to represent and distribute all ITW EAE equipment including MPM printers, Camalot dispensers, Electrovert soldering systems, 
...
Read more...
---
Würth helps produce PCBs for ventilators
25 March 2020, Würth Elektronik eiSos , News
The worldwide spread of the coronavirus is not only increasing the demand for personal protective equipment, but also for medical ventilators. In order to ensure the supply in Germany, the German government 
...
Read more...
---
u-blox acquires Thingstream
25 March 2020 , News
u-blox has acquired IoT communication-as-a-service provider, Thingstream. Thingstream provides a comprehensive, end-to-end solution for global IoT connectivity using the industry standard MQTT protocol. 
...
Read more...
---