printer friendly version
Is the supply chain broken?
30 April 2019 Editor's Choice News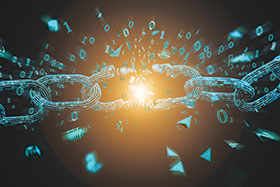 The world's insatiable demand for electronic goods has created a monster: a supply chain that spans the globe
and relies on the entirety of our collective knowledge and experience in the pursuit of industry.
From the mining of base resources to the almost inconceivable precision required to make cutting-edge semiconductors, the Fourth Industrial Revolution requires that we hone every tool in the electronics manufacturing process to perfection.
Given all the stages and complexities of keeping that supply chain going, it is a minor miracle that the whole machine keeps turning at all. The demands of this process do mean, however, that it's not always smooth sailing, and the production and supply of components can be impacted by many factors, and has a range of knock-on effects.
One of the worst offenders in recent years has been MLCCs (multi-layer chip capacitors), predominantly due to their ubiquitous and rapidly growing use in the design of smartphones and automotive electronics. According to Diel Met Systems' production manager, Brandon Weavind, there has been an improvement in MLCC lead times of late, although some common capacitance values still remain problematic.
"It must be noted that, although the lead times have improved, the cost associated is still relatively high," he explains. "The supply/cost of MLCCs and similar components has forced our engineers to move to smaller footprints – affecting both our old and new products."
This issue is exacerbated by the fact that South African manufacturers get the short end of the stick when it comes to component allocations, in Weavind's view. "With all my MLCC orders being 'on allocation' from local distributors, we were forced to look globally for stock to keep our production running. I noted that while EMEA and American regions also had limited supply, the Asia-Pacific regions seemed largely unaffected," he elaborates.
Planning and forecasting would seem to be the most obvious solutions to these problems, but how easy is it to do so accurately and reliably? "It's not difficult doing accurate forecasting for production assemblies, but it is very expensive," answers Weavind. "Due to the high variability in supply of all electronic components, we are forced to maintain high levels of 'buffer' stock. We have experienced some unexpected delays in starting new designs/assemblies due to component supply, which forced us to source from outside South Africa.
"Some component distributors are better than others, but I generally receive regular feedback regarding delays and changes in pricing. I feel that a lot of distributors' primary focus is on active components as this is where their bigger margins are, and hence they are always willing to push component manufacturers on pricing and availability. However, the supply of passive components has been 'you get it when you get it' – it would be nice to see the same drive from distributors when it comes to passive components."
Forecast, forecast, and forecast again
According to Gary de Klerk, director at local component distributor NuVision Electronics, lead times on most components, MLCCs included, are now coming back to a situation of normality. He says that while there are still some particular components that are in high demand, the situation is now vastly better than it was in 2018, and the general allocation experienced in the market last year has recovered a lot quicker than most experts were forecasting.
Speaking to the perception among local electronics manufacturers that South Africa gets the short end of the stick when it comes to allocations, he asserts that this is not the case. "What has to be remembered is that most large OEMs and distributors have an active forecast system in place with their key suppliers," he elaborates. "This allows the suppliers to have inventory available within a reasonable lead time, or a manufacturing plan for sourcing the necessary raw materials, etc.
"The problem for local customers is that they end up in the back of the queue as they have had no forecast in place, and thus the supplier has no choice but to offer the full lead time to build from scratch. We actively encourage our customers to provide us with some form of forecast, so that we can get this into the manufacturing plans of our suppliers. Without a forecast, any new orders will suffer the full component lead time."
Delving deeper into the real-world realities behind component lead times, de Klerk advises that customers need to place orders within
the stated lead times of the product, as given by the suppliers. "If a product has a 12 week lead time, you cannot expect to place an order today, for delivery in two weeks' time. Working on a just-in-time basis plays straight into the hands of the larger global catalogue distributors like Digi-Key, Mouser, RS Components and the likes.
"These global distributors thrive on customers that cannot work on a long-visibility forecast and need components on a very short lead time. They rightfully charge a premium for having the product available from stock, as they carry the risk of having the stock available on the shelf. This generally drives up the BOM (bill of materials) cost of the customer but does help for the just-in-time build."
As is the case with all business endeavours, money talks, and electronics manufacturers don't want to have to pay more than they have to for their components. "Typically, we as distributors are beholden to the contracts we have with our suppliers," says de Klerk. "Many of these contracts will have a clause in them, allowing for the supplier to increase prices for a given reason (such as raw material price increases) at short notice.
"As a distributor, we are generally price takers and not price makers. Sadly, when things happen outside of our control, we have very little choice but to pass these cost increases onto our end customer. If there had been a firm forecast in place, these are generally not affected by a change in pricing as the raw material had already been procured."
De Klerk says NuVision handles such instances on a case-by-case basis and immediately alerts the customer when its supplier plans a price increase. Sometimes NuVision has the opportunity to buy stock at the old price, before the pending increase, while at other times it is simply advised the price has been increased and there is no negotiation.
His advice to customers to mitigate component supply issues is to "forecast, forecast and forecast again. Nothing beats lead times and pricing better than having an accurate forecast and manufacturing plan in place, that we can share with our suppliers. We also offer the option for a customer to request us to hold buffer stock, by mutual agreement, with a condition that the customer will utilise this buffer stock within a six month period."
Clear communication forges strong relationships
Product development manager at Electrocomp, Andrew Dixon, says there has been some improvement in MLCC supply, but expects they will continue to cause issues for some years to come: "From reliable sources, on our last trip in Europe, we saw that the manufacturers making MLCCs cannot keep up with the current demand from the global market. A major cause is the automotive and mobile markets – it is not so much that more cars are sold but the fact that cars and phones now have about 10 times the number of MLCCs than before."
He acknowledges that component allocations are a sticking point for local manufacturers, and says there is little that distributors can do to mitigate this. "You must remember that the SA market is a very small portion of the global market and we would most likely be in the back of the row in most cases. We have good relationships with our suppliers and in all cases we go the extra mile to make sure to keep the supply chain going to our customers," he assures.
"All components have real lead times attached to them, and planning from a lot of customers is not good," Dixon continues. "We decided years ago to counter this by putting stock on the shelf, but this is the real world and if forecasting and planning were better from customers' side it would assist in solving big delays.
"Currency rate of exchange (ROE) is a big issue and this too is not something in the hands of distributors. We would on all our quotes to customers on non-stock items quote subject to ROE variation. We can work with our customers on a few principles, like buying forward cover, and we would give our customers the option that they prefer to work with."
Dixon's best advice to local manufacturers is to have healthy relationships with their suppliers and keep the communication channels clear: "If the communication is open and clear about lead times, handling of parts through the shipping and clearing process, the rates at time of quote and the time of costing, duties and most other issues will be eliminated. The reality is that lead times are currently much longer and planning from all should be better. Getting stock on very short lead times will certainly get more difficult going forward."
A butterfly flaps its wings …
Specialist RF supplier, RF Design, is not affected by the MLCC shortage to as great an extent since it applies more to commercial parts, and sales director Andrew Hutton says none of its customers are on component allocations. On the bigger issue of how distributors and their customers can work together to streamline component supply, he points out that there are many facets but believes strongly that it should start with better planning.
"The way we operate is we supply a quote upfront, which specifies delivery times so that our customers can plan accordingly. Unfortunately some companies don't plan adequately, so it ends up in a situation where, for example, they plan on a 16 week lead time when in fact we indicated at the outset that the part was much longer" he clarifies.
Cost adds another complication into the mix, and the temptation for companies to gamble on exchange rates can be a double-edged sword. "We quote on the basis that we can fix prices for up to a period of one year, as this is what the banks will provide in forward cover on foreign currency. On the other hand we can say that we won't fix it, but then the customer is making their own risk versus reward gamble – if the exchange rate improves by the time the parts are delivered it's a bonus, but if it goes down they lose. Companies that export are somewhat protected from these fluctuations since what they lose on the swings they generally gain on the roundabouts," explains Hutton.
The ability to shop and buy components online has been disruptive in the electronics industry, and not necessarily in a good way. Hutton says that buyers will often see a price from an online distributor and take issue with the fact that the local distributor is quoting more, without realising that there is a cost associated with guaranteeing the actual landed cost of the part. The alternative is to order everything immediately, put it on the shelf when it arrives and use when needed, but nobody wants money sitting on the shelf rather than in their bank account.
Echoing what many in the industry see as being the real crux of the tug-of-war between component distributors and electronics manufacturers, Hutton broaches the fact that the hard work done by FAEs (field applications engineers) in assisting with the design of products is undervalued.
"Component distributors are much more than just delivery guys. In some cases we might spend many hours, over a period of years, working with a company on a product's design, and there is obviously a business cost associated with that. When contract manufacturers source components, they can sometimes ignore the effort it costs the entire supply chain in the long run," says Hutton.
He further points out that the complex global nature of the electronics supply chain can result in the 'Butterfly Effect' – the well-known idea that if a butterfly flaps its wings in one part of the world, a hurricane is caused in another. By way of illustrating this, a component manufacturer might oftentimes notify a distributor that delivery of a part is being delayed right at the last moment, and that in turn might have been caused by a shortage of materials at their own supplier, or a monsoon knocking out a production facility on the other side of the world.
"It's impossible for component distributors to legislate against every potential issue," Hutton states. "You could fill this whole magazine exploring the moving parts and moving targets that make up this complex supply chain. As a common sense approach, I would say to customers if a lead time is three months, plan for six – double your expectation and you'll probably be okay."
Bridging the buyer's knowledge gap
In the experience of Renita Fleischer, a 30-year veteran of the South African electronics industry and managing director of component procurement and kitting provider ExecuKit, the industry is not exactly flush with highly experienced and knowledgeable internal salespeople and buyers. She therefore sees it as imperative that staff who are put into these roles are proactively trained and empowered.
"I've been in their shoes so I know what it takes to achieve a sufficient level of knowledge, and just as importantly confidence. When I started in this industry at Omnigo on 16 April 1984, I was just out of school and knew nothing. Whatever I know today I was trained to do, primarily by my boss at the time – Rieël Schönfeldt – who took me under his wing and mentored me. But that process takes time, and you also need to be interested rather than just in it for earning a salary."
It might seem obvious to an electronic engineer that a 0,25 W resistor cannot handle the load that a 0,5 W resistor can, but to a layperson those are just numbers and letters. Fleischer therefore focuses on training ExecuKit's buyers by starting with the difference between a resistor and a capacitor, or between a transistor and a diode, using a sample board that shows the different packages and so on.
"Training a buyer can take a few months, but it is worth it to see how they get better and better, gaining the confidence to make the right decisions and giving me the confidence that I can trust them to do a good job. I have known some of these buyers for 10 or 15 years, and I'm glad I put in the work to train them in return for the reward of seeing how they've grown," Fleischer concludes.
For more information contact:
• Brandon Weavind, Diel Met Systems, +27 21 715 1120, brandon@intermetafrica.co.za, www.intermetafrica.co.za
• Andrew Dixon, Electrocomp, +27 11 458 9000, andrew@electrocomp.co.za, www.electrocomp.co.za
• Renita Fleischer, Execukit, +27 82 744 9660, renita.fleischer@execukit.co.za, www.execukit.co.za
• Gary de Klerk, NuVision Electronics, +27 11 608 0144, gdeklerk@nuvisionelec.co.za, www.nuvisionelec.com
• Andrew Hutton, RF Design, +27 21 555 8400, andrew@rfdesign.co.za, www.rfdesign.co.za
Credit(s)
Further reading:
ExpressLink modules for secure connectivity to AWS Cloud
RF Design Telecoms, Datacoms, Wireless, IoT
u-blox has announced two new modules designed to enable Amazon Web Services (AWS) cloud services for device and fleet management out of the box: the NORA-W2 AWS IoT ExpressLink Wi-Fi module and the SARA-R5 
...
Read more...
---
Passive MMIC diplexer
RF Design Telecoms, Datacoms, Wireless, IoT
The MDPX-0710 from Marki Microwave is a passive MMIC diplexer with passbands from DC to 7 GHz (low band) and 10 to 26,5 GHz (high band). It has an insertion loss of less than 0,9 dB within its passbands 
...
Read more...
---
Automotive-grade GNSS signal splitter
RF Design Telecoms, Datacoms, Wireless, IoT
Tallysman Wireless has added the TW162A automotive-grade 'Smart Power' GNSS signal splitter to its line of GNSS accessories. The device supports the full GNSS spectrum: GPS/QZSS-L1/L2/L5, QZSS-L6, GLONASS-G1/G2/G3, 
...
Read more...
---
u-blox extends 'bring your own SIM' approach to MQTT
RF Design Telecoms, Datacoms, Wireless, IoT
u-blox has introduced a service that gives IoT sensor network developers the flexibility to combine any cellular connectivity with all the benefits of MQTT communication. The u-blox MQTT Flex service 
...
Read more...
---
Braid tail swept elbow backshells
Electrocomp Interconnection
TE Connectivity is complementing its series of banding (BT) and Tinel ring (TXR) backshells with a braid tail backshell. The new 70 Series swept elbow backshells include a pre-terminated screenbraid sock 
...
Read more...
---
Field-installable mini industrial I/O connector
Electrocomp Interconnection
The Industrial Mini I/O connector system made by TE Connectivity is a compact, wire-to-wire and wire-to-board solution for reliable serial, bus and Ethernet connections in industrial applications. At 
...
Read more...
---
K-band passivated VCO
RF Design Analogue, Mixed Signal, LSI
The K-VCO-2324 from Arralis is a GaAs PHEMT MMIC voltage-controlled oscillator (VCO) that operates from 23,25 to 24,25 GHz. It provides 15 dBm output power over tuning voltages between 0 V and 1 V and 
...
Read more...
---
GNSS correction service receivers for cm-level accuracy
RF Design Telecoms, Datacoms, Wireless, IoT
For designers who require reliable centimetre-level positioning accuracy, e.g. for the industrial navigation and robotics markets, a new suite of products and feature additions have been rolled out by 
...
Read more...
---
Single-string LED driver evaluation board
NuVision Electronics Power Electronics / Power Management
The EV3363-J-00A is an evaluation board designed to demonstrate the capabilities of Monolithic Power Systems' MP3363, a fixed-frequency converter that is ideal for low- to high-current boost applications. 
...
Read more...
---
4xMIMO cross-polarised antenna
RF Design Telecoms, Datacoms, Wireless, IoT
The TGX.04 from Taoglas is a 5G/4G 4xMIMO dipole antenna that operates from 450 to 6000 MHz. It supports worldwide sub-6 GHz cellular bands including 5G NR, LTE, NB-IoT, etc. This cross-polarised 
...
Read more...
---