printer friendly version
AREI hosts industry for business breakfast
28 August 2019
News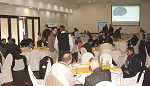 Attendees of a business breakfast hosted by AREI (Association of Representatives for the Electronics Industry) on 24 July were treated to an inspirational talk by computer scientist and entrepreneur Stafford Masie, and an overview of the DTI's (Department of Trade and Industry) incentives offering given by Ntokozo Mthabela, director for BPS and electrotechnical industries within the industrial development division.
Masie worked for Telkom in the 1990s as a technology analyst, instructor and software developer, followed by a move to Dimension Data. He then launched his first tech startup and shortly afterwards moved to the USA, where he went on to play a significant role in the global open source software arena. After returning to South Africa, he launched Google's South African presence in 2007 and became the company's regional Africa director.
Masie shared his experiences, thoughts and vision for the technology sector with the audience, as well as some of the projects he's currently involved with. These include the founding of Thumbzup, the company that invented the Payment Pebble and Payment Blade which were launched in South Africa as the Absa Payment Pebble and the Absa Payment Handset, and have also been successfully exported and launched in Australia and New Zealand.

Stafford Masie

Ntokozo Mthabela

AREI chairman, Erich Nast
Masie also shared his insights into disruptive technologies such as Bitcoin, the effects they have on society at large, and the importance of people working in the technology sector to come to grips with their implications.
Further reading:
Buy a Fluke, get one free
28 October 2020, Comtest , News
Comtest, Fluke's official South African importer, is offering one free Fluke for every Fluke purchased from any South African-based, authorised Fluke dealer. Fluke is a world leader in the manufacture, 
...
Read more...
---
Online Ohm's law calculator from Mouser
28 October 2020 , News
The famous Ohm's law states that the current flowing through a circuit is proportional to the voltage applied across both points. Mouser Electronics' online Ohm's law calculator saves engineers time by 
...
Read more...
---
Clearing the Static
28 October 2020, Actum Group , News
ESD training and compliance
According to Desco Industries, electrostatic discharge (ESD) can change the electrical characteristics of a semiconductor device, degrading or destroying it entirely. ESD 
...
Read more...
---
Coalition calls on European Commission to postpone SCIP deadline
30 September 2020 , News
A coalition of 40 industry organisations has written a letter to European Commission President Ursula von der Leyen calling for decisive action to solve implementation issues within the EU Waste Framework 
...
Read more...
---
Follow this engineering journey of a 3D-printed boat
30 September 2020, RS Components (SA) , News
RS Components is releasing a 10-episode documentary series – titled SeaQuest – featuring members of its DesignSpark engineering community who embarked on a first-of-its-kind challenge to design, test 
...
Read more...
---
Mouser revamps technical resource centre
30 September 2020, TRX Electronics , News
Mouser Electronics has redesigned its Technical Resource Centre, which contains the global distributor's ever-expanding collection of technical articles, blogs, eBooks, and Methods technology and solutions 
...
Read more...
---
From the editor's desk: Electric and autonomous vehicles driving full-speed ahead
28 October 2020, Technews Publishing , News
I still can't stop myself from doing a double-take when I hear that Tesla is rolling out a software update to add some sort of new functionality to its cars. Some of those updates are pointless show-off 
...
Read more...
---
Electronics news digest
28 October 2020 , News
South Africa
• The Department of Defence (DoD) has appointed a special team, called 'Save Denel' to investigate Denel's financial struggles, and the impact they might have on SA National Defence Force 
...
Read more...
---
Clearing the Static
28 October 2020, Actum Group , News
The Importance of ESD audits
An ESD audit is the first step in establishing an effective static control programme. Before you invest money in new ESD equipment, an ESD audit will help you identify vulnerable 
...
Read more...
---
TRX welcomes Hannes Taute as new MD
28 October 2020, TRX Electronics , Editor's Choice, News
We delve into his background, what his plans for TRX Electronics are, and how he envisions what the future of the local electronics industry will look like.
Read more...
---