printer friendly version
Balancing performance, speed and cost for rugged interconnects
25 September 2019
Interconnection
Ensuring signal integrity is not an easy task in challenging environments such as railways, military, aerospace and industrial. Interconnect technologies used in these environments have to be as reliable as possible while dealing with extreme temperatures, rapid temperature cycling, vibration, shock and the risk of contamination from dangerous fluids.
Demands from the system side are increasing in terms of signal speed, size, weight, signal integrity, power throughput and cost, while maintaining the ruggedness that these applications have come to expect. System designers want the smallest and lightest possible connectors for use in aerospace and military electronics, while industrial and transportation electronics are expected to deal with the same harsh environments at more competitive cost points.
Connector manufacturers are working hard to come up with innovative new products to meet the growing system demands for harsh-environment connectors.
Lightweight aerospace
The aerospace sector is particularly challenging for connector technologies. Aerospace engines, in particular, expose electronics to some of the harshest conditions experienced anywhere. Stainless steel is typically used in engines, as it is more resistant to the high temperatures that standard plated aluminium alloys can't take. Steel is also very strong. However, it's a lot heavier than aluminium, which is obviously undesirable in aircraft applications.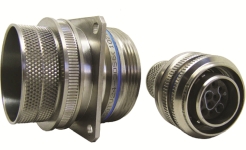 Amphenol's titanium HTC connectors are designed to meet Rolls-Royce specifications.
To address this dilemma, Amphenol has invested in state-of-the-art turning centres in the UK and India so that titanium connectors can be produced in shorter time frames. The result is a new range of titanium HTC connectors that are designed to meet the requirements of Rolls-Royce specifications ESC20 and ESC21. These connectors are 30% lighter than steel ones, with comparable performance, and they come in shell sizes from 08 to 24. The new turning facilities can also produce titanium versions of MIL-DTL-38999 connectors in titanium, as well as hermetically sealed titanium connectors.
Commercial vehicles
Molex has been working closely with the society for automotive engineers (SAE) on new connectors that meet SAE J2839. This standard sets out the requirements for heavy-duty, high-speed data links such as Ethernet in vehicles. The result is a brand new heavy-duty Ethernet connector that is Cat 5e compliant for 10/100 Mbps Ethernet speeds and can withstand the harsh environments found in heavy-duty vehicles such as commercial vehicles and off-highway machines.

Molex heavy-duty M12 connectors' performance allows Cat5e 10/100 Mbps Ethernet connections in commercial vehicles and road machinery.
The new series of connectors, called the Brad Micro-Change M12 heavy-duty Ethernet connector system, is the first M12 system to meet SAE J2839. It includes the heavy-duty M12 (HDM12) connectors, which can withstand 444 N cable pull force, and patent pending heavy-duty extreme M12 connectors (HDM12EX) that can withstand 1334 N of cable pull force: this is 10x greater than ordinary M12 connectors. They can operate in the temperature range -55°C to +125°C and are sealed to IP67 and IP69K. They are also backward compatible with standard Brad M12 connectors from Molex.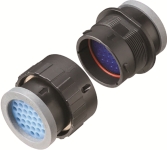 Aptiv's HES Series includes circular connectors, terminals and headers.
Also suitable for commercial and agricultural vehicles is Aptiv's harsh environment series which includes circular connectors, terminals and headers. The circular design is perfect for making connections in a vehicle sheet metal firewall pass-through location, so they are ideal for engine compartments and the headers can be mounted directly on the engine.
Aptiv HES circular connectors have a recessed 3-rib design to extend sealing capability to IP67. Operating temperature is -55°C to 125°C. They come in six terminal configurations between 19 and 47 terminals. Compared to standard pin and sleeve systems, HES connectors offer higher current capability, higher terminal retention and a significant cost advantage.
Heavy machinery
Manufacturers of construction equipment, farm machinery and mining vehicles design their machines to work 24 hours a day, seven days a week. The increasing electronics content in heavy machinery, such as GPS and camera systems, demands high-quality signal transmission despite exposure to vibration, moisture, dirt and dust. Typical techniques that connectors use to perform reliably under these conditions include hermetic sealing and secure locking mechanisms.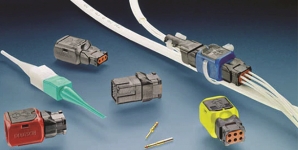 TE Connectivity's Deutsch DT connector series is popular in agricultural machinery and mining vehicles.
TE Connectivity's Deutsch DT connectors are ideal for this application. These robust connectors have thermoplastic housings to withstand harsh temperatures, combined with silicone wire and interface seals to prevent moisture ingress and an integrated latch mechanism to resist vibration. Multiple size-16 contacts can be used, each with 13 A continuous current capacity for power connections, and plating options are available for signal applications.

TE Connectivity's industrial RJ45 Cat6A plug supports bandwidths of up to 500 MHz.
Industrial Ethernet
With connected industrial machines a huge trend in the automation arena, manufacturers are continually working on innovations for industrial Ethernet connectors. Hirose and Harting have jointly developed the ix Industrial series, a new miniaturised interface that is 70% smaller than standard RJ45s. Connectors can be mounted at 11 mm pitch in compact units.
In addition, aside from its compact size, the ix Industrial's features include high EMC resistance and 5000 mating cycle lifetimes. A new shell design enhances stability on the PCB and increases locking strength. These connectors are for Cat 6A high-speed Ethernet connections at 1 Gbps or 10 Gbps.
In addition, aside from industrial machines, these connectors can also be used in transportation, data centres and robotics.
High-speed mezzanine

The Samtec SEAF series is for 28+ Gbps mezzanine card applications.
For reliable performance in demanding, high-speed (28+ Gbps) applications such as mezzanine card connections in data centres and telecoms applications, aerospace, defence and medical equipment, the SEAM and SEAF open-pin-field array connectors from Samtec are part of the SEARAY series of 1,27 mm high-density, high-speed board-to-board interconnects. These connectors are rated at 12,5 GHz @ -3 dB insertion loss for single-ended systems or 13,0 GHz @ -3 dB insertion loss in a differential-pair system.

ITT Cannon has a portfolio of harsh-environment fibre-optic interconnects.
The SEAM and SEAF connectors meet the requirements of IPC J-STD-001F class 3 and IPC-A-610F class 3 for systems used in harsh environments with ease. This is partly down to Samtec's solder charge technology, which exposes the joints to extreme heat only once during assembly as opposed to twice with the solder ball attach method; this increases solder joint reliability.
These connectors use Samtec's Edge Rate contact system, which allows for 'zippering' when mating and unmating. The contacts mate on the smooth milled surface of the contact, which lowers insertion and extraction forces, increases mating cycle life and improves electrical performance.
Fibre-optics
Fibre-optic connectors are, of course, also required to enable high data rates in harsh environments. For example, aircraft in-flight entertainment systems require reliable, accurate high-speed data transfer while maintaining compact dimensions and light weight.
For this type of application, ITT Cannon has a portfolio of harsh-environment-suitable ARINC 801 fibre-optic connectors, terminals and cable harnesses that are designed for commercial and military aircraft and shipboard navigation systems. Connectors in this series have a scoop-proof design that offers alternative keying positions and end-finishes in both APC and PC single-mode and multimode configurations. The connectors allow transmission speeds of 10 Gbps and higher. The alignment sleeves are removable so connectors can be cleaned in the field.
Credit(s)
Further reading:
MEMS-based environmental pressure sensors
25 March 2020, Avnet South Africa , Analogue, Mixed Signal, LSI
Bourns Sensors & Controls' product line is introducing four new series of environmental sensors based on microelectromechanical systems (MEMS) technology. These four new series are designed for the customer 
...
Read more...
---
Bluetooth 5.0 Low Energy module
25 March 2020, Avnet South Africa , Telecoms, Datacoms, Wireless, IoT
An output power of up to +8 dBm and the high sensitivity of the nRF52840, in combination with the LE coded PHY, make the module very attractive for applications that require a long range. The Bluetooth 
...
Read more...
---
Complete design solution for energy efficient motor driving system
25 March 2020, Avnet South Africa , Power Electronics / Power Management
Electric motors are a powerhouse user of electricity worldwide, accounting for about two-thirds of industrial electricity consumption. The International Energy Agency reports that electric motors account 
...
Read more...
---
Connectors for industrial Ethernet connectivity
25 March 2020, Otto Marketing , Interconnection
Hirose has agreed a partnership on the release of ix Industrial connectors by Amphenol. The ix Industrial brand is an ideal connection solution for factory and process automation, machine to machine communication, 
...
Read more...
---
Miniature automotive MOSFETs
25 March 2020, Avnet South Africa , Power Electronics / Power Management
Diodes Incorporated announced the introduction of the 40 V-rated DMTH4008LFDFWQ and 60 V-rated DMTH6016LFDFWQ automotive-compliant MOSFETs packaged in DFN2020. These miniature MOSFETs occupy just 10% 
...
Read more...
---
New PIC MCU family
25 March 2020, Avnet South Africa , DSP, Micros & Memory
In microcontroller (MCU)-based system design, software is often the bottleneck for both time to market and system performance. By offloading many software tasks to hardware, Microchip Technology's new 
...
Read more...
---
Precision RF test adaptors
25 March 2020, RFiber Solutions , Interconnection
Withwave's precision test adaptors are designed based on precision microwave interconnection technologies. The precision microwave connector interfaces ensure excellent microwave performance from DC up 
...
Read more...
---
Modern flanged enclosures for IIoT and sensor applications
25 March 2020, Avnet South Africa , Enclosures, Racks, Cabinets & Panel Products
OKW Gehäusesysteme has expanded its range of enclosures with the new EASYTEC. The special feature of this enclosure range is that there are fully integrated lugs on the short end faces of the bottom part. 
...
Read more...
---
Hybrid capacitors combine the best of both worlds
26 February 2020, Avnet South Africa , Power Electronics / Power Management
The different properties of EDLCs, Li-ion batteries and Li-ion capacitors suits each technology to various different applications.
Read more...
---
Modular board-mounted contacts
26 February 2020, TRX Electronics , Interconnection
Bourns modular contacts are off-the-shelf spring interconnect devices offering a low-profile design with proven reliability to 50 000 mated cycles. Presented in the form of 70AA, 70AB, and 70AD male 
...
Read more...
---