printer friendly version
Automotive LED drivers and controllers
1 February 2020 Opto-Electronics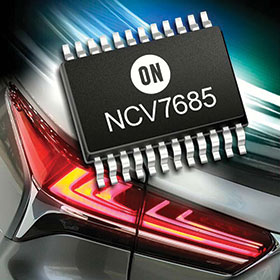 ON Semiconductor has launched a new family of four devices that facilitate the high levels of performance and innovative functionality that vehicle manufacturers and consumers now expect from automotive exterior and interior lighting. Aimed specifically at low-power solid state lighting, the new family comprises two LED drivers (NCV7683 and NCV7685) and two current controllers (NCV7691 and NCV7692).
In the pursuit of improved road safety, automakers are moving away from the simple 'on/off' operation to sophisticated systems that incorporate movement and variable intensity within rear combination lamps (RCLs), turn signals, fog lamps, and other externally modulated LED clusters to give clearer and highly visible warnings to other road users.
The NCV7685 and NCV7683 integrate twelve and eight linear programmable current sources, respectively, enabling multiple strings of LEDs to be driven with up to 100 mA per channel. The devices provide an array of configurability options, including daisy-chaining, illumination level control, current regulation, sequencing functionality, and channel combination.
The NCV7685 incorporates an 8-bit I2C interface with CRC8 error detection for individual output current adjustment via pulse width modulation (PWM), and for advanced diagnostics – including detection of an open LED string or under-voltage condition; a dedicated diagnostic pin is also available. The NCV7685 may be powered with a DC-DC controller and/or LDO voltage regulator, depending upon specific design requirements.
The NCV7691 provides a regulated wide current range for driving LEDs in one or multiple strings, with only an external NPN bipolar transistor and a feedback resistor. The driver provides design flexibility to add additional single channels to multi-channel systems, and supports a dimming function via its PWM input. The NCV7691 includes open string, short circuit, and thermal shutdown, ensuring safe and reliable operation of essential lighting. The derivative NCV7692 offers a faster response time and a reduced threshold for open load detection.
For more information contact Future Electronics, +27 21 421 8292, marian.ledgerwood@futureelectronics.com, www.futureelectronics.com
Credit(s)
Further reading:
Customisable industrial display
25 March 2020, Vepac Electronics , Opto-Electronics
Topcon Positioning Group announces a pre-series release of its new OPUS B-Series display available for the developer, systems integrator and manufacturer market for user-interface design and implementation 
...
Read more...
---
Wireless MCUs with built-in NFC
25 March 2020, Future Electronics , Telecoms, Datacoms, Wireless, IoT
NXP Semiconductors has released the new JN5189 and JN5188 IEEE 802.15.4 wireless microcontrollers (MCUs) that deliver ultra-low power connected intelligence for Zigbee 3.0 and Thread applications. The 
...
Read more...
---
Automotive-grade optocoupler
25 March 2020, Altron Arrow , Opto-Electronics
Vishay introduced a new automotive-grade phototransistor optocoupler that combines a high current transfer ratio (CTR) range from 50% to 600% with a low forward current of 1 mA in the compact SOP-4 mini-flat 
...
Read more...
---
DRAM for memory expansion
26 February 2020, Future Electronics , DSP, Micros & Memory
Cypress Semiconductor's HyperRAM 2.0 is a high-speed, low-pin-count, self-refresh Dynamic RAM (DRAM) for high-performance embedded systems requiring expansion memory. HyperRAM 2.0 offers HyperBus and 
...
Read more...
---
Photocouplers for industrial equipment and solar inverters
29 January 2020, Hi-Q Electronics , Opto-Electronics
Renesas Electronics announced five new 8,2 mm creepage photocouplers that are the world's smallest isolation devices for industrial automation equipment and solar inverters. With a package width of 2,5 mm, 
...
Read more...
---
Isolated, regulated DC-DC modules
29 January 2020, Future Electronics , Power Electronics / Power Management
Power density, low weight and ease of use are critical considerations when designing isolated, regulated DC-DC converter systems for a broad range of robotics, UAV, rail, communications and defence/aerospace 
...
Read more...
---
Image sensor evaluation kits
25 November 2019, Future Electronics , Opto-Electronics
Ams has released the NanoVision and NanoBerry evaluation kits, which provide a ready-made platform for the development of innovative solutions based on the ams NanEyeC miniature image sensor. The NanEyeC 
...
Read more...
---
Highly accurate temperature sensors
25 November 2019, Future Electronics , Analogue, Mixed Signal, LSI
New from ams is the AS621x-generation of temperature sensors delivering optimised performance for consumer electronic devices and wearables, health-related monitoring systems and heating, ventilation 
...
Read more...
---
Lattice AI stack for edge devices
25 November 2019, Future Electronics , Programmable Logic
Lattice Semiconductor received a number of industry awards for sensAI – a complete technology stack combining modular hardware kits, neural network IP cores, software tools, reference designs and custom 
...
Read more...
---
5G mMIMO power amplifier modules
25 November 2019, Future Electronics , Telecoms, Datacoms, Wireless, IoT
NXP Semiconductors announced the broad availability of a comprehensive RF power multi-chip module (MCM) portfolio supporting the development of massive MIMO (mMIMO) active antenna systems for 5G base 
...
Read more...
---