printer friendly version
Easy on/off control with BLE-Switchbox
29 January 2020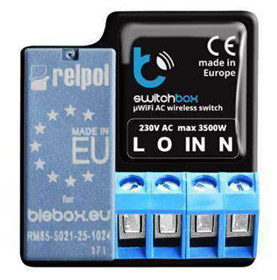 BLE-Switchbox is a Wi-Fi enabled device capable of remote switching any 220 V a.c. appliances wirelessly using a PC or mobile device. Up to 3 kW of power can be switched using the on/off functionality, as well as providing the ability to check the status of all controlled devices from anywhere.
Blebox.eu is a brand of high-quality products related to home automation. Created in 2013, the company now provides innovative products to more than 20 countries around the world. All products are designed in-house and produced in the European Union. Features and benefits include the following:
• Easy to retrofit: designed to fit existing home installations without expensive modifications.
• Independent: devices do not require additional devices like central units or automation hubs.
• Get started quickly: users can begin with a single device and expand their smart home at any time.
• µWi-Fi inside: based on one of the IoT's most disruptive technologies.
Unique solutions for unique value
Smart homes were traditionally associated with expensive and complicated installations. Then, over the past five years, cheaper and less complicated solutions have appeared on the market. However, they have some disadvantages. To work, they require a central unit or intermediary device that makes possible the communication between the user and the controller.
BLE-Switchbox devices do not require any such additional equipment – a simple Wi-Fi network is enough. After connecting the device with the home network, it can be controlled from anywhere in the world without complicated configuration. Users can start with one lamp or roller shutter controller and then extend their smart home solution as and when the need arises.
Credit(s)
Further reading:
Protecting you and your home with IoT
Smart Home Automation
IoT technology gives people the power to keep a watchful eye on what is important to them, whether they are 200 metres or 200 kilometres away.
Read more...
---
Is a wireless home automation system a good investment?
Wireless home automation systems come with so much developed technology that they are impossible to ignore if you want to create a smart home.
Read more...
---
Adapt your home to your lifestyle
The Came Domotic3.0 home automation system allows people to manage all the automated devices in their home according to their lifestyle needs.
Read more...
---
Six smart home trends that will transform life in the home and far beyond
The Transformational Smart Home will expand in capability, function and activity, and will reflect the wider global needs of the planet, economies, societies and individuals.
Read more...
---
Maximising off-grid energy in South Africa
xStorage Home lets households store energy to use when needed, reducing their CO
2
footprint.
Read more...
---
Smart home weather stations
Legrand Southern Africa
Legrand's Netatmo smart home weather stations are an easy and efficient way to understand and monitor a home's indoor and outdoor environment.
Read more...
---
Creston Mercury provides a complete conference room solution
One easy-to-use console enables people to work together regardless of location or web collaboration application.
Read more...
---
Smart access control with a smart app
dormakaba South Africa
Dormakaba has introduced the evolo smart app, an app that enables users to control access rights using a smartphone, access card or key fob for up to 50 users.
Read more...
---
Seven tips for securing your home IT
Technews Publishing
Paul Ducklin, principal research scientist at IT security company Sophos, offers some tips for keeping IoT devices and other connected computers secure at home.
Read more...
---
Domestic staff should be your partners in home security
Homeowners should be vetting domestic staff and equipping them to be able to protect themselves and their property.
Read more...
---