printer friendly version
Electronics news digest
26 February 2020
News
Overseas
Business
• Maxim Integrated Products reported net revenue of $551 million for its second quarter of fiscal 2020 ended 28 December 2019, a 3% increase from the $533 million revenue recorded in the prior quarter, and a 4% decrease from the same quarter of last year. Diluted earnings per share (EPS) were $0,53 for the second quarter of 2020, versus $0,51 for the first quarter of 2020 and $0,47 for the second quarter of 2019.
• In a statement by Richard Clemmer, chief executive officer of NXP Semiconductors, he said the company delivered full-year revenue of $8,88 billion, a decline of 6% year-on-year, against a very challenging semiconductor industry backdrop. During 2019, he said NXP returned $1,76 billion to its shareholders, enhanced its product portfolio, successfully acquired the Marvell wireless connectivity assets, and introduced new, innovative products and solutions.
• ON Semiconductor announced that total revenue in the fourth quarter of 2019 was $1,4 billion, down approximately 7% compared to the same quarter last year, but up approximately 1% compared to revenue in the third quarter of 2019. "Our performance in 2019 validates the transforming nature of our business, as we expect to outperform most of our peer group against a backdrop of challenging macroeconomic and geopolitical conditions," stated Keith Jackson, the company's president and CEO.
• Having announced just over a year ago its strategy to transform from a hardware-focused IoT company to delivering full IoT solutions with recurring revenue attached to its leading IoT devices, Sierra Wireless made progress on that front in 2019, with $99,1 million in recurring and other services revenue. It also achieved record design win success with over $90 million of future recurring revenue from hundreds of new accounts. Overall, 2019 revenue was $713,5 million, lower by 10,1% year-over-year; recurring and other services revenue was 13,9% of annual revenue, compared to 11,9% in 2018.
• Silicon Labs reported financial results for its fourth quarter ended 28 December 2019. Revenue was within the guidance range at $219,4 million, down from $223,3 million in the third quarter. Fourth quarter earnings EPS were $0,22. Among its other business highlights, the company won the Global Semiconductor Alliance's (GSA) 'Most Respected Public Semiconductor Company' award for the fifth year in a row.
• Full year net revenues for STMicroelectronics were $9,56 billion, while net income was $1,03 billion. For 2020, the company plans to invest about $1,5 billion in capex to support its strategic initiatives and revenue growth to progress towards its mid-term revenue ambition of $12 billion.
• Texas Instruments reported fourth quarter revenue of $3,35 billion, net income of $1,07 billion, and earnings per share of $1,12. In its core businesses, analog revenue declined 5% and embedded processing declined 20% from the same quarter a year ago. For the full year, revenue was $14,38 billion, net income was $5,02 billion, and earnings per share were $5,42.
Industry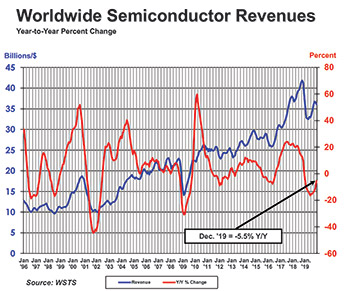 • The Semiconductor Industry Association (SIA) announced that global semiconductor industry sales were $412,1 billion in 2019, a decrease of 12,1% compared to the 2018 total. Global sales for the month of December 2019 reached $36,1 billion, a decline of 5,5% compared to the December 2018 total and 1,7% less than the total from November 2019. Fourth-quarter sales of $108,3 billion were 5,5% lower than the total from the fourth quarter of 2018, but 0,9% higher than the third quarter of 2019.
Further reading:
Locked down but not knocked out
25 March 2020, ExecuKit , News
As a business, we are facing extremely hard times with the current worldwide pandemic and isolation. We are all maintaining social distancing and must learn how to do business with an enforced lockdown 
...
Read more...
---
From the editor's desk: A new era – after mourning comes rebuilding
29 April 2020, Technews Publishing , News
When I sit down to write these columns once a month, even if the topic I decide to write about is not all sunshine and roses, I always try and look for a silver lining. I'm simply not able to do that 
...
Read more...
---
Personality profile: Chris Viveiros
29 April 2020, Otto Wireless , News
The operations director of Otto Wireless Solutions shares his background, experience, advice and thoughts on the future.
Read more...
---
Locked down but not knocked out
29 April 2020, ExecuKit , News
We as a company salute the component suppliers who have supported us and are there to assist during this time even if the requests we pose are not always realistic.
Read more...
---
Electronics industry tackling the coronavirus
29 April 2020 , News
2020 has been a crazy year already. From Australian bushfires to climate emergencies to US trade tariffs, the start of the decade hasn't been very positive. Not only this, within the last few months there 
...
Read more...
---
SqwidNet becomes first Sigfox-accredited lab in southern hemisphere
29 April 2020, iSERT , News
iSERT (Safety, EMC, RF, Testing), a leader in the provision of turnkey testing solutions for EMC, RF and safety testing, has collaborated with SqwidNet, the only licenced Sigfox operator in South Africa, 
...
Read more...
---
Clearing the Static: ESD cleaning and hygiene products
29 April 2020, Altico Static Control Solutions , News
In light of the current COVID-19 pandemic, Actum Group would like to remind electronics manufacturers of our range of antistatic cleaning agents, cleanroom materials and PPE.      
Cleanroom garments and 
...
Read more...
---
Jemstech continuing its growth path
29 April 2020, Jemstech , News
Since its inception in 2005 and especially during the past five years, Jemstech has grown from a medium-sized electronic manufacturing services (EMS) provider into one of the major players for electronics 
...
Read more...
---
Company profile: Phoenix Contact
29 April 2020, Phoenix Contact , News
Phoenix Contact was founded in 1923 in Essen, Germany, by Hugo Knümann. It entered the South African market in 1969 through a local distributor, and was later established as a wholly owned subsidiary 
...
Read more...
---
In memoriam: Vivienne Caroline Dorrington - 19 June 1958 – 21 April 2020
29 April 2020, Technews Publishing , News
It is with great sadness that we announce the death of our CEO, Vivienne Dorrington, after a long and brave battle with cancer. Like her father, Ray Beaumont, who founded Technews Publishing in 1985, 
...
Read more...
---