printer friendly version
Vector network analyser training kit
26 February 2020
Test & Measurement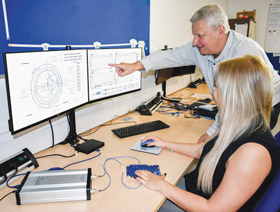 Pico Technology has added significant functionality and value to its low-cost, high-performance vector network analyser (VNA), by joining the NI/AWR Connected Partner community.
The PicoVNA interface wizard integrates and tightly couples highly affordable vector network measurement within the market-
leading design–simulate–implement process flow of Microwave Office and the AWR design environment. Component, system and subsystem measurements become available, controllable and displayed inside the Office workspace. Real-world measurements are available for one-click transfer to plots for direct comparison with simulated data or to users' project files for use within simulation.
A powerful education and training alliance
Can there be any more effective and rewarding learning experience than completing an entire design cycle? Unfortunately, the high costs of microwave network measurement have, for many, compromised that experience in the classroom. However, the more affordable PicoVNA 106, 6 GHz, full-function, professional-grade vector network analyser, partnered with Microwave Office, could change this.
Add to that mix the newly available network metrology test kit from Pico Technology.
Low-cost, potentially a per-student item, the kit includes active and passive circuit elements and all the low-cost calibration standards and test leads that are needed to partner the PicoVNA 106 in classroom microwave network measurement. This PCB-hosted kit was designed within Microwave Office. DUT elements can be modified by students and the kit is supplied with the MWO project design file for immediate engagement with any of the available circuit elements at any point in their design cycle.
Either within MWO or used standalone with the PicoVNA 106, this single integrated teaching accessory supports teaching
objectives around reflection and transmission measurements, S-parameters and standard measurement quantities. These can be presented and interpreted as log, linear, phase, real, imaginary, polar and Smith charts, with derived quantities, group delay and time domain transmission and reflection.
Additionally, by including an active broadband amplifier element, nonlinear compression measurements such as P1dB and AM to PM phase due to amplitude modulation can be explored using the PicoVNA 106's built-in measurement utilities.
Credit(s)
Further reading:
SatGen simulation software now supports NavIC
26 May 2021, RF Design , Test & Measurement
The latest update to LabSat SatGen GNSS simulation software for PC now incorporates NavIC RF simulation. Designed to create custom GNSS RF I/Q or IF data files based on user-generated trajectories, the 
...
Read more...
---
RF test probes for the 5G revolution
28 April 2021, Electronic Industry Supplies , Test & Measurement
5G, the fifth-generation mobile communications standard, will shape the third decade of the 21st century: a higher degree of networking is emerging, connecting different aspects of life and enabling new 
...
Read more...
---
Digital flow sensor for respiratory devices
31 March 2021, Electrocomp , Test & Measurement
The compact SFM3119 digital flow meter is the successor to Sensirion's SFM3100 mass flow meter. Compared to its predecessor, the SFM3119 comes with a digital I
2
C output as well as improved specifications. The 
...
Read more...
---
Handheld spectrum analysers for up to 6 GHz frequencies
31 March 2021, Comtest , Test & Measurement
The latest offering from Bird, a leading RF and tech provider, has expanded its highly sought-after SignalHawk family of rugged, handheld spectrum analyser products by adding the SH-60S-AOA Angle of Arrival 
...
Read more...
---
Comtest to represent Netscout
26 February 2021, Comtest , News
Comtest is pleased to announce that it now represents Netscout Systems, protecting digital business services against disruptions in availability, performance and security. Netscout's market and technology 
...
Read more...
---
Range of environmental T&M instruments
25 November 2020, RS Components (SA) , Test & Measurement
RS Components is now stocking a wide range of its own-brand RS PRO environmental test and measurement (T&M) products. These high-precision instruments and devices are for engineers and scientists to monitor 
...
Read more...
---
Real-time drone detection system
25 November 2020, Conical Technologies , Test & Measurement
Aaronia announced the release of its sixth generation real-time drone detection system. The new AARTOS system monitors all frequency bands in real time, and has direction finding and frequency monitoring 
...
Read more...
---
User-friendly oscilloscope for STEM learning
25 November 2020, RS Components (SA) , Test & Measurement
Affordable, compact, and easy to use, Tektronix' TBS1000C digital storage oscilloscope (DSO) comes with an enhanced user interface and courseware, proving a great tool for STEM educators, students, and 
...
Read more...
---
Radiation safety tester for 5G EMF
26 February 2021, Conical Technologies , Test & Measurement
Since 1986, the Microwave Vision Group (MVG) has developed unique expertise in the visualisation of electromagnetic waves. The latest addition to its list of electromagnetic field (EMF) exposure monitors 
...
Read more...
---
Software links oscilloscopes with the cloud
26 February 2021, Comtest , Test & Measurement
Comtest, local representative of Tektronix, has announced the availability of TekDrive, the first native oscilloscope-to-cloud software solution to facilitate global data collaboration directly on an 
...
Read more...
---