printer friendly version
Vector network analyser training kit
26 February 2020
Test & Measurement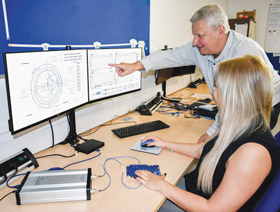 Pico Technology has added significant functionality and value to its low-cost, high-performance vector network analyser (VNA), by joining the NI/AWR Connected Partner community.
The PicoVNA interface wizard integrates and tightly couples highly affordable vector network measurement within the market-
leading design–simulate–implement process flow of Microwave Office and the AWR design environment. Component, system and subsystem measurements become available, controllable and displayed inside the Office workspace. Real-world measurements are available for one-click transfer to plots for direct comparison with simulated data or to users' project files for use within simulation.
A powerful education and training alliance
Can there be any more effective and rewarding learning experience than completing an entire design cycle? Unfortunately, the high costs of microwave network measurement have, for many, compromised that experience in the classroom. However, the more affordable PicoVNA 106, 6 GHz, full-function, professional-grade vector network analyser, partnered with Microwave Office, could change this.
Add to that mix the newly available network metrology test kit from Pico Technology.
Low-cost, potentially a per-student item, the kit includes active and passive circuit elements and all the low-cost calibration standards and test leads that are needed to partner the PicoVNA 106 in classroom microwave network measurement. This PCB-hosted kit was designed within Microwave Office. DUT elements can be modified by students and the kit is supplied with the MWO project design file for immediate engagement with any of the available circuit elements at any point in their design cycle.
Either within MWO or used standalone with the PicoVNA 106, this single integrated teaching accessory supports teaching
objectives around reflection and transmission measurements, S-parameters and standard measurement quantities. These can be presented and interpreted as log, linear, phase, real, imaginary, polar and Smith charts, with derived quantities, group delay and time domain transmission and reflection.
Additionally, by including an active broadband amplifier element, nonlinear compression measurements such as P1dB and AM to PM phase due to amplitude modulation can be explored using the PicoVNA 106's built-in measurement utilities.
For more information contact Comtest, +27 10 595 1821, sales@comtest.co.za, www.comtest.co.za
Credit(s)
Further reading:
Ethernet tap for IO Ninja
25 March 2020, RF Design , Test & Measurement
Monitoring network communications of your PC can be accomplished without any specialised hardware – just use the Pcap Sniffer plugin of IO Ninja. The task of tapping into the Ethernet traffic of a non-PC 
...
Read more...
---
Bench-top vector signal generator
29 April 2020, RFiber Solutions , Test & Measurement
The T3267E series bench-top vector signal generator from Transcom Instruments has excellent radio frequency performance and rich signal generating function. It can provide arbitrary wave, continuous 
...
Read more...
---
Tektronix and Coherent Solutions partner for fully integrated optical comms
25 March 2020, Comtest , Test & Measurement
Comtest has announced that technology companies Tektronix and Coherent Solutions have an exclusive partnership agreement to provide fully integrated optical communications platforms to new and existing 
...
Read more...
---
Better phase noise measurement for Infiniium UXR scopes
26 February 2020, Concilium Technologies , Test & Measurement
Keysight Technologies and Silicon Labs announced a collaboration that streamlines the validation of timing solutions critical in the development of system-level designs for wireless communications, high-speed 
...
Read more...
---
Eliminate risk with proper calibration
26 February 2020, Concilium Technologies , Test & Measurement
Proper calibration lowers cost of test by reducing the number of incorrect decisions made, by improving instrument performance.
Read more...
---
Double pulse test software for Tektronix AFG
29 January 2020, Comtest , Test & Measurement
Comtest announced the availability of Tektronix' new software plugin for its AFG31000 arbitrary function generator (AFG), making it possible to perform crucial double pulse testing in less than a minute, 
...
Read more...
---
Battery charge/discharge test system
29 January 2020, Conical Technologies , Test & Measurement
The ITS5300 battery charge and discharge test system from ITECH is designed for a variety of power batteries including lead acid, nickel hydrogen, lithium batteries, supercapacitors, hydrogen fuel cells 
...
Read more...
---
Oil-dielectric RF termination loads
29 January 2020, Comtest , Telecoms, Datacoms, Wireless, IoT
For maximum process repeatability and consistency, modern plasma applications require precise RF power regulation and control. A key component in ensuring accurate and repeatable RF power delivery to 
...
Read more...
---
DIN-rail programmable transmitter
23 October 2019, Instrotech , Test & Measurement
Calog Instrument's versatile DPM9000 series – a miniature DIN-rail mount programmable isolated transmitter range – boasts high reliability and a versatile, wide range of programmable inputs. With dimensions 
...
Read more...
---
Hands-on learning module
23 October 2019, Altron Arrow , Test & Measurement
The ADALM2000 (M2K) active learning module is an affordable, USB-powered, software-defined instrument that exceeds the capabilities of its predecessor ADALM1000 (M1K). With 12-bit ADCs (analog-to-digital 
...
Read more...
---