printer friendly version
Better phase noise measurement for Infiniium UXR scopes
26 February 2020
Test & Measurement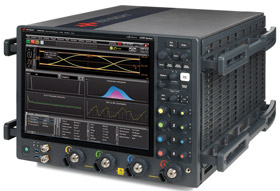 Keysight Technologies and Silicon Labs announced a collaboration that streamlines the validation of timing solutions critical in the development of system-level designs for wireless communications, high-speed digital, medical imaging and automotive applications.
Timing plays a key role in the smooth transfer of data in wireless and wireline networks and relies on highly accurate clocks. Easy access to tools for validating timing solutions accelerates development and adoption of new technology.
Keysight and Silicon Labs joined forces to simplify access to phase noise measurements by leveraging Keysight's real-time Infiniium UXR-Series oscilloscope, new phase noise analysis software, and Silicon Labs' high-performance products. As a result, existing users of Keysight's UXR oscilloscopes, such as manufacturers of oscillators, high-speed digital systems and power amplifier (PA) front end modules (FEMs), can quickly and cost-effectively characterise the performance of clocks and oscillators that underpin their designs.
Keysight's new phase noise analysis software is available via the company's UXR oscilloscopes, which offer signal fidelity across a wide frequency range. Users of the enhanced phase noise measurement capability can easily evaluate the timing phase noise and jitter performance of Silicon Labs' broad portfolio of oscillators, clock generators, clock buffers and IEEE 1588 modules.
Credit(s)
Further reading:
Mixed-signal oscilloscopes with flexible resolutions
27 October 2021, Comtest , Test & Measurement
Pico Technology released the PicoScope 6000E Series FlexRes oscilloscopes, featuring eight channels with 500 MHz bandwidth, 16 digital channels and resolution of 8, 10 or 12 bits. The products work with 
...
Read more...
---
Critical airborne system testing from a single device
27 October 2021, Measuretest , Test & Measurement
New from Viavi Solutions is the AVX-10K flight line test set, enabling comprehensive performance verification testing of critical airborne systems from a simple-to-use device. The instrument helps avionics 
...
Read more...
---
PTP wander measurement for improved 5G network synchronisation
27 October 2021, Coral-i Solutions , Test & Measurement
Anritsu has added a function for PTP wander – a metric for evaluating frequency variations as low as 10 Hz with respect to the PTP (precision time protocol) network time synchronisation error – to the 
...
Read more...
---
IO Ninja adds flexibility with capabilities and subscriptions
27 October 2021, RF Design , Test & Measurement
The release of IO Ninja version 5.0 marks an opportune point for embedded designers to join the scores of professionals who have already adopted IO Ninja at Facebook, Siemens, Mitsubishi and many other 
...
Read more...
---
Using waveguide shorts and shims for RF testing
27 October 2021, RF Design , Test & Measurement
For many RF test applications in the higher frequencies, such as millimetre-waves, or for high-power use cases, rectangular waveguides are the interconnect solution of choice. In a similar vein to short-open-load-through 
...
Read more...
---
True RMS digital multimeter
27 October 2021, Vepac Electronics , Test & Measurement
The new PeakTech 2025 A offers a multitude of measurement functions for electrical variables for industry, trade, training, hobbyist and laboratory users. Of particular note is the integrated data interface, 
...
Read more...
---
First verified OTDOA positioning test for 5G NR
29 September 2021, Coral-i Solutions , Test & Measurement
The industry's first OTDOA (observed time difference of arrival) protocol conformance test for 5G New Radio (NR) has been verified with a device containing the MediaTek M70 5G modem and the Anritsu ME7834NR 
...
Read more...
---
Mixed-signal oscilloscopes for general-purpose debugging
29 September 2021, Concilium Technologies , Test & Measurement
Powerful, intuitive to use and easy to own, the Infiniium EXR-Series extends the power of Keysight Technologies' Infiniium MXR oscilloscope family to customers that want to buy through the company's global 
...
Read more...
---
Tektronix releases results of global engineer survey
29 September 2021, RS Components (SA) , Test & Measurement
To keep pace with rapid advancements in technology, today's test and measurement engineers seek longer-lasting products and more technical support, according to a global survey of nearly 1300 professional 
...
Read more...
---
Clamp meters for 1500 V solar power tests
29 September 2021, Comtest , Test & Measurement
Fluke has announced the launch of a new clamp meter designed to measure solar installation voltages at the new standard of 1500 V, while offering high safety specifications and being easy to use in congested 
...
Read more...
---