printer friendly version
USB Type-C port protector
26 February 2020
Circuit & System Protection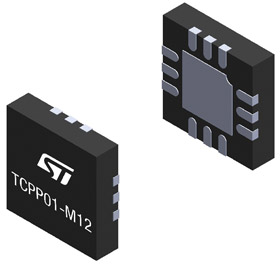 Designers can easily migrate small electronic devices from legacy USB Micro-A or Micro-B interconnects to the latest Type-C style with the STMicroelectronics TCPP01-M12 port protector, which satisfies all protection requirements for USB-C connections.
The TCPP01-M12 is a microcontroller (MCU) companion chip that works with the 20 V/100 W USB Type-C power delivery controller integrated in ST's STM32G0 and STM32G4 MCUs. It is also optimally featured to protect 5 V-only connections managed by general-purpose MCUs such as STM32 and STM8 devices. In each case, only the TCPP01-M12 and MCU are required, permitting an equally cost-effective and space-efficient solution.
The full set of features includes defective power-adaptor protection to prevent equipment damage if a faulty power supply applies a wrong power profile. There is also short-circuit protection between VBUS pins and configuration channel (CC) lines, and IEC 61000-4-2 Level 4 + 8 kV ESD protection for VBUS and CC.
Adding extra value, the TCPP01-M12 enters zero-power operation when no cable is connected, thereby extending battery life, and makes innovative use of the USB PD programmable power supply (PPS) to enable faster device charging. The IC also integrates driver circuitry for an external N-channel load switch to save bill-of-materials costs. Moreover, leveraging PPS support and the inherently low on-resistance of the N-channel switch, compared to the P-channel MOSFET typically used, minimise overall heat dissipation.
For more information contact Robin Scholes, Altron Arrow, +27 11 923 9600, rscholes@arrow.altech.co.za, www.altronarrow.com
Credit(s)
Further reading:
Bluetooth evaluation kit
29 April 2020, Altron Arrow , Telecoms, Datacoms, Wireless, IoT
The Cypress CYW920719B2Q40EVB-01 evaluation kit enables users to evaluate and develop single-chip Bluetooth applications using the CYW20719, an ultra-low-power dual-mode Bluetooth 5.0 wireless MCU (microcontroller) 
...
Read more...
---
Solid-state drive based on QLC technology
29 April 2020, Altron Arrow , Computer/Embedded Technology
Micron Technology announced new Micron 5210 ION enterprise SATA SSD capacity and features, solidifying its leadership in QLC (quad-level cell) technology volume production. The world's first QLC solid-state 
...
Read more...
---
Dual-channel high-speed protector
29 April 2020, Electrocomp , Circuit & System Protection
Bourns announced the release of the Model TBU-RS085-300-WH, for use in RS-485 communication interface protection. The part is an integrated dual-channel transient blocking unit (TBU) over-current and 
...
Read more...
---
Automotive MOSFETs in a variety of packages
29 April 2020, Altron Arrow , Power Electronics / Power Management
Reducing CO
2
emissions of passenger cars is accelerating 48 V board net adoption. For this emerging 48 V market, Infineon Technologies offers a broad portfolio of automotive 80 V and 100 V MOSFETs as 
...
Read more...
---
Chipset for Wi-Fi 6E applications
29 April 2020, Altron Arrow , Telecoms, Datacoms, Wireless, IoT
ON Semiconductor announced sampling of its new QCS-AX2 chipset family that supports the 6 GHz spectrum band based on the enhanced Wi-Fi 6E standard. Designed with a high-performance, flexible architecture 
...
Read more...
---
Synchronous buck converter
29 April 2020, Altron Arrow , Power Electronics / Power Management
Diodes Incorporated introduced the AP62600 synchronous DC-DC buck converter for point-of-load (POL) conversion in applications such as TVs, monitors, white goods, home appliances, consumer electronics 
...
Read more...
---
Tiny step-down regulator
29 April 2020, Altron Arrow , Power Electronics / Power Management
The LTM4657 is part of Analog Devices' family of tiny, high-efficiency, identical pin-out, step-down µModule devices. The LTM4657 is designed to operate at lower switching frequencies than the LTM4626 
...
Read more...
---
Reliably protect LED applications
29 April 2020, Phoenix Contact , Circuit & System Protection
The Type 2 surge protective device from the Blocktrab series from Phoenix Contact protects all lighting systems and is particularly suitable for LED applications. LED technology has become indispensable 
...
Read more...
---
Cryptographic MCU protects against malware
29 April 2020, Altron Arrow , DSP, Micros & Memory
With the rapid growth of 5G including new cellular infrastructure, growing networks and data centres supporting expanding cloud computing, developers are seeking new ways to ensure operating systems remain 
...
Read more...
---
IMUs that carry machine learning burden
29 April 2020, Altron Arrow , Analogue, Mixed Signal, LSI
Designed for use in a wide variety of consumer and industrial applications, STMicroelectronics' 6-axis iNEMO inertial measurements units (IMU) feature an embedded machine learning core (MLC) to offload 
...
Read more...
---