printer friendly version
Bluetooth MCUs with NFC peripheral
26 February 2020
DSP, Micros & Memory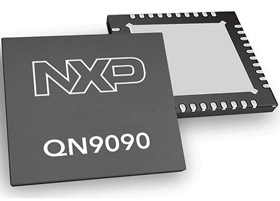 NXP Semiconductors announced the availability of its QN9090 and QN9030 Bluetooth 5 System on Chip (SoC) with hardware compatible options for 802.15.4, multiprotocol RF, and optional NFC technology. The latest additions to its QN series of Bluetooth Low Energy (BLE) devices enable next-generation intelligent connected devices thanks to a wide operating temperature range, a comprehensive mix of analog and digital peripherals, and BLE mesh support.
The devices are powered by an Arm Cortex-M4 running at 48 MHz and include up to 640 KB onboard Flash and 152 KB SRAM, providing storage space and flexibility for complex applications and safe over-the-air (OTA) updates. The QN Series devices are aimed at developers creating products for diverse IoT applications such as personal healthcare devices, sports and fitness trackers, connected appliances, building and home automation, toys and gaming peripherals, as well as beacons and mesh networks.
Credit(s)
Further reading:
maXTouch touchscreen controller for various aspect ratios
EBV Electrolink Analogue, Mixed Signal, LSI
As the automotive market continues to demand larger touchscreens with more flexibility in size and shape, Microchip Technology is announcing a new maXTouch touchscreen controller that allows automotive 
...
Read more...
---
Embedded vision development tool for RISC-V FPGA
EBV Electrolink Programmable Logic
Microchip Technology announced the second development tool offering in its Smart Embedded Vision initiative for designers using its PolarFire RISC-V system-on-chip (SoC) FPGA. The industry's lowest-power 
...
Read more...
---
Wireless asset tag supporting Quuppa RTLS
EBV Electrolink Telecoms, Datacoms, Wireless, IoT
onsemi unveiled a new system solution that overcomes the main challenges associated with developing asset tracking tags. Battery life has been a major obstacle to asset tag adoption, particularly within 
...
Read more...
---
Discovery kit for IoT nodes using STM32U5 MCU
Altron Arrow DSP, Micros & Memory
The B-U585I-IOT02A Discovery kit provides a complete demonstration and development platform for STMicroelectronics' STM32U585AI microcontroller, featuring an Arm Cortex-M33 core with Arm TrustZone and 
...
Read more...
---
200 MHz MCUs backed by TrustZone security
Hi-Q Electronics DSP, Micros & Memory
Renesas Electronics now offers a 200 MHz RA6E1 microcontroller (MCU) which uses a high-performance Arm Cortex M33 core and TrustZone. The device is built on a highly efficient 40 nm process and supported 
...
Read more...
---
32-bit MCU for IoT edge applications
NuVision Electronics DSP, Micros & Memory
Silicon Labs launched the EFM32PG22 (PG22) 32-bit microcontroller (MCU), a low-cost, high-performance solution with an optimised combination of energy efficiency, performance and security. With easy-to-use, 
...
Read more...
---
Crossover MCU with 3D camera
EBV Electrolink DSP, Micros & Memory
NXP Semiconductors has announced the expansion of its NXP EdgeReady solution portfolio, adding a solution for secure face recognition that leverages a high-performance 3D structured light module (SLM) 
...
Read more...
---
Totem pole PFC controller
EBV Electrolink Power Electronics / Power Management
A new addition was made to ON Semiconductor's solution set for ultra-high density offline power supplies in the form of the NCP1680, a dedicated critical conduction mode totem pole PFC controller. It 
...
Read more...
---
Compact offline switcher ICs
EBV Electrolink Power Electronics / Power Management
Power Integrations introduced LinkSwitch-TNZ, a new switching power supply IC that combines offline power conversion, lossless zero-crossing detection and optionally, X-capacitor discharge functions in 
...
Read more...
---
Capacitive touchscreen controllers
EBV Electrolink Analogue, Mixed Signal, LSI
Microchip Technology is adding two new members to its family of IEC/UL 60730 Class B certified touchscreen controllers. The new MXT448UD-HA and MXT640UD-HA extend the Class B portfolio of devices beyond 
...
Read more...
---