printer friendly version
Robotics and coding essential for SA youth
26 February 2020 News AI & ML Edge Computing & IIoT
To many, robotic and computer coding are reserved for techies, geeks and sci-fi movies. Nowadays these terms are fast becoming the norm in society and households alike. There is no denying the fact that if we do not embrace this wave of change, we will be left behind while the world around us progresses at a rate we cannot comprehend.
Mixo Ngoveni, one of the co-founders of Geekulcha, agrees and adds that we need to inspire the youth of SA to think beyond their classrooms, environments and households because the jobs of tomorrow will be created through science, technology, engineering and mathematics (STEM) and will be very different to the traditional job roles that we know today.
"Artificial intelligence (AI) and robots are gradually being integrated into our world and I don't mean that in a negative way. These platforms are reshaping the way we look at work, systems and even play. Behind the scenes of AI and robotics are human beings – we need to programme, code and engineer these platforms to do what we require. Our challenge is to instil and nurture a way of understanding these platforms among our youth so that they are prepared for the jobs of tomorrow and a future that we cannot even begin to fathom," he says.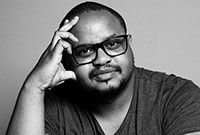 Mixo Ngoveni.
Geekulcha is an organisation which was spearheaded to create a platform for young, skilled and creative tech minds to connect with each other, share knowledge, collaborate on projects, network with industry leaders and to put newly acquired skills to work. Established in March 2013 with a mandate to empower young minds through information and communication technology (ICT) skills development and training, Geekulcha now has over 11 200 techies and innovators across Africa. According to Ngoveni, SA has a wealth of youngsters who have the hunger to learn but have minimal access to these tech platforms.
"Over the years I have witnessed incredible accounts of young people from underprivileged communities creating amazing solutions to solve everyday challenges that were inspired by STEM education. We need more support from government, private sector and communities to support STEM education now more than ever because we cannot be left on the back foot of this worldwide movement," he says.
This month was earmarked for the start of the department of basic education's (DBE) pilot coding and robotics curriculum; however, it has been pushed back due to unforeseen circumstances. Learners and parents from Grades R to 3 must wait a few more months for the department to kick off the new coding and robotics curriculum across South African schools this year. The new curriculum is set to lay a foundation of development and keen interest towards coding and robotics from a young age. This programme will see 50 schools participating in this pilot project.
Brian Andrew, managing director of RS Components South Africa, welcomed this pilot programme and added that this will be a good start to transforming the current curriculum so that the country's youth can be better equipped for future occupations. "South Africa's youngsters have so much talent. Through STEM education, coding and robotics these youngsters will be able to build their capabilities and facilitate incredible levels of innovation which we desperately need. The future looks exciting and it will interesting to see how our country adapts to this new world," he said.
Credit(s)
Further reading:
Africa Online Safety Fund announces grant winners
News
The Africa Online Safety Fund (AOSF) has announced the winners of this year's grants, among them five organisations operating in South Africa.
Read more...
---
RF antenna solutions for IoT devices
News
Mouser Electronics and Amphenol RF have teamed up for a brand-new webinar titled 'RF antenna solutions for IoT devices and smart technology'.
Read more...
---
High-precision coreless current sensor
RS South Africa Power Electronics / Power Management
The Infineon XENSIV TLE4971 is a new automotive-qualified pre-programmed 120 A sensor without the saturation or hysteresis effects.
Read more...
---
Wideband GNSS testing system
RF Design News
The LabSat 3 Wideband Solution is a GNSS testing system with support for recording and replay in the upper
L-Band (1559-1610 MHz)
and lower
L-Band (1164-1300 MHz).
It has three RF channels, a recording 
...
Read more...
---
New generation of 5G modules
Quectel Wireless Solutions News
Quectel Wireless Solutions announced the launch of its latest generation 5G New Radio (NR) module series, the RG650E and RG650V, both of which follow the 3GPP Release 17 standard. These industrial-grade 
...
Read more...
---
Microcontroller with Bluetooth LE 5.3
Altron Arrow News
The STM32WBA 32-bit Wireless series from STMicroelectronics brings designers the performance, efficiency, and security required for Bluetooth Low Energy 5.3-enabled applications. The STM32WBA offers essential 
...
Read more...
---
Configurable industrial AI computing
Brandwagon Distribution News
The Tensor-I22 IS from Brandwagon is the second generation in the company's innovative industrial computer line, Tensor. The fanless industrial PC can be customised with a choice of CPU, memory, storage 
...
Read more...
---
Comprehensive AI computing solution
Altron Arrow News
Powered by the NVIDIA Jetson AGX Orin, the BOXER-8640AI fanless Box PC from AAEON Technology brings AI capabilities to the edge. The NVIDIA Jetson AGX Orin's Ampere architecture boasts 1792 CUDA and 56 
...
Read more...
---
Pure carbide GaN-on-SiC power amplifier
RFiber Solutions News
MACOM announced an expansion to its power amplifier product portfolio with the MAPC-A1605 7,0 kW power amplifier. This device is suitable for high-power and high-voltage aerospace and defence applications, 
...
Read more...
---
Connectors with extreme density and performance
Spectrum Concepts News
Samtec's family of board-to-board and cable assemblies feature extreme density with up to 1000 total I/Os on a 0,635 mm pitch, while still providing incredible 112 Gbps PAM4 performance. The AcceleRate 
...
Read more...
---