printer friendly version
Robotics and coding essential for SA youth
26 February 2020 News
To many, robotic and computer coding are reserved for techies, geeks and sci-fi movies. Nowadays these terms are fast becoming the norm in society and households alike. There is no denying the fact that if we do not embrace this wave of change, we will be left behind while the world around us progresses at a rate we cannot comprehend.
Mixo Ngoveni, one of the co-founders of Geekulcha, agrees and adds that we need to inspire the youth of SA to think beyond their classrooms, environments and households because the jobs of tomorrow will be created through science, technology, engineering and mathematics (STEM) and will be very different to the traditional job roles that we know today.
"Artificial intelligence (AI) and robots are gradually being integrated into our world and I don't mean that in a negative way. These platforms are reshaping the way we look at work, systems and even play. Behind the scenes of AI and robotics are human beings – we need to programme, code and engineer these platforms to do what we require. Our challenge is to instil and nurture a way of understanding these platforms among our youth so that they are prepared for the jobs of tomorrow and a future that we cannot even begin to fathom," he says.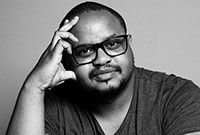 Mixo Ngoveni.
Geekulcha is an organisation which was spearheaded to create a platform for young, skilled and creative tech minds to connect with each other, share knowledge, collaborate on projects, network with industry leaders and to put newly acquired skills to work. Established in March 2013 with a mandate to empower young minds through information and communication technology (ICT) skills development and training, Geekulcha now has over 11 200 techies and innovators across Africa. According to Ngoveni, SA has a wealth of youngsters who have the hunger to learn but have minimal access to these tech platforms.
"Over the years I have witnessed incredible accounts of young people from underprivileged communities creating amazing solutions to solve everyday challenges that were inspired by STEM education. We need more support from government, private sector and communities to support STEM education now more than ever because we cannot be left on the back foot of this worldwide movement," he says.
This month was earmarked for the start of the department of basic education's (DBE) pilot coding and robotics curriculum; however, it has been pushed back due to unforeseen circumstances. Learners and parents from Grades R to 3 must wait a few more months for the department to kick off the new coding and robotics curriculum across South African schools this year. The new curriculum is set to lay a foundation of development and keen interest towards coding and robotics from a young age. This programme will see 50 schools participating in this pilot project.
Brian Andrew, managing director of RS Components South Africa, welcomed this pilot programme and added that this will be a good start to transforming the current curriculum so that the country's youth can be better equipped for future occupations. "South Africa's youngsters have so much talent. Through STEM education, coding and robotics these youngsters will be able to build their capabilities and facilitate incredible levels of innovation which we desperately need. The future looks exciting and it will interesting to see how our country adapts to this new world," he said.
Credit(s)
Further reading:
From the editor's desk: Yes, it's that thing everyone's talking about
25 March 2020, Technews Publishing , News
Call me a pessimist, but I'm absolutely, 100% certain that I'm going to catch COVID-19 (or the 'novel coronavirus' if you prefer to call it that) – if I haven't done so already. At least the mortality 
...
Read more...
---
Electronics news digest
25 March 2020 , News
Overseas
Business
• ams reported record revenues and results for full year 2019, with revenues up 32% year-on-year, and fourth quarter revenues exceeding expectations with strong adjusted operating 
...
Read more...
---
XinaBox – Reaching for the stars
25 March 2020, RS Components (SA) , News
From collecting data in sub-zero Antarctica to rapid circuit prototyping on the International Space Station this South African company is reinventing the way we approach IoT while inspiring students to follow STEM careers.
Read more...
---
Electrocomp launches new website
25 March 2020, Electrocomp , News
Electrocomp is inviting visitors to explore its new website, which has been designed to offer a user-friendly experience with improved navigation and functionality while allowing customers to see their 
...
Read more...
---
Looking beyond radar, the car's virtual eye
25 March 2020, Altron Arrow , News
Faster, higher-resolution radar sensors have enabled the next generation of driver assistance technologies through improvements in vehicle safety and comfort in view.
Read more...
---
Disposing of e-waste in space
26 February 2020 , News
According to BBC, there are over half a million pieces of debris floating around the Earth's orbit. Most debris within the atmosphere are lost parts from space crafts, disused rocket stages or waste from 
...
Read more...
---
IPC revises five standards
26 February 2020 , News
IPC announced the release of five newly revised standards covering several areas of the supply chain:      
· IPC/WHMA-A-620D, Requirements and Acceptance for Cable and Wire Harness Assemblies. · IPC-2223E, 
...
Read more...
---
Testerion to represent ITW EAE in SA
26 February 2020, Testerion , News
ITW EAE announced a new extended partnership agreement with Testerion South Africa to represent and distribute all ITW EAE equipment including MPM printers, Camalot dispensers, Electrovert soldering systems, 
...
Read more...
---
Würth helps produce PCBs for ventilators
25 March 2020, Würth Elektronik eiSos , News
The worldwide spread of the coronavirus is not only increasing the demand for personal protective equipment, but also for medical ventilators. In order to ensure the supply in Germany, the German government 
...
Read more...
---
u-blox acquires Thingstream
25 March 2020 , News
u-blox has acquired IoT communication-as-a-service provider, Thingstream. Thingstream provides a comprehensive, end-to-end solution for global IoT connectivity using the industry standard MQTT protocol. 
...
Read more...
---