printer friendly version
Electronics news digest
25 March 2020
News
Overseas
Business
• ams reported record revenues and results for full year 2019, with revenues up 32% year-on-year, and fourth quarter revenues exceeding expectations with strong adjusted operating profitability. Full-year 2019 revenues grew significantly to $2,09 billion as fourth quarter revenues reached $655,3 million, above the previous guidance range. This growth was particularly driven by ams' consumer business including 3D sensing and advanced light sensing in the second half of 2019.
• Net sales for Microchip Technology's third quarter of fiscal 2020 were $1,287 billion, down 6,4% from net sales of $1,375 billion in the prior year's third fiscal quarter. Net income for the third quarter of fiscal 2020 was $311,1 million, or $1,20 per diluted share, up from net income of $49,2 million, or $0,20 per diluted share, in the prior year's third fiscal quarter. Looking ahead to the next quarter, the company issued quarterly net sales guidance of up 2% to 9% sequentially, which was a wider than usual range, to reflect uncertainty related to the COVID-19 outbreak.
Companies
• Silicon Labs has entered into a definitive asset purchase agreement with Redpine Signals to pay $308 million in cash to acquire Redpine Signals' Wi-Fi and Bluetooth assets, development centre in India and extensive patent portfolio. The acquisition is expected to add approximately $20 million to Silicon Labs' revenue on an annualised basis for the 2020 financial year.
Industry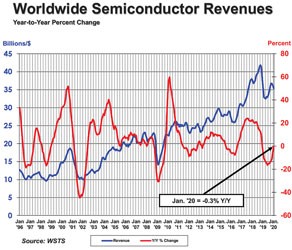 • The Semiconductor Industry Association (SIA) announced worldwide sales of semiconductors were $35,4 billion for the month of January 2020, a decrease of 0,3% from the January 2019 total of $35,5 billion and 2,2% less than the December 2019 total of $36,2 billion. Regionally, year-to-year sales increased slightly in China (5,2%) and the Americas (0,8%), but fell in Asia Pacific/All Other (-4,1%), Japan (-5,0%), and Europe (-5,6%).
• IPC announced the release of five newly revised standards covering several areas of the supply chain: IPC/WHMA-A-620D, Requirements and Acceptance for Cable and Wire Harness Assemblies; IPC-2223E, Sectional Design Standard for Flexible/Rigid-Flexible Printed Boards; IPC-2591-Version 1.1, Connected Factory Exchange (CFX); IPC-1791A, Trusted Electronic Designer, Fabricator and Assembler Requirements; and IPC- 6012E, Qualification and Performance Specification for Rigid Printed Boards.
• Annual semiconductor unit shipments, including integrated circuits and optoelectronics, sensors, and discrete (O-S-D) devices are forecast to rise 7% in 2020 and surpass one trillion units for the second time in history, based on data from IC Insights. The 7% increase to 1036 billion total semiconductor shipments expected in 2020 follows an 8% decline in 2019 and 7% growth in 2018. Starting with 32,6 billion units in 1978 and ending in 2020, the compound annual growth rate (CAGR) for semiconductor units is forecast to be 8,6%, an impressive annual growth rate over 42 years, given the cyclical and often volatile nature of the semiconductor industry.
• 5G and edge computing constitute a technological leap that heralds a significant transformation of business models for all industries, including manufacturing and associated Industry 4.0 verticals. The market for 5G cellular connections in manufacturing is expected to reach $10,8 billion by 2030, at a compound annual growth rate (CAGR) of 187%, finds global tech market advisory firm, ABI Research.
Further reading:
Locked down but not knocked out
25 March 2020, ExecuKit , News
As a business, we are facing extremely hard times with the current worldwide pandemic and isolation. We are all maintaining social distancing and must learn how to do business with an enforced lockdown 
...
Read more...
---
From the editor's desk: A new era – after mourning comes rebuilding
29 April 2020, Technews Publishing , News
When I sit down to write these columns once a month, even if the topic I decide to write about is not all sunshine and roses, I always try and look for a silver lining. I'm simply not able to do that 
...
Read more...
---
Personality profile: Chris Viveiros
29 April 2020, Otto Wireless , News
The operations director of Otto Wireless Solutions shares his background, experience, advice and thoughts on the future.
Read more...
---
Locked down but not knocked out
29 April 2020, ExecuKit , News
We as a company salute the component suppliers who have supported us and are there to assist during this time even if the requests we pose are not always realistic.
Read more...
---
Electronics industry tackling the coronavirus
29 April 2020 , News
2020 has been a crazy year already. From Australian bushfires to climate emergencies to US trade tariffs, the start of the decade hasn't been very positive. Not only this, within the last few months there 
...
Read more...
---
SqwidNet becomes first Sigfox-accredited lab in southern hemisphere
29 April 2020, iSERT , News
iSERT (Safety, EMC, RF, Testing), a leader in the provision of turnkey testing solutions for EMC, RF and safety testing, has collaborated with SqwidNet, the only licenced Sigfox operator in South Africa, 
...
Read more...
---
Clearing the Static: ESD cleaning and hygiene products
29 April 2020, Altico Static Control Solutions , News
In light of the current COVID-19 pandemic, Actum Group would like to remind electronics manufacturers of our range of antistatic cleaning agents, cleanroom materials and PPE.      
Cleanroom garments and 
...
Read more...
---
Jemstech continuing its growth path
29 April 2020, Jemstech , News
Since its inception in 2005 and especially during the past five years, Jemstech has grown from a medium-sized electronic manufacturing services (EMS) provider into one of the major players for electronics 
...
Read more...
---
Company profile: Phoenix Contact
29 April 2020, Phoenix Contact , News
Phoenix Contact was founded in 1923 in Essen, Germany, by Hugo Knümann. It entered the South African market in 1969 through a local distributor, and was later established as a wholly owned subsidiary 
...
Read more...
---
In memoriam: Vivienne Caroline Dorrington - 19 June 1958 – 21 April 2020
29 April 2020, Technews Publishing , News
It is with great sadness that we announce the death of our CEO, Vivienne Dorrington, after a long and brave battle with cancer. Like her father, Ray Beaumont, who founded Technews Publishing in 1985, 
...
Read more...
---