printer friendly version
Modern flanged enclosures for IIoT and sensor applications
25 March 2020
Enclosures, Racks, Cabinets & Panel Products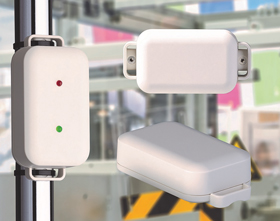 OKW Gehäusesysteme has expanded its range of enclosures with the new EASYTEC. The special feature of this enclosure range is that there are fully integrated lugs on the short end faces of the bottom part.
This allows the devices to be mounted quickly and easily on the wall. Depending on the desired orientation, this is possible either horizontally or vertically. The flanged enclosures can also be mounted on pipes or round profiles. For the latter application, they can be mounted using cable ties. This is supported visually by the rounded recess on the underside and it also holds better. The enclosure is mounted using four stainless steel screws with Torx drive on the underside. This means that no screws are visible, which has a positive influence on the appearance. PCBs can be installed on the fastening pillars in the top part and/or in the bottom part.
The plastic enclosures are available in two different sizes, each in two heights: size 80 in 101 x 50 x 22/26 mm and size 100 in 121 x 62 x 26/31 mm (length including flange x width x height). Off-white, RAL 9002, is available from stock as the standard colour.
The enclosure is made of high-quality, flame-retardant ASAFR material (UL 94 V-0). It has a two-part design, thus providing a high degree of stability. The supply includes a flat top part, a flat bottom part with flange and an assembly kit. The kit contains self-adhesive, anti-slip enclosure feet to ensure stability if desktop use is required. The corners are characterised by large radii.
Range of accessories
A harsh environment can damage the internal electronics. It is important to offer them the best possible protection from moisture, dirt and dust. Short circuits or malfunctions should be ruled out. In order to protect the sturdy enclosure and its electronics compartment from robust environments, a seal is also available in the range of accessories. This allows the protection class to be raised from IP 40 to IP 65 and in addition to indoor use, allows robust outdoor use as well. This is also supported by the stainless steel screws with Torx drive used to hold the enclosure together. The seal is inserted into the groove in the bottom part.
Self-tapping screws with cross recess or alternatively with Torx drive are available from stock. This allows PCBs or other components to be mounted quickly. For this purpose, there are two fastening pillars each in the top and bottom parts.
For indoors and outdoors
EASYTEC enclosures can easily be integrated into a wide range of applications thanks to the lugs and the rounded recess on the bottom part. Indoors, the enclosures can be mounted on the wall or on a pipe, which allows simple and efficient use in the field of measurement or also control technology. In the field of the IIoT, the terminal can be used to improve operational efficiency in production. Faults or problems in machines and systems can be detected immediately by means of LEDs mounted on the enclosures.
The robust design of the enclosure, including the seal, facilitates installation in industrial environments or outdoors. EASYTEC can record weather data or check the quality of the air (environmental technology). Other areas of application include sensor technology, medical and laboratory technology, information technology and safety and monitoring technology.
Special enclosures to meet customer requirements
In order to guarantee optimum use of the subsequent terminal units, the standard enclosures can be modified by OKW through a series of refinements and finishes. These are carried out individually and according to customer requirements. For example, EASYTEC enclosures can be printed with corporate colours or logos.
If cutouts or interfaces are required for LEDs or operating elements, mechanical processing can be carried out. OKW offers an EMC coating on the inside of the enclosure to protect the electronics from their own increased interference emission and from external interference. Installation or painting is also offered directly on site.
With immediate effect, OKW now offers a new technology: laser marking. It is ideal for individual labelling, identifying or marking. In particular, very small machine-readable markings, e.g. QR codes, barcodes and the consecutive numbering of individual parts and texts, can thus be applied quickly and easily. Laser marking involves a colour change on the surface. Dark and light plastics turn grey at the points to be marked.
For more information contact Quatraine Domoney, Avnet South Africa, +27 11 319 8600, quatraine.domoney@avnet.eu, www.avnet.co.za
Credit(s)
Further reading:
Enabling cloud connectivity to all Microchip MCUs and MPUs
25 March 2020, Avnet South Africa , DSP, Micros & Memory
Due to the fragmented nature of the Internet of Things (IoT) marketplace, increasing project complexity and costs, today's developers face more challenges in design decisions than ever before. These challenges 
...
Read more...
---
Stackable DC-DC buck converter
29 April 2020, Avnet South Africa , Power Electronics / Power Management
Texas Instruments introduced a new 40 A SWIFT DC-DC buck converter, offering first-of-its-kind stackability of up to four ICs. The TPS546D24A PMBus buck converter can deliver up to 160 A of output current 
...
Read more...
---
Guide for designing GUIs, for novices to experts
29 April 2020, Avnet South Africa , Design Automation
The TouchGFX team at STMicroelectronics recently published TouchGFX Documentation, a website that targets developers working on their first embedded graphical user interface (GUI) as well as those with 
...
Read more...
---
Why low quiescent current matters for longer battery life
29 April 2020, Avnet South Africa , Power Electronics / Power Management
From healthcare and biosensing to wearables and environmental sensing, nearly all IoT devices rely on batteries that must perform reliably and over an extended period of time in a variety of conditions.
Read more...
---
MEMS-based environmental pressure sensors
25 March 2020, Avnet South Africa , Analogue, Mixed Signal, LSI
Bourns Sensors & Controls' product line is introducing four new series of environmental sensors based on microelectromechanical systems (MEMS) technology. These four new series are designed for the customer 
...
Read more...
---
Bluetooth 5.0 Low Energy module
25 March 2020, Avnet South Africa , Telecoms, Datacoms, Wireless, IoT
An output power of up to +8 dBm and the high sensitivity of the nRF52840, in combination with the LE coded PHY, make the module very attractive for applications that require a long range. The Bluetooth 
...
Read more...
---
Elegant and functional handheld enclosures
25 March 2020, Electrocomp , Enclosures, Racks, Cabinets & Panel Products
Hammond Electronics has launched its new 1552 family of handheld enclosures. Initially available in six sizes, the IP54 rated UL94-V0 flame-retardant ABS enclosure features an ergonomic design that fits 
...
Read more...
---
Modular DIN rail enclosure range
25 March 2020, Vepac Electronics , Enclosures, Racks, Cabinets & Panel Products
The CNMB range of DIN rail enclosures from CamdenBoss provides a diverse selection of modular housings which are available in eight set lengths, optimised for a wide range of electrical and electronics 
...
Read more...
---
Complete design solution for energy efficient motor driving system
25 March 2020, Avnet South Africa , Power Electronics / Power Management
Electric motors are a powerhouse user of electricity worldwide, accounting for about two-thirds of industrial electricity consumption. The International Energy Agency reports that electric motors account 
...
Read more...
---
Miniature automotive MOSFETs
25 March 2020, Avnet South Africa , Power Electronics / Power Management
Diodes Incorporated announced the introduction of the 40 V-rated DMTH4008LFDFWQ and 60 V-rated DMTH6016LFDFWQ automotive-compliant MOSFETs packaged in DFN2020. These miniature MOSFETs occupy just 10% 
...
Read more...
---