printer friendly version
ATC's optical fibre production to be trebled by early-2002
9 May 2001
News
ATC Africa's sole manufacturer of optical fibre and leading manufacturer and supplier of turnkey communication cabling projects has grasped the opportunity presented by the world shortage of optical fibre and its favourable impact on pricing to expand its optical fibre manufacturing capacity.

Cobus Malan, Managing Director, ATC
The company has decided to treble its fibre manufacturing capacity over the next 12 months. In addition, the optical fibre cable plant's capacity will be increased to match that of the fibre plant.
Says Optical Fibre Division General Manager Graham du Preez: "It is estimated that the world shortage in optical fibre will continue until 2004. Our expansion is due for completion by March next year, so we will be in a position to take advantage of this and at the same time establish ourselves more firmly in the world market as a supplier of optical fibre cable."
The expansion, which is already under way, will be done in two phases:
* The current R10m first phase, due for completion in March this year, will increase current capacity by 35%. It entails equipping the second shaft of the existing dual-shaft 22 m high drawing tower, and acquiring additional test equipment.
* The second phase, due for completion by March 2002, will increase optical fibre production capacity by a further 80%. This involves erecting a second 22 m high optical fibre dual drawing tower, upgrading the glass preform process to produce 200 km preforms instead of the 100 km preforms produced at present, and acquiring additional test equipment.
Phase 2, which will cost R60m, includes extension of the fibre cable plant, in which production capacity will be increased by 65%.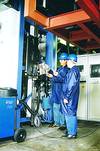 Equipping the other side of the existing 22 m high optical fibre dual drawing tower
"This is a really exciting development - it represents by far the biggest single capital expenditure since the inception of the plant," is Du Preez's comment about the Phase 2 expansion.
Wilfried Müller, Manufacturing Executive, says among its positive effects will be an approximate 30% increase in the optical fibre cable plant's workforce.
Work on Phase 2 commenced recently, some of the equipment having been ordered in early February.
Further reading:
Quectel masterclass: IoT device application development
iCorp Technologies News
Quectel has announced the latest masterclass in a series of technical webinars titled "Accelerate wireless IoT device application development with Azure RTOS on STM32 MCUs".
Read more...
---
ST announces status of common share repurchase programme
News
The repurchase programme took place over the period from 11 to 15 July 2022 and saw ST repurchasing 210 462 ordinary shares.
Read more...
---
Actum Group leads in the interconnect industry
Actum Electronics News
Actum Group is a specialist importer and distributor of industrial and electronic products in Southern Africa and a leader in the interconnect industry.
Read more...
---
From the editor's desk: Do we have the power?
Technews Publishing News
On a recent trip to Grahamstown in the Eastern Cape I was reminded, quite rudely and abruptly to be honest, of the load shedding that has plagued South Africa for the last few years. Living in KZN, we 
...
Read more...
---
Top five MPU suppliers strengthen market dominance
Editor's Choice News
The new ranking shows that long-time leader in microprocessor units, Intel, has moved downwards closer to half the total worldwide sales in microprocessors.
Read more...
---
New meta-lens revolutionises vacuum UV optics
News
A research team co-led by City University of Hong Kong have successfully developed a novel vacuum ultra-violet (VUV) meta-lens which can generate and focus the UV light.
Read more...
---
Electronics news digest
Technews Publishing Electronic News Digest News
The Semiconductor Industry Association (SIA) has announced global semiconductor industry sales were $51,8 billion in the month of May 2022, an increase of 18,0% over the May 2021 total of $43,9 billion 
...
Read more...
---
EVENTS
Events News
IFA Berlin
2-6 September Berlin, Germany This event aims to present the latest products and innovations in the commercial electronics industry. It will offer a comprehensive overview of the international 
...
Read more...
---
Going beyond with HONOR
MyKay Tronics Editor's Choice News
The tempo of business in China is lightning fast. But if you are responsive and go a step beyond, the rewards can be great. In just 15 days, Mycronic delivered 30 dispensing systems to HONOR.
Read more...
---
Global cellular IoT connections increase 22%
News
A new report says that the global number of cellular IoT subscribers increased by 22% during 2021 and that the number of cellular IoT devices will reach 4,3 billion by 2026.
Read more...
---