Major Tech has announced the launch of its new subsidiary company, Emery Flex, which will distribute cable care systems and accessories.
Barry O'Leary has joined Emery Flex as Sales Director. He has over 20 years' experience in the cable accessory market, working for well known companies in the industry. Pat Shaw, Managing Director of Major Tech, will head up Emery Flex. Other Directors include Werner Joor, Wayne Ternent and Jan Lotz.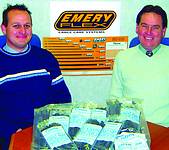 Wayne Ternent and Barry O'Leary - Directors of Emery Flex
Emery Flex has been appointed to distribute the Cabelok range of cable ties and self-adhesive mounts into the electrical industry throughout the southern African market via its branches in Johannesburg, Durban, Cape Town and Port Elizabeth. The Cabelok cable ties are renowned for their quality and reliability, and have been manufactured for over 10 years in South Africa.
Other product lines will shortly be made available from Emery Flex that will support its cable care systems range. Details are to be released soon.
Informative leaflets with technical specifications are available from most electrical wholesalers and distributors, or directly from any Emery Flex office.
For any enquiries contact Emery Flex by e-mail: emery@major-tech.com or by telephone: Johannesburg - (011) 822 2807; Durban - (031) 205 6215; Cape Town - (021) 556 3091; Port Elizabeth - (041) 487 1168.