printer friendly version
Lenslet Labs announces new optics-based DSP technology
27 February 2002
DSP, Micros & Memory
Lenslet Labs, an Israeli company, has unveiled the world's first commercial optics-based digital signal processing technology, following a successful technology demonstration.

Lenslet's optical digital signal processing engine converts electrical signals to optical signals (forward conversion)and the reverse (back conversion). Forward conversion (the sources array) can operate at a speed of 1 giga vectors per second while the 'Back conversion (using photo detector array) can operate at even higher speeds
This technology boosts the performance of digital signal processing in a single component, setting new performance levels of Tera operations per second. The technology is based on a proprietary optical core that takes multiple electronic digital inputs, converts them into optical signals (photons), performs the desired computation at light speed in the optical core, and then converts the optical output signals back into digital electronic form. The company has taken advantage of new optical components that have appeared on the market in recent years, as well as breakthrough proprietary signal conditioning algorithms.
Lenslet's Optical Digital Signal Processing Engine (ODSPE) reaches Tera (1012) Operations Per Second (TOPS) and, according to the company, has the potential of reaching hundreds of TOPS in the foreseeable future, surpassing current DSP speeds that are measured in hundreds and thousands of Mega (106) Operations Per Second (MOPS).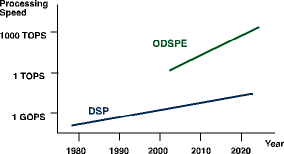 The proprietory optical core achieves a performance equivalent to 8 Tera MAC operations per second, with a performance of hundreds of TOPs expected in the forseeable future
Unlike traditional DSPs, the ODSPE uses mathematical transforms rather than instructions as its basic atomic operations. This greatly accelerates software development time by mapping computation-intensive algorithms onto the ODSPE at a conceptually higher level of abstraction. Lenslet's ODSPE is re-configurable and can be dynamically tailored to the required transform type. Lenslet says it provides on-the-fly programmability, flexibility and upgradeability.
"Lenslet has been successful in leveraging optical technologies originally developed for optical transmission and switching, and applying them to optical computing using a unique algorithmic approach," said Aviram Sariel, Founder and CEO of Lenslet Labs.
"It is a very rare occasion when I can say that a company has a breakthrough technology, but Lenslet appears to have just that," said Will Strauss, President of Forward Concepts, a market research firm that specialises in DSP technology.
Lenslet Labs is headquartered in Ramat Gan, Israel, and employs over 40 professionals, most of them scientists and engineers with advanced degrees.
For further information contact Ron Levy, Lenslet Labs, (0972) 3 753 8410, [email protected]
Further reading:
NXP releases real-time processors for automotive platforms
EBV Electrolink DSP, Micros & Memory
NXP has introduced real-time microcontrollers for automotive electronic control units as part of its S32 range of controllers.
Read more...
---
Embedded voice control via the STM32Cube
EBV Electrolink DSP, Micros & Memory
STMicroelectronics and Sensory collaborate to enable mass-market adoption of embedded voice control through the STM32Cube software ecosystem.
Read more...
---
Microchip simplifies automotive designs
Altron Arrow DSP, Micros & Memory
The new dsPIC33C DSCs add support for AUTOSAR, OS, MCAL drivers and functional safety, enabling robust and secure automotive solutions.
Read more...
---
Curiosity Nano development platform
EBV Electrolink DSP, Micros & Memory
Microchip Curiosity Nano (MC Nano) is a development platform which may be used to develop applications equipped with some of the 32-bit products from the PIC32 and SAM families.
Read more...
---
8-bit MCU development board provides onboard 5G
Altron Arrow DSP, Micros & Memory
The AVR-IoT Cellular Mini development board is the latest from Microchip and gives developers an easy blueprint for building IoT devices that connect via 5G.
Read more...
---
Microchip releases secure Arm Cortex-M23 microcontroller
Altron Arrow DSP, Micros & Memory
The microcontroller is integrated with a robust secure subsystem and contains Arm TrustZone technology to isolate security critical components.
Read more...
---
AWS IoT reference example for ESP32-C3
iCorp Technologies DSP, Micros & Memory
Espressif has released the ESP-AWS-IoT library on GitHub which provides a reference framework for development on the ESP32-C3 core.
Read more...
---
Single-core MPU with MIPI CSI-2 camera interface
Altron Arrow DSP, Micros & Memory
The 1 GHz SAMA7G54 is Microchip's first single-core MPU with MIPI CSI-2 camera interface and advanced audio features.
Read more...
---
Complex, reliable sensor processing in one cost-effective MCU
Altron Arrow DSP, Micros & Memory
Multiple high-speed peripherals, such as 3,4 MHz I2C, 50 MHz SPI and UART, are included to maximise communication bandwidth.
Read more...
---
64 Mbit SuperFlash memory for space systems
Altron Arrow DSP, Micros & Memory
Designers of spaceflight-qualified systems have a great need to reduce development time, cost and risk in their systems. Microchip Technology proposed the concept of starting with commercial off-the-shelf 
...
Read more...
---