printer friendly version
Central Circuits for fast turnaround on high-tech PCBs
27 February 2002
News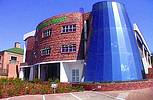 Central Circuits is a company that is driven by the need to produce the highest levels of quality and customer satisfaction, a goal attested to by its recent ISO 9000:2000 certification from SGS (it was previously ISO 9002), and the fact that it intends to achieve the international IPC certification before the end of 2002.
While ISO 9000:2000 looks after the generic aspects of quality management and customer feedback, the IPC certification is specific to the printed circuit board industry and involves in-depth staff and process training. Being a large user of chemicals, Central Circuits is also sensitive to the impact it could have on the environment and the good housekeeping practices it already has in place will eventually be expanded to encompass ISO 14001 certification.
Central Circuits was founded in 1994 by Derick van Basten with the help of Piet van der Westhuizen and Adriaan Snyman, all engineers from the defence industry. They recognised that a niche existed for a company that could provide rapid turnaround on complex printed circuit boards in relatively small volumes. From a small beginning the company has grown to a staff complement of 45 people with Don Jeffery and Rudi Koekemoer having joined as directors. Don (general manager) has extensive hands-on experience in PCB manufacture while Rudi (sales and marketing director) has also been involved in the the industry for some time, having also worked for one of the leading US manufacturers of PCBs. Directors Piet Els and Mark Naidoo handle the production and quality departments. Derick van Basten remains with Central Circuits as CEO.
The customers of Central Circuits are mainly in the defence and telecommunications sectors and amongst its many hundreds of regular clients are high flyers in the high-tech business such as Kentron, Avitronics, ATE, Eloptro, Atlas, LIW, Reunert, Parsec, IST, M-Tek, EDM and Nanoteq. In order to be physically closer to its major customers, in May last year Central Circuits moved into custom built premises in the Highveld Techno Park in Centurion. The move to these premises plus the addition of new equipment allowed the company to lay out its plant in a more logical way to ensure better process-flow and clean room environments which resulted in better quality. The building together with the new equipment cost in excess of R13,5 million, a good indication in itself of the company's commitment towards their customer and the PCB industry. Central Circuits currently uses only two of the three floors of the building, the other being occupied by the sister companies Central Systems and Central Electronic Technologies. The total floor area is 2400 m2 and novel architectural design allows the building to stand out from its neighbours.

Besides its local market, Central Circuits is also already in the export business and it believes that its share of this market will increase dramatically over the next few years. The reason is of course that they are not only technically competitive but increasingly cost-competitive. As regards the rapid turnaround on the boards, airlines and courier companies can ensure that the PCBs are on the customer's desk the next day, whether they are in Cape Town, Hong Kong or Frankfurt.
The core business is to meet customer's needs for very rapid turnaround. To satisfy this requirement, a double shift is operated so that the plant is operating 16 hours a day. The double shift system means that some employees only finish work at midnight. To accommodate people who do not have private transport a sleeping area is also provided. The staff can relax here until taxis and public transport starts operating again.

The company has also deliberately created redundancy in terms of equipment so that they always have the capacity to take on urgent work. As an example of equipment redundancy there are eight airbearing drilling spindles on three separate machines and six routers on two machines. All three drilling machines can deliver a via hole down to 0,1 mm diameter, although 0,3 mm is more typical. These drilling machines are state-of-the-art with automated tool management and broken drill bit detection features.
While the last few years have seen a lot of investment in new process and test equipment, 2002 will be spent putting money and effort into honing the processes and the skills of the operators.

The company's Management Information system allows each job in progress to be tracked on custom software as every item going through is tagged with a unique number. A call from a customer regarding delivery can immediately be checked by typing in the job number on a PC. For repeat jobs the number of finished boards in stock can be instantly called up (for smaller PCBs the step and repeat board often contains more PCBs than the quantity ordered). If a specific job falls behind it is immediately flagged and extra resources are allocated to get it back on schedule. The software even makes quoting a trivial task as the details of the board required are entered and the program spits out the cost.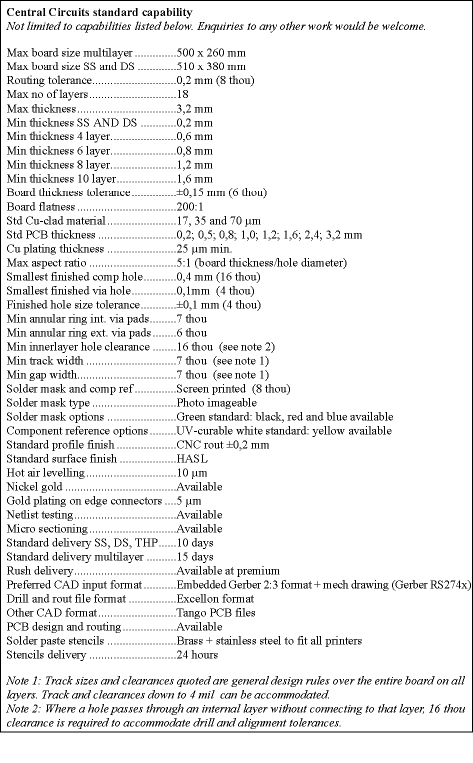 While Central Circuits has a well-defined standard capability it will be the last company to turn you away if you have something unusual. According to Don Jeffrey they view the impossible as a challenge and over the years they have been able to come to the rescue of several customers who were turned down by other PCB manufacturers. Besides its own high-tech capability, Central Circuits is having discussions with overseas companies in regard to possible technology partnerships and transfers.
The factory space is dominated by the large chemical processing area positioned alongside the Class 10 000 clean room facilities where access is controlled using smartcard technology. The chemical area has been designed to cope with catastrophic leakage from any of the baths by using sloped floors leading to drains. These drains lead any effluent to storage tanks from where the liquid can be treated. As with all of the manufacturing area the chemical processing plant is monitored with CCTV cameras that can be accessed by management at any time via a PC.
The test facility at Central Circuits is very comprehensive; including a newly-acquired automated optical inspection (AOI) system and a moving probe netlist tester with four flying probes. The AOI scans all layers and compares it to the customer-supplied CAD\CAM data for any possible defects. With today's fine line technology this is an absolute necessity as BGAs may require 4 mil track/gap and Central Circuits currently offers this service. In addition to this equipment the company also uses the traditional fixed pin board testers made up for specific nonsurfacemount PCBs.
For a PCB manufacturer with long-standing clients and repeat-order business, data storage is critical. Central Circuits has a complete off-site back-up of data on tape that is updated daily.
As for the future, Central Circuits sees continued growth especially through export sales. This growth will most probably come about through continued investment in new technology rather than manpower, the latter being viewed as close to optimal. The company intends to stay at the cutting edge of PCB technology and management will continue to closely study international developments in order to allow timeous acquisition of new equipment.
For further information contact Central Circuits, 012 665 4860, fax 012 665 4865.
Further reading:
Yamaha displays affordable automation at Automatica 2022
Truth Electronic Manufacturing News
Yamaha Motor Robotics FA Section has shown how affordable robots can transform processes in diverse industries, presenting live demonstrations to visitors at Automatica 2022.
Read more...
---
Vicor launches new automotive e-book on electrification
Future Electronics News
The downloadable e-book from Vicor shares insights into new power conversion trends and technologies to support vehicle electrification.
Read more...
---
Audi South Africa offers free connectivity upgrades
News
The announcement covers select models from 2008 onwards that do not have Audi 'connect' installed and will use the new connect 'plug-and-play' technology.
Read more...
---
High-power semiconductor solutions for green hydrogen electrolyser applications
EBV Electrolink News
Gain insights into AC- and DC-coupled electrolyser applications and learn about Infineon's best-in-class semiconductor solutions in the upcoming webinar.
Read more...
---
Actum Group leads in the interconnect industry
Actum Electronics News
Actum Group is a specialist importer and distributor of industrial and electronic products in Southern Africa and a leader in the interconnect industry.
Read more...
---
Arrow Electronics opens new primary distribution centre
Altron Arrow News
Arrow Electronics, represented in South Africa by Altron Arrow, announced that it has opened a new, state-of-the-art primary distribution centre in Venlo, the Netherlands.
Read more...
---
Quectel masterclass: iSIM implementation
iCorp Technologies News
Online Teaser: The latest masterclass webinar offered by Quectel covers the technology and capability of the iSIM and its use in the development of scalable high-volume IoT applications.
Read more...
---
From the editor's desk: 42
Technews Publishing News
To most people, 42 is simply a number. To some, they may think about the fact that it is an even number, or maybe the product of six and seven, or that this is the length of a standard marathon in kilometres. 
...
Read more...
---
Vicor releases technology predictions for 2022
Editor's Choice News
Predictions for 2022 in automotive, hyperscale computing and aerospace and defence will see innovation adapt to support electrification and drive growth.
Read more...
---
Altron Arrow FAE earns top award
Altron Arrow News
STMicroelectronics awards top trophy to Altron Arrow's field application engineer for outstanding achievement in the certification course.
Read more...
---