printer friendly version
Speedy 'flies' in South Africa
27 February 2002
News

Said to be the best-selling flying probe tester in the world, the 'Speedy' was installed in January at Bosco Printed Circuits in Edenvale. This machine is already heavily utilised, and runs 24 hours a day.
The Speedy is manufactured by Mania, a mainstream supplier of manufacturing equipment to the PCB industry. Mania equipment is promoted and supported by Zetech in South Africa.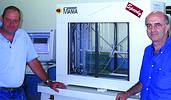 Andrew Verheul, technical and production director of Bosco Printed Circuits (left), and Zalman Orlianski, Zetech managing director, at the Bosco factory
Flying test probe systems are much more flexible is use than conventional adapter test systems. Especially for boards with fine pitches, there is hardly any alternative to flying probe testers. However, they were relatively slow compared to flat bed testers, making them mainly suitable for only prototype circuits and small batches. Now this has changed with the arrival of the Speedy, whose price/performance ratio offers new possibilities. With a few Speedy machines used together, medium and large sized batches can be tested. This is an application that is becoming more and more popular in industry.
Customers insist on receiving 100% tested boards. Due to increasing board complexities, the electrical test has become more and more expensive. Fine pitches make it difficult to produce a 'bed of nails' free of shorts. The high number of test points and density make increasingly exacting demands on the test electronics of the conventional test systems, resulting in rising prices. On extremely complex high-density boards, adapter testers have problems. It often happens that a combined bed-of-nails and flying probe tester is necessary - or there is no other alternative than to do an optical test only.
Additional to this, the bed-of-nails tester is only effective for mass production. A flying probe tester does not need any fixture/bed of nails. It can test fine pitch grids with pad spaces of 0,4 mm or less as a matter of course. Of course, whereas a bed-of-nails tests all points at the same time, a flying probe tester has to move sequentially from point to point. This increases test time, and so the method is mainly used for small batches.
Mania's Speedy concept opened up new horizons for PCB manufacturers. The compact finger tester is well equipped compared even with high-end test systems. By concentrating on the essentials - fast flying probe testing - Mania was able to manufacture an extremely cost effective system. Speedy's performance is quite remarkable. According to a customer, the standard model with four test probes - Speedy MPP4504 - can test a board of 500 networks 1000 network points including set-up, within 1,8 minutes. Since its introduction four years ago, the Speedy has become the best-selling flying probe tester in the world according to the manufacturer.
The admirable price/performance ratio of the tester makes its application for mass production cost-effective. The relatively low speed of the flying probe test concept is compensated for by the fact several systems can work on one job at the same time. For the price of a single conventional double-sided SMD bed-of-nails tester, or a high-end flying probe tester, it is possible to install several Speedy test systems. Customers have recognised this. Fujitsu, in Japan, has 16 Speedy testers that can deal with either one large, or several small jobs at the same time. A central server enables relevant test data to be downloaded automatically. Only two operators are required to run the 16 systems. The systems are used for fault verification, prototypes, and small and medium size batches. Especially critical and complex boards go through a flying probe tester, while the use of bed-of-nails testers is then optimised because they can be dedicated for mass production. Speedy takes over all test jobs, which have nothing to do with a mass production.
Mania's Speedy flying probe testers are ideally suited for South African PCB manufacturers, to enhance their competitiveness against overseas suppliers. The Speedy enables fast and efficient tests of prototypes, small batches and fine pitch boards, and multiple Speedy installations are cost-effective for medium-size batches. The system is extremely simple and easy to use, and is backed by the proven support infrastructure of Zetech locally.
For further information contact Zalman Orlianski, Zetech, 011 789 3230.
Credit(s)
Further reading:
Yamaha displays affordable automation at Automatica 2022
Truth Electronic Manufacturing News
Yamaha Motor Robotics FA Section has shown how affordable robots can transform processes in diverse industries, presenting live demonstrations to visitors at Automatica 2022.
Read more...
---
Vicor launches new automotive e-book on electrification
Future Electronics News
The downloadable e-book from Vicor shares insights into new power conversion trends and technologies to support vehicle electrification.
Read more...
---
Audi South Africa offers free connectivity upgrades
News
The announcement covers select models from 2008 onwards that do not have Audi 'connect' installed and will use the new connect 'plug-and-play' technology.
Read more...
---
High-power semiconductor solutions for green hydrogen electrolyser applications
EBV Electrolink News
Gain insights into AC- and DC-coupled electrolyser applications and learn about Infineon's best-in-class semiconductor solutions in the upcoming webinar.
Read more...
---
Actum Group leads in the interconnect industry
Actum Electronics News
Actum Group is a specialist importer and distributor of industrial and electronic products in Southern Africa and a leader in the interconnect industry.
Read more...
---
Arrow Electronics opens new primary distribution centre
Altron Arrow News
Arrow Electronics, represented in South Africa by Altron Arrow, announced that it has opened a new, state-of-the-art primary distribution centre in Venlo, the Netherlands.
Read more...
---
Quectel masterclass: iSIM implementation
iCorp Technologies News
Online Teaser: The latest masterclass webinar offered by Quectel covers the technology and capability of the iSIM and its use in the development of scalable high-volume IoT applications.
Read more...
---
From the editor's desk: 42
Technews Publishing News
To most people, 42 is simply a number. To some, they may think about the fact that it is an even number, or maybe the product of six and seven, or that this is the length of a standard marathon in kilometres. 
...
Read more...
---
Vicor releases technology predictions for 2022
Editor's Choice News
Predictions for 2022 in automotive, hyperscale computing and aerospace and defence will see innovation adapt to support electrification and drive growth.
Read more...
---
Altron Arrow FAE earns top award
Altron Arrow News
STMicroelectronics awards top trophy to Altron Arrow's field application engineer for outstanding achievement in the certification course.
Read more...
---