Infineon Technologies has released information on its development of the world's first molecular test biochip with integrated evaluation electronics. Infineon says it has demonstrated that it can combine electronic circuitry for test analyses with biochemical test 'wells' on a single silicon chip structure.
This breakthrough achievement is a significant step in research to accelerate and optimise molecular-level analysis. Infineon said it expects that the laboratory tests of the electronic biochips will commence in approximately one year.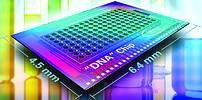 128 test tubes on a chip – Infineon has demontrated the first molecular test biochip with integrated evaluation electronics
The test biochips measure approximately one quarter of a square centimetre. Fabricated on a standard CMOS technology extended with additional process steps, each biochip contains 128 homogeneous 'wells' that are 100 µm in diameter. Biological mini-probes can be linked to these wells, effectively allowing 128 miniaturised different tests on a chip. The electronic circuits fabricated on the same chip are used to replace optical analysis of samples with measurements of electric currents depending on the test samples' properties. The result is a test apparatus that is smaller and less complex than optical systems.
The biochip has the potential to make medical diagnosis in hospitals and in medical practices less costly, faster, and more efficient, says Infineon. In the long-term, biochips open up new applications, such as determining whether or not a patient has adverse reactions to a medication.
For information about products from Infineon Technologies contact Electrocomp, 011 458 9000.