printer friendly version
Ultra-capacitors help solve power problems in professional cameras
5 June 2002
Power Electronics / Power Management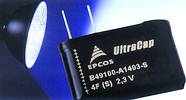 The high-end model in the Rollei camera range was far ahead of the technology of the time when it was launched, but still required a rechargeable battery. Today, state-of-the-art Ultra-Caps from Epcos open up a solution that was not feasible in the '80s - a capacitively-buffered circuit that always delivers the right amount of power, even in combination with batteries.
When Rollei developed its concept for a new medium-format camera in 1976, one of the key ideas was to implement a diaphragm shutter directly controlled by an electronic circuit. A shutter of this kind consists of five ultra-thin blades which must be moved as quickly as possible. The solution was a moving coil motor acting directly on a ring, which then rapidly turns the blades into the optical beam path. Although the blades only weigh about a tenth of a gram, forces of some 15 N must be momentarily applied to obtain the fast shutter speeds required. At the fastest speed of 1/1000 s, the shutter must open and close within in about 300 µs.
Rollei developed a special moving coil motor to generate these forces. Its operating principle is comparable to that of a loudspeaker coil. The coil was controlled by a bridge circuit, which had to drive current pulses of about 8 A at 9 V for 20 ms. As space inside the camera was limited, this could only be done with specially selected transistors. Rollei used a pack of eight rechargeable NiCd batteries with overall dimensions of 30 x 35 x 70 mm as the current source because no other source could supply the pulse power required.
Modernising a classic
Features like the electronically-controlled high-speed shutter made this professional camera from Rollei look excitingly modern in comparison with competitor models. Today, 25 years after its introduction, its successors can stand up to any comparison. Over the years, the medium-format camera - as represented by Rollei's System 6000 today - has been evolving all the time. The uncommitted logic array circuits of yesterday have given way to state-of-the-art microcontrollers, while driver transistors in TO-36 packages have been replaced by SOT 223 types. Many Rollei users had long been wanting to replace the power pack by a stationary power supply unit fed from the AC line, or by standard batteries for emergency use when the rechargeables were flat. But this was not feasible at the time because the capacitors needed to supply the camera with 10 A for about 10 ms were too large for the battery pack.
To supply 10 A for 20 ms with a maximum voltage drop of 2 V at the same time, capacitors rated at more than 100 000 µF would be needed. This would not be feasible with conventional aluminium electrolytic capacitors because of space restrictions. A stationary power supply unit fed from the AC line would require a connecting cable more than 2 m long to give the photographer enough freedom to move, not to mention large cross-sections and bulky connectors.
The use of capacitors with high ratings, such as Gold-Caps, was considered but then rejected because their internal resistance invariably proved too high. Not until Epcos launched UltraCaps did it became possible to house a capacitively buffered circuit inside the battery pack (Figure 1).

Figure 1. UltraCaps support fast shutter release
UltraCaps for more mobility
The key components of this circuit are six UltraCaps connected in series and rated at 8 Farad/2,3 V each. All six fit inside the power interface. Via an input regulator (low drop, 12 V, 1 A), this circuit is charged to a maximum of 12 V from an external power source, which may even be a car battery. The connecting cable needs only a small cross-section and can thus remain flexible, as currents of no more than 1 A flow through it.
Because the series circuit also represents a sixfold internal resistance, a normal 10 µF electrolytic capacitor is connected in parallel with it to counteract the first voltage dip. The voltage is then stepped down from 12 V to about 9 V/10 A by another low-drop control circuit to power the camera. Once charged, this capacitor circuit permits the camera to be triggered several times in rapid succession. Standby operation is also possible as long as the external source supplies a current higher than the standby current of the camera electronics. The camera can also be supplied from practically any source, including ordinary, nonrechargeable batteries, which was not feasible before due to the high currents required.
The directly-controlled shutter remains a key feature in the Rollei product spectrum. For studio use, the shutter is combined with a lens control unit (figure 2), which previously had to be powered by the NiCd battery pack. This control unit can now be powered from the AC line and batteries. Here the circuit containing the UltraCaps and the electrolytic capacitor ensures that the required current of 10 A is always available.

Figure 2. UltraCaps also offer more freedom of movement for Rollei's lens controller
Summary
UltraCaps offer numerous advantages for portable systems powered by rechargeable batteries: the internal resistance of the power supply unit is dramatically reduced; short, fast pulse sequences can be triggered even if current sources have high internal resistance; rapid recharging of UltraCaps permits fast pulse sequences; the operating life of the rechargeable batteries is prolonged; current sources with higher internal resistance can be used instead of rechargeable batteries with extremely low resistance; thanks to the high capacitance of UltraCaps (up to 3,6 kF per cell), the overall system remains compact.
Credit(s)
Further reading:
Maintaining backup battery systems for maximum usage and reliability
30 September 2020, Comtest , Power Electronics / Power Management
Standby battery backup systems play a critical role in keeping essential operations functional in the event of a utility outage. Facilities like data centres, hospitals, airports, utilities, oil and gas 
...
Read more...
---
Double the power output from new Tadiran battery
30 September 2020, Altron Arrow , Power Electronics / Power Management
Tadiran has developed the latest in its PulsesPlus HLC battery range, doubling the power output of its previous offering. Recently the company launched the C-type HLC which represented a huge improvement 
...
Read more...
---
SABS addresses dangers of power adaptors to consumers
28 October 2020 , Power Electronics / Power Management
The increased use of devices and appliances has resulted in the increased use of adaptors as well as adaptors-on-adaptors in South Africa. This creates a risk of fires, short circuiting and damage or 
...
Read more...
---
Just Batteries develops Li-ion battery pack for drones
28 October 2020, Just Batteries , Power Electronics / Power Management
The commercial market for drones is ever growing, ranging from delivering your pizza or shoes to supplying medical equipment to rural and inaccessible areas. Just Batteries' design, development and 
...
Read more...
---
1200 V SiC MOSFETs
28 October 2020, RS Components (SA) , Power Electronics / Power Management
RS Components now stocks ON Semiconductor's latest 1200 V-rated MOSFETs. Based on silicon-carbide (SiC) technology, these power discretes are able to push the performance envelope. The new N-channel 
...
Read more...
---
LTO batteries in mining applications
28 October 2020 , Power Electronics / Power Management
The mining industry in Africa provides numerous jobs and essential raw materials for the Fourth Industrial Revolution, critical to rebuilding economies and industry after the Covid-19 epidemic. However, 
...
Read more...
---
AEC-Q200 compliant line filters
28 October 2020, Electrocomp , Circuit & System Protection
Bourns Magnetics Product Line is introducing the Model DR334A line filter series. These filters are constructed with a ferrite toroid core delivering compact size and high impedance over a broad frequency 
...
Read more...
---
Bidirectional DC power supply for lab testing
30 September 2020, Conical Technologies , Power Electronics / Power Management
The new IT-M3400 bidirectional DC power supply from ITECH integrates the features of a bidirectional power supply and a regenerative load. It inherits the advantages of high power density and modular 
...
Read more...
---
Global analysis of the solid-state battery market
30 September 2020 , Power Electronics / Power Management
The rapid growth of the electric vehicle market has driven the development, manufacture and sales of batteries, especially lithium-ion batteries. In the meantime, market research firm IDTechEx has identified 
...
Read more...
---
Solar lithium storage system
30 September 2020, Vepac Electronics , Power Electronics / Power Management
The US2000 Plus is a latest-generation lithium storage unit. Combining enhanced safety with a long service life – even when at low levels of charge on a regular basis – it meets the demanding requirements 
...
Read more...
---