Global semiconductor manufacturer Infineon Technologies has announced EBV-Elektronik as its European Distributor of the Year 2001. This is the second year in a row that EBV has captured this honour for excellent overall performance.
"EBV was again a major contributor to Infineon's strong growing distribution business in 2001," said Josef Calcagno, vice president worldwide distribution - Infineon. "EBV was able, in the very difficult environment of last year, to grow its sales by more than 30% and became, for the first time, the number one distributor in Infineon's European network. This outstanding result - and the reliable and successful relationship our companies have built - deserves recognition."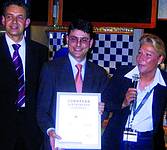 Josef Calcagno, vice president worldwide distribution – Infineon, Patrick Zammit, president EBV-Elektronik, Susanne Horn, distribution manager for EBV-Elektronik — Infineon
"I am very proud that EBV has once again been recognised as Infineon's Distributor of the Year," said Patrick Zammit, President of EBV. "This recognition was all the more important as 2001 proved to be the most difficult year for the semiconductor industry and its distribution partners, worldwide."
"I would also like to thank our central and local teams who have put a lot of effort in supporting Infineon's portfolio throughout Europe, on the technical as well as on the logistical side of our service. The people of EBV will always make a big difference, not just towards customers, but also towards suppliers," he added.
EBV Elektronik is locally represented by EBV-Electrolink, 021 421 5350.