printer friendly version
Turbine optimises wind energy capture
28 August 2002
News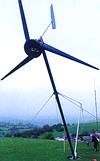 A novel, small wind turbine that can easily be set up on a chosen site or dismantled for delivery elsewhere, is being touted as a possible means for redressing the situation for two billion people in remote communities worldwide who are without electric power. Wind turbine manufacturer Iskra has developed a clean source of energy generation with its small wind turbine which it says overcomes the main disadvantages of existing devices.
The features of the turbine include a very high efficiency, rare-earth, permanent magnet resin-core stator generator and a highly sophisticated controller, the flexibility of which allows the user to reconfigure the turbine priorities to suit changes in end-load requirement.
The Iskra prototype features efficient moulded glass-reinforced-plastics blades and a unique geometry which, by achieving an equilibrium between opposing aerodynamic and centrifugal forces, offers automatic and tightly regulated blade pitch control. This gives both high power and low wind speeds and accurate speed regulation in high wind speeds even in the absence of electrical load, says the manufacturer.
For further information contact Iskra Wind Turbine Manufacturers 0944 115 962 2535, iskra.wtm@diamond.co.uk
Further reading:
From the editor's desk: Making and sending things to space
29 May 2020, Technews Publishing , News
In this issue, one of the topics we are featuring is the aerospace and military/defence sector. The feature includes an analysis of what it takes to successfully design and manufacture products in this 
...
Read more...
---
Electronics news digest
29 May 2020, Technews Publishing , News
South Africa
• Acting minister of communications and digital technologies, Jackson Mthembu, joined the world in observing World Telecommunication and Information Society Day (WTISD). Proclaimed by the 
...
Read more...
---
Personality profile: David Power
29 May 2020, Cadshop , News
"Aspire to work for a company that you admire, and for a boss that you want to serve, that shares your passion and motivation."
Read more...
---
Designing for military and defence applications
29 May 2020, Omnigo, Kreon Technology , News
No business can stand on its own without strong partnerships and stakeholder relationships. In this regard the military and defence industry is no exception.
Read more...
---
Why 'new space' satellites demand a new approach to components
29 May 2020, Avnet South Africa , News
New space is opening up exciting opportunities for businesses, which can create completely new products, services and capabilities that were, until recently, impossible or impractical.
Read more...
---
Clearing the Static: Safe storage and transportation of components
29 May 2020, Altico Static Control Solutions , News
During product transportation or storage, humidity can lead to excessive moisture inside of packaging, which can potentially damage electronic components by causing corrosion and mould-attack. Apart from 
...
Read more...
---
Elmatica's SA seminars on PCB design a success
29 May 2020, Elmatica , News
During March, just weeks before COVID-19 resulted in South Africa going into lockdown, Elmatica held several seminars in the country, to get closer to and educate the local industry on printed circuit 
...
Read more...
---
Vepac launches new website
29 May 2020, Vepac Electronics , News
Vepac Electronics has recently launched its new and optimised website to enable its customers to navigate effortlessly, with a host of new products and related datasheets. Visitors to the site are also 
...
Read more...
---
Comtest trading for 15 years
29 May 2020, Comtest , News
Comtest, one of South Africa's leading providers of test, measurement and communications equipment, is proud to mark its 15-year trading milestone in 2020. CEO Barend Niemand says, "Comtest has representation 
...
Read more...
---
Locked down but not knocked out
25 March 2020, ExecuKit , News
As a business, we are facing extremely hard times with the current worldwide pandemic and isolation. We are all maintaining social distancing and must learn how to do business with an enforced lockdown 
...
Read more...
---