printer friendly version
Turbine optimises wind energy capture
28 August 2002
News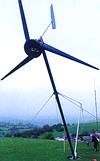 A novel, small wind turbine that can easily be set up on a chosen site or dismantled for delivery elsewhere, is being touted as a possible means for redressing the situation for two billion people in remote communities worldwide who are without electric power. Wind turbine manufacturer Iskra has developed a clean source of energy generation with its small wind turbine which it says overcomes the main disadvantages of existing devices.
The features of the turbine include a very high efficiency, rare-earth, permanent magnet resin-core stator generator and a highly sophisticated controller, the flexibility of which allows the user to reconfigure the turbine priorities to suit changes in end-load requirement.
The Iskra prototype features efficient moulded glass-reinforced-plastics blades and a unique geometry which, by achieving an equilibrium between opposing aerodynamic and centrifugal forces, offers automatic and tightly regulated blade pitch control. This gives both high power and low wind speeds and accurate speed regulation in high wind speeds even in the absence of electrical load, says the manufacturer.
For further information contact Iskra Wind Turbine Manufacturers 0944 115 962 2535, iskra.wtm@diamond.co.uk
Further reading:
From the editor's desk: Yes, it's that thing everyone's talking about
25 March 2020, Technews Publishing , News
Call me a pessimist, but I'm absolutely, 100% certain that I'm going to catch COVID-19 (or the 'novel coronavirus' if you prefer to call it that) – if I haven't done so already. At least the mortality 
...
Read more...
---
Electronics news digest
25 March 2020 , News
Overseas
Business
• ams reported record revenues and results for full year 2019, with revenues up 32% year-on-year, and fourth quarter revenues exceeding expectations with strong adjusted operating 
...
Read more...
---
XinaBox – Reaching for the stars
25 March 2020, RS Components (SA) , News
From collecting data in sub-zero Antarctica to rapid circuit prototyping on the International Space Station this South African company is reinventing the way we approach IoT while inspiring students to follow STEM careers.
Read more...
---
Electrocomp launches new website
25 March 2020, Electrocomp , News
Electrocomp is inviting visitors to explore its new website, which has been designed to offer a user-friendly experience with improved navigation and functionality while allowing customers to see their 
...
Read more...
---
Looking beyond radar, the car's virtual eye
25 March 2020, Altron Arrow , News
Faster, higher-resolution radar sensors have enabled the next generation of driver assistance technologies through improvements in vehicle safety and comfort in view.
Read more...
---
Disposing of e-waste in space
26 February 2020 , News
According to BBC, there are over half a million pieces of debris floating around the Earth's orbit. Most debris within the atmosphere are lost parts from space crafts, disused rocket stages or waste from 
...
Read more...
---
IPC revises five standards
26 February 2020 , News
IPC announced the release of five newly revised standards covering several areas of the supply chain:      
· IPC/WHMA-A-620D, Requirements and Acceptance for Cable and Wire Harness Assemblies. · IPC-2223E, 
...
Read more...
---
Testerion to represent ITW EAE in SA
26 February 2020, Testerion , News
ITW EAE announced a new extended partnership agreement with Testerion South Africa to represent and distribute all ITW EAE equipment including MPM printers, Camalot dispensers, Electrovert soldering systems, 
...
Read more...
---
From the editor's desk: Interesting people, politicians, and viruses
26 February 2020, Technews Publishing , News
In this edition, in the first of a new regular highlight in Dataweek, we go behind the scenes with Peet Smit, the founder and owner of Centurion Micro Electronics, a well-known specialist embedded and 
...
Read more...
---
Electronics news digest
26 February 2020 , News
Overseas
Business
• Maxim Integrated Products reported net revenue of $551 million for its second quarter of fiscal 2020 ended 28 December 2019, a 3% increase from the $533 million revenue recorded 
...
Read more...
---