Gauteng MEC for finance and economic affairs, Jabu Moleketi and Blue IQ CEO, Pradeep Maharaj recently announced plans for Blue IQ's business outreach programme, Blue IQ Means Business Week 2003. The week, scheduled for 20-24 October 2003 at the Sandton Convention Centre, is aimed at encouraging collaboration between government and business to drive Gauteng's economy forward.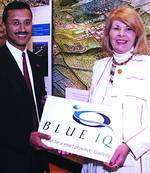 Blue IQ CEO, Pradeep Maharaj and Reed Exhibitions SA MD, Jo Melville, after signing a partnership agreement for the Blue IQ Smart Industry Expo
Speaking at the event Moleketi said, "As newly created infrastructure in Newtown, Constitution Hill and other projects near completion, Blue IQ Means Business Week 2003 will mark the commercialisation phase of Blue IQ." During this week Blue IQ will present in detail the many investment opportunities to local and international business available in its 11 projects.
He said, "This is the phase during which public private partnerships (PPP) become the main drivers of progress towards achieving Blue IQ's main objective of substantially growing the Gross Geographic Product (GGP), which will ultimately lead to job and wealth creation."
Blue IQ Means Business Week 2003 will be focused mainly around three strategic programmes, the Blue IQ Smart Industry Expo, Blue IQ Smart Partnerships Conference, and Blue IQ Smart Young Minds Challenge.
Key to the Business Week is the Smart Industry Expo - a three-day, industry targeted exhibition which will showcase domestic and foreign businesses operating in the Blue IQ focus economic sectors - smart industries, high value-added manufacturing and tourism.
Scheduled for 22-24 October 2003, the exhibition will provide marketing platforms for small and large businesses in specialist interest pavilions created to attract quality buying decision-makers seeking new markets, products, services and solutions.
Targeted companies include those operating in biotechnology, electronics, financial and auxiliary services, ICT, and energy technology and renewable energy, logistics and supply chain management, materials handling, machine tools, process control and automation, and tourism services.
"Real growth will only take place if firms see a sound financial reason for making investments. The commercialisation phase is about Blue IQ doing targeted marketing to businesses so that they can see for themselves what is on offer in all the projects. The Smart Industry Expo is one such activity to involve potential investors, a place where real business deals and long term partnerships will be forged", said Maharaj. "Our goal is to attract high-level delegates with specific interests on what will be on show," he added.
In line with Blue IQ's partnership approach and to ensure the success of the expo, Blue IQ has partnered with South Africa's leading business-to-business exhibition specialist, Reed Exhibition SA. "We are particularly excited to be working with Blue IQ on such an important and high-level event that will result in working partnerships. We are honoured that Blue IQ chose us as a partner for this exhibition," said Reed Exhibitions SA MD, Jo Melville.
Blue IQ is embarking on a focused and co-ordinated marketing campaign to attract both visitors and exhibitors who will participate meaningfully in the exhibition. Blue IQ Means Business Week 2003 is directed at facilitating the creation of partnerships through the Blue IQ Smart Partnerships Conference - a two day, in-depth, insightful and dynamic investor programme.
Also to be hosted during Blue IQ Means Business Week is the awards ceremony for the Smart Young Minds Challenge - a Blue IQ initiative aimed at encouraging Gauteng school learners to contribute and participate in the creation of a smart province. Learners will develop innovative business ideas, identifying a need and motivating a solution - in an entrepreneurial spirit.
Blue IQ is a programme of the Gauteng Provincial Government to invest more than R3,5 billion in strategic economic infrastructure to kick-start 11 major projects in smart industries, high value-added manufacturing and the tourism sector. Moleketi said, "Blue IQ means Business Week is our invitation to you to come and see first hand the beginning of Blue IQ's product offering and hopefully the start of a longer term relation".
For more information contact Pradeep Maharaj, CEO, Blue IQ, 011 355 8704, pradeepm@gpg.gov.za or Reed Exhibitions, 011 886 3734.