printer friendly version
Ultra wideband (UWB) community must standardise technology and its message - for it to thrive
20 November 2002
News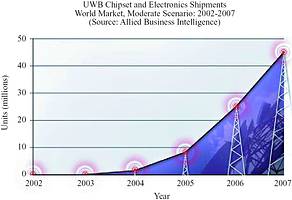 A battle between entrenched wireless carriers and new supporters of ultra wideband (UWB) technology has been unfolding recently, possibly hindering the market potential for UWB. Joining the wireless carriers are GPS and avionics equipment makers, among others. Collectively, these companies have deep pockets and considerable power to lobby against UWB technology. This is according to Allied Business Intelligence, who says that a more unified front must be maintained by the UWB community to thwart these efforts if the technology is to thrive.
The spectrum that UWB travels through is and has been of concern to many in past years. The Federal Communications Committee (FCC) has been working on addressing some of these concerns, and a recent FCC report indicated that ordinary devices and appliances, including electric drills, hair dryers and computers, have been shown to produce spurious emissions even higher than those allowed by UWB devices.
"The FCC has spent over two years of extensive testing in order to come up with a guide for the use of UWB. Over 900 companies have filed concerns of its use and still the FCC has allowed it. And letters of concern still are rolling into the FCC. Until a standard is set where all communications segments are satisfied, this technology will have problems," said Paul Marcik, an analyst at ABI.
The lack of a definable standard is the single biggest shortfall to the development of a sustainable UWB market, he says. According to ABI's report, the total global shipments for UWB-enabled electronics and chipsets could reach 45,1 million units by 2007, with resulting revenues of $1,39 bn by the end of that year. These projections include shipments into market segments including communications, imaging, vehicles, locators and military and government use.
UWB, a wireless technology based on modulated pulses of energy, stands to capture technology market share over the next several years in a variety of applications, especially the distribution of wireless video, audio and data in home and consumer networking devices.
Further reading:
Electronics news digest
29 January 2020 , News
South Africa
• More than 2400 people braved pouring rain in Gauteng to attend the 5th Science Forum South Africa (SFSA) at the CSIR International Convention Centre in December. The annual Department 
...
Read more...
---
Appointment: ExecuKit
29 January 2020, ExecuKit , News
ExecuKit has appointed Marshant Benadie in a technical support role.    His duties will include developing business with clients within the electronics distribution and manufacturing industry; managing 
...
Read more...
---
Repro installs new SMT production line
29 January 2020 , News
The company is actively seeking business for this new assembly line, which promises extensive flexibility and high accuracy, and can easily be expanded for higher production volumes.
Read more...
---
AREI's plans for 2020
29 January 2020 , Editor's Choice, News
Erich Nast, chairman of AREI, discusses what the association's plans are to tackle the challenges and opportunities that lie ahead.
Read more...
---
Check out Dataweek's new-look website
29 January 2020, Technews Publishing , Editor's Choice, News
Our technical design elves have been locked away in our basement for months, improving the visual design and functionality of the Dataweek website.
Read more...
---
From the editor's desk: A fresh start, but a sad farewell?
29 January 2020, Technews Publishing , News
A couple of years ago, not many people had heard of Yekani. The company bought a stake in the well-known East London-based satellite decoder maker, Vektronix, and subsequently acquired it in its entirety. When 
...
Read more...
---
Company profile: ETION Create
EMP 2020 Electronics Manufacturing & Production Handbook, ETION Create , News
ETION Create is an original design manufacturer (ODM) that has been in operation for more than 25 years. Originally known as Parsec, the company was founded in 1993, focusing on the design, development 
...
Read more...
---
Company profile: Laser Stencil Technology
EMP 2020 Electronics Manufacturing & Production Handbook, Laser Stencil Technology , News
Since its inception in 2004, Laser Stencil Technology has grown into a prominent figure in the South African electronics manufacturing industry. Having been involved in circuit board manufacturing using 
...
Read more...
---
Company profile: Repro Supplies
EMP 2020 Electronics Manufacturing & Production Handbook , News
Repro Supplies is a systems integration company that specialises in turnkey systems for the mining industry, industrial, traffic and LED markets, both locally as well as internationally. The company was 
...
Read more...
---
Company profile: Saflec
EMP 2020 Electronics Manufacturing & Production Handbook, Saflec , News
Saflec was founded in 1980 as an owner-managed company, designing, manufacturing and marketing security and industrial metal detectors. The staff complement consisted of a handful of key people, but grew 
...
Read more...
---