printer friendly version
Ultra wideband (UWB) community must standardise technology and its message - for it to thrive
20 November 2002
News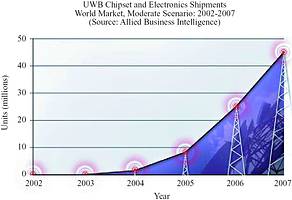 A battle between entrenched wireless carriers and new supporters of ultra wideband (UWB) technology has been unfolding recently, possibly hindering the market potential for UWB. Joining the wireless carriers are GPS and avionics equipment makers, among others. Collectively, these companies have deep pockets and considerable power to lobby against UWB technology. This is according to Allied Business Intelligence, who says that a more unified front must be maintained by the UWB community to thwart these efforts if the technology is to thrive.
The spectrum that UWB travels through is and has been of concern to many in past years. The Federal Communications Committee (FCC) has been working on addressing some of these concerns, and a recent FCC report indicated that ordinary devices and appliances, including electric drills, hair dryers and computers, have been shown to produce spurious emissions even higher than those allowed by UWB devices.
"The FCC has spent over two years of extensive testing in order to come up with a guide for the use of UWB. Over 900 companies have filed concerns of its use and still the FCC has allowed it. And letters of concern still are rolling into the FCC. Until a standard is set where all communications segments are satisfied, this technology will have problems," said Paul Marcik, an analyst at ABI.
The lack of a definable standard is the single biggest shortfall to the development of a sustainable UWB market, he says. According to ABI's report, the total global shipments for UWB-enabled electronics and chipsets could reach 45,1 million units by 2007, with resulting revenues of $1,39 bn by the end of that year. These projections include shipments into market segments including communications, imaging, vehicles, locators and military and government use.
UWB, a wireless technology based on modulated pulses of energy, stands to capture technology market share over the next several years in a variety of applications, especially the distribution of wireless video, audio and data in home and consumer networking devices.
Further reading:
From the editor's desk: Yes, it's that thing everyone's talking about
25 March 2020, Technews Publishing , News
Call me a pessimist, but I'm absolutely, 100% certain that I'm going to catch COVID-19 (or the 'novel coronavirus' if you prefer to call it that) – if I haven't done so already. At least the mortality 
...
Read more...
---
Electronics news digest
25 March 2020 , News
Overseas
Business
• ams reported record revenues and results for full year 2019, with revenues up 32% year-on-year, and fourth quarter revenues exceeding expectations with strong adjusted operating 
...
Read more...
---
XinaBox – Reaching for the stars
25 March 2020, RS Components (SA) , News
From collecting data in sub-zero Antarctica to rapid circuit prototyping on the International Space Station this South African company is reinventing the way we approach IoT while inspiring students to follow STEM careers.
Read more...
---
Electrocomp launches new website
25 March 2020, Electrocomp , News
Electrocomp is inviting visitors to explore its new website, which has been designed to offer a user-friendly experience with improved navigation and functionality while allowing customers to see their 
...
Read more...
---
Looking beyond radar, the car's virtual eye
25 March 2020, Altron Arrow , News
Faster, higher-resolution radar sensors have enabled the next generation of driver assistance technologies through improvements in vehicle safety and comfort in view.
Read more...
---
Disposing of e-waste in space
26 February 2020 , News
According to BBC, there are over half a million pieces of debris floating around the Earth's orbit. Most debris within the atmosphere are lost parts from space crafts, disused rocket stages or waste from 
...
Read more...
---
IPC revises five standards
26 February 2020 , News
IPC announced the release of five newly revised standards covering several areas of the supply chain:      
· IPC/WHMA-A-620D, Requirements and Acceptance for Cable and Wire Harness Assemblies. · IPC-2223E, 
...
Read more...
---
Testerion to represent ITW EAE in SA
26 February 2020, Testerion , News
ITW EAE announced a new extended partnership agreement with Testerion South Africa to represent and distribute all ITW EAE equipment including MPM printers, Camalot dispensers, Electrovert soldering systems, 
...
Read more...
---
From the editor's desk: Interesting people, politicians, and viruses
26 February 2020, Technews Publishing , News
In this edition, in the first of a new regular highlight in Dataweek, we go behind the scenes with Peet Smit, the founder and owner of Centurion Micro Electronics, a well-known specialist embedded and 
...
Read more...
---
Electronics news digest
26 February 2020 , News
Overseas
Business
• Maxim Integrated Products reported net revenue of $551 million for its second quarter of fiscal 2020 ended 28 December 2019, a 3% increase from the $533 million revenue recorded 
...
Read more...
---