printer friendly version
World's first commercial optical processor revealed
19 November 2003
News
Optical digital signal processing specialist, Lenslet, based in Israel, has announced the world's first commercial optical digital signal processor. Specified to run at a speed of 8 Tera (8000 Giga) operations per second – one thousand times faster than any known DSP – the company expects this innovative product will enable revolutionary, new applications in the fields of defense, homeland security, multimedia and communications.
The three order of magnitude acceleration delivered by the company's new EnLight platform opens the door to previously unfeasible defence capabilities. Lenslet's optical processor was developed over the past three years and offers a combined solution of optics and silicon in the format of a standard electronic board card with standard interfaces and development tools as generally accepted in the industry.
The world's first commercial reconfigurable optically-based digital signal processing engine (ODSPE), it performs vector-matrix multiplication (VMM) in a single machine cycle. According to the company, the native VMM operation enables the implementation of DSP algorithms simply and efficiently, at the highest level, using the natural representation of vectors and matrices. Component programming changes can be made at the application level or at the task level (within an application), or for values within a given task. This flexibility allows the ODSPE to meet current and future computational requirements, reduces the component count for new solutions, and significantly cuts product life-cycle cost.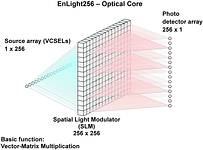 Diagram of the Enlight256 optical core
The optical core is composed of an input array of 256 vertical cavity surface emitting lasers (VCSEL), a spatial light modulator (SLM) composed of 256 by 256 matrix elements, and a photo detector array (PDA) of 256 detectors. As the light transmitted by a VCSEL passes through an SLM element, its intensity is attenuated by the transmissivity level of that SLM element, an effect equivalent to multiplication. Each one of the VCSELs shines on one column in the SLM, and each one of the detectors collects the energy from one row in the SLM yielding a vector-matrix multiplication operation. The 64K elements in the matrix are multiplied by the 256 elements in the input vector generating an output vector of 256 one-byte wide elements. This is the key to the massive data parallelism of the ODSPE.
For more information see www.lenslet.com
Further reading:
From the editor's desk: Yes, it's that thing everyone's talking about
25 March 2020, Technews Publishing , News
Call me a pessimist, but I'm absolutely, 100% certain that I'm going to catch COVID-19 (or the 'novel coronavirus' if you prefer to call it that) – if I haven't done so already. At least the mortality 
...
Read more...
---
Electronics news digest
25 March 2020 , News
Overseas
Business
• ams reported record revenues and results for full year 2019, with revenues up 32% year-on-year, and fourth quarter revenues exceeding expectations with strong adjusted operating 
...
Read more...
---
XinaBox – Reaching for the stars
25 March 2020, RS Components (SA) , News
From collecting data in sub-zero Antarctica to rapid circuit prototyping on the International Space Station this South African company is reinventing the way we approach IoT while inspiring students to follow STEM careers.
Read more...
---
Electrocomp launches new website
25 March 2020, Electrocomp , News
Electrocomp is inviting visitors to explore its new website, which has been designed to offer a user-friendly experience with improved navigation and functionality while allowing customers to see their 
...
Read more...
---
Looking beyond radar, the car's virtual eye
25 March 2020, Altron Arrow , News
Faster, higher-resolution radar sensors have enabled the next generation of driver assistance technologies through improvements in vehicle safety and comfort in view.
Read more...
---
Disposing of e-waste in space
26 February 2020 , News
According to BBC, there are over half a million pieces of debris floating around the Earth's orbit. Most debris within the atmosphere are lost parts from space crafts, disused rocket stages or waste from 
...
Read more...
---
IPC revises five standards
26 February 2020 , News
IPC announced the release of five newly revised standards covering several areas of the supply chain:      
· IPC/WHMA-A-620D, Requirements and Acceptance for Cable and Wire Harness Assemblies. · IPC-2223E, 
...
Read more...
---
Testerion to represent ITW EAE in SA
26 February 2020, Testerion , News
ITW EAE announced a new extended partnership agreement with Testerion South Africa to represent and distribute all ITW EAE equipment including MPM printers, Camalot dispensers, Electrovert soldering systems, 
...
Read more...
---
Würth helps produce PCBs for ventilators
25 March 2020, Würth Elektronik eiSos , News
The worldwide spread of the coronavirus is not only increasing the demand for personal protective equipment, but also for medical ventilators. In order to ensure the supply in Germany, the German government 
...
Read more...
---
u-blox acquires Thingstream
25 March 2020 , News
u-blox has acquired IoT communication-as-a-service provider, Thingstream. Thingstream provides a comprehensive, end-to-end solution for global IoT connectivity using the industry standard MQTT protocol. 
...
Read more...
---