Spescom MeasureGraph has signed a distributorship agreement with Eurosmc, a Spanish company that specialises in the design, development and manufacture of test equipment for electrical testing, mainly in the protection relay field, as well as test equipment related to the commissioning and maintenance of substations and power plants.
The PTE (portable test equipment) range is designed to test protection relays from the simple over current relay to the complex distance relays. The various models in this range cover all applications, whether used individually or interconnected via the PTE-Bus. The range of equipment allows for both current and voltage relay testing, as well as single- and/or three-phase relay testing, depending on the application.
Currently in use by power companies worldwide, the Eurosmc product range is now available locally through Spescom MeasureGraph.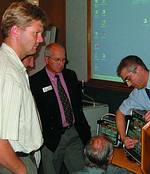 Javier Palomino of Eurosmc demonstrates the PTE range to potential customers
Announcing the deal, Eurosmc's sales and application engineer, Javier Palomino, said, "I am confident that this equipment will find a good niche in the South African power market. Spescom MeasureGraph is the ideal partner for us in South Africa as it not only knows this market well, but has well-trained staff who are able to properly understand the equipment's applications.
For more information contact Van Zyl Koegelenberg, Spescom MeasureGraph, 011 266 1572, vanzylk@spescom.com