printer friendly version
PC/104 module helps machine walk
19 May 2004
News
The Society of Automotive Engineers sponsored the Walking Machine Challenge ( http://engineering.union.edu/WalkingMachine) in New York in April. The Challenge provided contestants from the PERIUS Team, from Sherbrook University in Quebec, the chance to gain hands-on design experience. They built a robot with independent legs that walks, climbs and manoeuvres around objects with a self-contained power source. Contemporary Controls donated components for the robot.
PERIUS team president, Alexis Lussier Desbiens, said his team was grateful to companies for donating components to construct PRP6, its six-legged, pneumatic robot. Contemporary Controls provided one of its PC/104 modules for the CPU, which is the brain of the robot. The robot was designed to be able to walk in a straight line at 1 m/s and climb different obstacles (up to 15 cm) without any problem.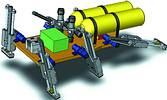 An engineering drawing of the PERIUS Team's PRP6 walking robot
Desbiens explains that the PC/104 module communicates to each of the I/O nodes on each of the robot's legs.
"What is interesting," says Desbiens, "is that the robot's movement was inspired by the movement of a cockroach. We were able to tune the mechanical system so that the robot does not require any sensory feedback to move at this speed. Feedback is used to monitor the system ... or control the global behaviour of the robot, not the legs, and still without any sensors!"
Credit(s)
Further reading:
Obituary: Steven James Meyer
January 1957 - January 2022
Technews Publishing News
It is with deep sadness and shock that we announce the sudden death of SA Instrumentation & Control Editor, Steven Meyer. Steven joined Technews in October 2007 in the position of Deputy Editor. His 
...
Read more...
---
ICASA doles out provisional RF spectrum
News
The Independent Communications Authority of South Africa (ICASA) has concluded its analysis of applications for provisional assignment of radio frequency spectrum under the new ICT Covid-19 National State 
...
Read more...
---
productronica's hybrid format a success despite restrictions
News
Following its tried and trusted biennial scheduling, productronica 2021 was held on the fairgrounds of Messe München on 16-19 November. Strict hygiene rules were observed in accordance with Covid-19 protocols, 
...
Read more...
---
Report evaluates market for Li-ion battery recycling
News
In the past, the lack of end-of-life batteries meant that the Li-ion (lithium-ion) recycling market had little opportunity to prosper. The transition to electric vehicles (EVs) is changing this. Recycling 
...
Read more...
---
RFID market research explores 2021 and what to expect for the future
News
Despite a 5% drop in the global RFID market in 2020 compared to 2019 due to the impact of Covid-19, the market has recovered well in 2021. According to the newly released RFID market research report from 
...
Read more...
---
SABS launches local content verification scheme
News
A new certification and grading scheme launched by the South African Bureau of Standards (SABS) intends to harmonise local content and local production for producers and manufacturers, levelling the playing 
...
Read more...
---
DesignSpark to host new activist engineering programme
RS Components (SA) News
RS Components has launched its DesignSpark #ActivistEngineering programme, further strengthening the company's commitment to engage and inspire design engineers across the globe to 'make amazing happen 
...
Read more...
---
October semiconductor sales up 24% over 2020
News
Global sales of semiconductors were $48,8 billion in October 2021, an increase of 24,0% from the October 2020 total of $39,4 billion and 1,1% more than the September 2021 total of $48,3 billion. Announced 
...
Read more...
---
CSIR Learning Factory supports skills development and innovation in 4IR
News
The CSIR has established a Learning Factory to support South African industries in acquiring the skills needed to maximise the benefits of the Fourth Industrial Revolution (4IR). The first online course 
...
Read more...
---
Samsung breakthrough demos in-memory computing using MRAM
News
A research breakthrough by Samsung Electronics has resulted in the world's first in-memory computing based on MRAM (magnetoresistive random access memory). The research demonstrates Samsung's advanced 
...
Read more...
---