printer friendly version
PC/104 module helps machine walk
19 May 2004
News
The Society of Automotive Engineers sponsored the Walking Machine Challenge ( http://engineering.union.edu/WalkingMachine) in New York in April. The Challenge provided contestants from the PERIUS Team, from Sherbrook University in Quebec, the chance to gain hands-on design experience. They built a robot with independent legs that walks, climbs and manoeuvres around objects with a self-contained power source. Contemporary Controls donated components for the robot.
PERIUS team president, Alexis Lussier Desbiens, said his team was grateful to companies for donating components to construct PRP6, its six-legged, pneumatic robot. Contemporary Controls provided one of its PC/104 modules for the CPU, which is the brain of the robot. The robot was designed to be able to walk in a straight line at 1 m/s and climb different obstacles (up to 15 cm) without any problem.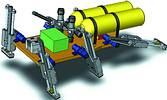 An engineering drawing of the PERIUS Team's PRP6 walking robot
Desbiens explains that the PC/104 module communicates to each of the I/O nodes on each of the robot's legs.
"What is interesting," says Desbiens, "is that the robot's movement was inspired by the movement of a cockroach. We were able to tune the mechanical system so that the robot does not require any sensory feedback to move at this speed. Feedback is used to monitor the system ... or control the global behaviour of the robot, not the legs, and still without any sensors!"
Credit(s)
Further reading:
Quectel masterclass: IoT device application development
iCorp Technologies News
Quectel has announced the latest masterclass in a series of technical webinars titled "Accelerate wireless IoT device application development with Azure RTOS on STM32 MCUs".
Read more...
---
ST announces status of common share repurchase programme
News
The repurchase programme took place over the period from 11 to 15 July 2022 and saw ST repurchasing 210 462 ordinary shares.
Read more...
---
Actum Group leads in the interconnect industry
Actum Electronics News
Actum Group is a specialist importer and distributor of industrial and electronic products in Southern Africa and a leader in the interconnect industry.
Read more...
---
From the editor's desk: Do we have the power?
Technews Publishing News
On a recent trip to Grahamstown in the Eastern Cape I was reminded, quite rudely and abruptly to be honest, of the load shedding that has plagued South Africa for the last few years. Living in KZN, we 
...
Read more...
---
Top five MPU suppliers strengthen market dominance
Editor's Choice News
The new ranking shows that long-time leader in microprocessor units, Intel, has moved downwards closer to half the total worldwide sales in microprocessors.
Read more...
---
New meta-lens revolutionises vacuum UV optics
News
A research team co-led by City University of Hong Kong have successfully developed a novel vacuum ultra-violet (VUV) meta-lens which can generate and focus the UV light.
Read more...
---
Electronics news digest
Technews Publishing Electronic News Digest News
The Semiconductor Industry Association (SIA) has announced global semiconductor industry sales were $51,8 billion in the month of May 2022, an increase of 18,0% over the May 2021 total of $43,9 billion 
...
Read more...
---
EVENTS
Events News
IFA Berlin
2-6 September Berlin, Germany This event aims to present the latest products and innovations in the commercial electronics industry. It will offer a comprehensive overview of the international 
...
Read more...
---
Going beyond with HONOR
MyKay Tronics Editor's Choice News
The tempo of business in China is lightning fast. But if you are responsive and go a step beyond, the rewards can be great. In just 15 days, Mycronic delivered 30 dispensing systems to HONOR.
Read more...
---
Global cellular IoT connections increase 22%
News
A new report says that the global number of cellular IoT subscribers increased by 22% during 2021 and that the number of cellular IoT devices will reach 4,3 billion by 2026.
Read more...
---