printer friendly version
World's first continuous laser from standard silicon a major advance
9 March 2005
News
Details of the development of the world's first continuous all-silicon laser on a chip, using standard silicon manufacturing processes, have been disclosed in the 17 Feb edition of the scientific journal, Nature. The scientific breakthrough could help bring low-cost, high-quality lasers and optical devices to mainstream use in computing, communications and medical applications.
Scientists from Intel have used the so-called Raman effect and silicon's crystalline structure, to amplify light as it passes through it. When infused with light from an external source, the experimental chip produces a continuous, high-quality laser beam. While still far from becoming a commercial product, they said that the ability to build a laser from standard silicon could lead to inexpensive optical devices that move terabytes of data inside and between computers at the speed of light - ushering in a flood of new applications for high-speed computing.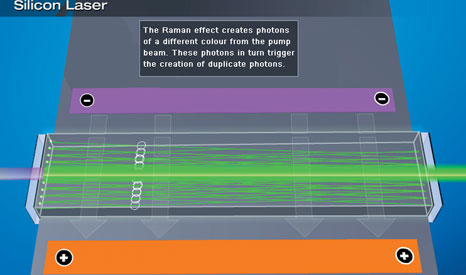 Technical details
Building a Raman laser in silicon begins with etching a waveguide - a conduit for light on a chip. Silicon is transparent to infrared light so that when light is directed into a waveguide it can be contained and channelled across a chip. Like the first laser developed in 1960, the Intel researchers used an external light source to 'pump' light into their chip. As light is pumped in, the natural atomic vibrations in silicon amplify the light as it passes through the chip. This amplification - the Raman effect - is more than 10 000 times stronger in silicon than in glass fibres. Raman lasers and amplifiers are used today in the telecom industry and rely on kilometres of fibre to amplify light. By using silicon, Intel researchers were able to achieve gain and lasing in a silicon chip just a few centimetres in size.
A laser is widely considered to be any device that emits an intense, coherent beam of light (where the photons all have the same wavelength, phase, and direction). By coating the sides of the chip with a reflective thin-film material, similar to coatings used on high-quality sunglasses, the team was able to contain and amplify the light as it bounced back and forth inside the chip. As they increased the pump energy a critical threshold point was reached, where instantaneously, a very precise beam of coherent light (ie, laser) exited the chip.
Initially, they discovered increasing the light pump power beyond a certain point no longer increased amplification and eventually even decreased it. The reason was a physical process called 'two-photon absorption', which occurs when two photons from the pump beam hit an atom at the same time and knock an electron away. These excess electrons build up over time and collect in the waveguide until they absorb so much light that amplification stops.
Intel's breakthrough solution was to integrate a semiconductor structure, technically called a PIN (P-type - Intrinsic -N-type) device into the waveguide. When a voltage is applied to the PIN, it acts as a vacuum, and removes most of the excess electrons from the light's path. The PIN device combined with the Raman effect produces a continuous laser beam.
For more information and a copy of the paper can be found at www.intel.com/technology/sp.
Further reading:
Renesas/Dialog synergy delivers winning combinations
29 September 2021, Hi-Q Electronics , News
Renesas Electronics and Dialog Semiconductor have officially joined forces, resulting in an immediate benefit to customers as Renesas announces 39 new 'Winning Combinations'. These expert designs showcase 
...
Read more...
---
Prototype chip decodes any type of data sent across a network
29 September 2021 , Editor's Choice, News
The silicon chip can decode any error-correcting code through the use of a novel algorithm known as Guessing Random Additive Noise Decoding (GRAND).
Read more...
---
Bumper sales quarter restores Samsung's lead over Intel
25 August 2021 , News
IC Insights has released its August update to the 2021 McClean Report, which includes a review of the top 25 semiconductor sales leaders for the second quarter of calendar year 2021 (2Q21). ICs and optoelectronics, 
...
Read more...
---
RFiber adds high-reliability supplier to its stable
25 August 2021, RFiber Solutions , News
RFiber Solutions has expanded its portfolio by establishing a distribution channel for X-REL Semiconductor's offering into the South African market. RFiber says it is optimistic about the solutions 
...
Read more...
---
ON Semiconductor shortens its name to onsemi
25 August 2021 , News
ON Semiconductor, a well-known name in the IC vendor landscape over many years, has changed its trading name to onsemi and says it has refreshed its brand as a next step in the company's evolution to 
...
Read more...
---
Online sensor technologies and resources content
29 September 2021 , News
Mouser Electronics is helping to empower today's design engineers with insightful content around exciting new sensor technologies enabling the latest design solutions. The global authorised distributor 
...
Read more...
---
Semiconductor market records 29% year-on-year gains
25 August 2021 , News
The Semiconductor Industry Association (SIA) announced that global semiconductor industry sales were $45,4 billion in the month of July 2021, an increase of 29% over the July 2020 total of $35,2 billion 
...
Read more...
---
From the Editor's desk: Hacking sure ain't what it used to be
29 September 2021, Technews Publishing , News
There was a time when the idea of security exploits involving the Internet of Things (IoT) amounted to little more than amusement over someone having managed to hack into their home network through a 
...
Read more...
---
Electronics News Digest
29 September 2021 , News
South Africa
The Department of Science and Innovation (DSI) hosted the signing of the first South Africa-Ethiopia memorandum of understanding (MoU) on the expansion of cooperation in science, technology 
...
Read more...
---
LoRa – Where is the network?
29 September 2021, Otto Wireless Solutions , Telecoms, Datacoms, Wireless, IoT, News
According to the LoRa Alliance's official website, there are currently 156 LoRa network operators in 171 countries across the globe, with over 208 million LoRa devices deployed. Officially, we do have 
...
Read more...
---