printer friendly version
World's first continuous laser from standard silicon a major advance
9 March 2005
News
Details of the development of the world's first continuous all-silicon laser on a chip, using standard silicon manufacturing processes, have been disclosed in the 17 Feb edition of the scientific journal, Nature. The scientific breakthrough could help bring low-cost, high-quality lasers and optical devices to mainstream use in computing, communications and medical applications.
Scientists from Intel have used the so-called Raman effect and silicon's crystalline structure, to amplify light as it passes through it. When infused with light from an external source, the experimental chip produces a continuous, high-quality laser beam. While still far from becoming a commercial product, they said that the ability to build a laser from standard silicon could lead to inexpensive optical devices that move terabytes of data inside and between computers at the speed of light - ushering in a flood of new applications for high-speed computing.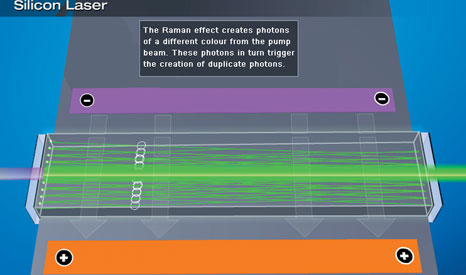 Technical details
Building a Raman laser in silicon begins with etching a waveguide - a conduit for light on a chip. Silicon is transparent to infrared light so that when light is directed into a waveguide it can be contained and channelled across a chip. Like the first laser developed in 1960, the Intel researchers used an external light source to 'pump' light into their chip. As light is pumped in, the natural atomic vibrations in silicon amplify the light as it passes through the chip. This amplification - the Raman effect - is more than 10 000 times stronger in silicon than in glass fibres. Raman lasers and amplifiers are used today in the telecom industry and rely on kilometres of fibre to amplify light. By using silicon, Intel researchers were able to achieve gain and lasing in a silicon chip just a few centimetres in size.
A laser is widely considered to be any device that emits an intense, coherent beam of light (where the photons all have the same wavelength, phase, and direction). By coating the sides of the chip with a reflective thin-film material, similar to coatings used on high-quality sunglasses, the team was able to contain and amplify the light as it bounced back and forth inside the chip. As they increased the pump energy a critical threshold point was reached, where instantaneously, a very precise beam of coherent light (ie, laser) exited the chip.
Initially, they discovered increasing the light pump power beyond a certain point no longer increased amplification and eventually even decreased it. The reason was a physical process called 'two-photon absorption', which occurs when two photons from the pump beam hit an atom at the same time and knock an electron away. These excess electrons build up over time and collect in the waveguide until they absorb so much light that amplification stops.
Intel's breakthrough solution was to integrate a semiconductor structure, technically called a PIN (P-type - Intrinsic -N-type) device into the waveguide. When a voltage is applied to the PIN, it acts as a vacuum, and removes most of the excess electrons from the light's path. The PIN device combined with the Raman effect produces a continuous laser beam.
For more information and a copy of the paper can be found at www.intel.com/technology/sp.
Further reading:
Locked down but not knocked out
25 March 2020, ExecuKit , News
As a business, we are facing extremely hard times with the current worldwide pandemic and isolation. We are all maintaining social distancing and must learn how to do business with an enforced lockdown 
...
Read more...
---
From the editor's desk: A new era – after mourning comes rebuilding
29 April 2020, Technews Publishing , News
When I sit down to write these columns once a month, even if the topic I decide to write about is not all sunshine and roses, I always try and look for a silver lining. I'm simply not able to do that 
...
Read more...
---
Personality profile: Chris Viveiros
29 April 2020, Otto Wireless , News
The operations director of Otto Wireless Solutions shares his background, experience, advice and thoughts on the future.
Read more...
---
Locked down but not knocked out
29 April 2020, ExecuKit , News
We as a company salute the component suppliers who have supported us and are there to assist during this time even if the requests we pose are not always realistic.
Read more...
---
Electronics industry tackling the coronavirus
29 April 2020 , News
2020 has been a crazy year already. From Australian bushfires to climate emergencies to US trade tariffs, the start of the decade hasn't been very positive. Not only this, within the last few months there 
...
Read more...
---
SqwidNet becomes first Sigfox-accredited lab in southern hemisphere
29 April 2020, iSERT , News
iSERT (Safety, EMC, RF, Testing), a leader in the provision of turnkey testing solutions for EMC, RF and safety testing, has collaborated with SqwidNet, the only licenced Sigfox operator in South Africa, 
...
Read more...
---
Clearing the Static: ESD cleaning and hygiene products
29 April 2020, Altico Static Control Solutions , News
In light of the current COVID-19 pandemic, Actum Group would like to remind electronics manufacturers of our range of antistatic cleaning agents, cleanroom materials and PPE.      
Cleanroom garments and 
...
Read more...
---
Jemstech continuing its growth path
29 April 2020, Jemstech , News
Since its inception in 2005 and especially during the past five years, Jemstech has grown from a medium-sized electronic manufacturing services (EMS) provider into one of the major players for electronics 
...
Read more...
---
Company profile: Phoenix Contact
29 April 2020, Phoenix Contact , News
Phoenix Contact was founded in 1923 in Essen, Germany, by Hugo Knümann. It entered the South African market in 1969 through a local distributor, and was later established as a wholly owned subsidiary 
...
Read more...
---
In memoriam: Vivienne Caroline Dorrington - 19 June 1958 – 21 April 2020
29 April 2020, Technews Publishing , News
It is with great sadness that we announce the death of our CEO, Vivienne Dorrington, after a long and brave battle with cancer. Like her father, Ray Beaumont, who founded Technews Publishing in 1985, 
...
Read more...
---