printer friendly version
SA telecommunications - a storm in a teacup?
18 May 2005
News
This year is marked by a number of significant changes and developments on the telecommunications front. Already, the deregulation of VoIP (voice over IP) has enjoyed enormous media coverage and market movement; however, the proposed Convergence Bill and movements around the SNO (second network operator) are also set to cause a few headlines, albeit some more controversial.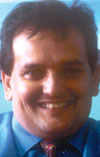 Desmond Seeley
The Convergence Bill, which is now open for comments, challenges a lot of industry thinking and is proposing changes that we believe are not necessarily good for the growth of the telecommunications marketplace.
Our concern is that with the proposed licence structure the industry will become even more regulated, requiring licensing on the applications, services and telecommunications layers, and we will end up further empowering monopolies. As a value added networking company (VAN), we have proposed that the application layer should not be regulated. By creating a free market one opens up the avenue of choice for consumers.
Looking at the SNO, the reality is that we are not even out of the starting blocks yet with issues around stake holding delaying the entire process. But if and when we finally have a SNO it will in all likelihood target corporate clients and not consumers. So it will ultimately be the larger corporates that will benefit from more competitive pricing and not your everyday user.
On a more positive note, in the wake of the SNO all players can now finally start negotiating with Telkom as there is a more competitive marketplace out there. If anything, the SNO will liberate the telecommunications marketplace, giving us some bargaining power.
The flip side is that Telkom is increasingly acknowledging the importance of their partners, the company has become more forthcoming and is definitely mobilising around offering even more competitive options.
The deregulation of VoIP is in all honestly a storm in the proverbial teacup. It is running on the same hype cycle as WAP, CRM and ERP. The reality is that despite the fact that we can now utilise VoIP beyond the hop-on, hop-off scenario, South African bandwidth is still very costly.
The so-called 'last mile' and interconnecting also remain key challenges, while the verdict is still out on how rigorous VoIP technology is. The reality is that we still have a long way to go to fully reap the benefits of VoIP, and some large organisations will in all likelihood never opt for it.
The market needs to look at VoIP realistically, acknowledging its challenges such as bandwidth costing and approach it in a sober and practical manner.
Further reading:
Arrow Electronics opens new primary distribution centre
Altron Arrow News
Arrow Electronics, represented in South Africa by Altron Arrow, announced that it has opened a new, state-of-the-art primary distribution centre in Venlo, the Netherlands.
Read more...
---
Quectel masterclass: iSIM implementation
iCorp Technologies News
Online Teaser: The latest masterclass webinar offered by Quectel covers the technology and capability of the iSIM and its use in the development of scalable high-volume IoT applications.
Read more...
---
From the editor's desk: 42
Technews Publishing News
To most people, 42 is simply a number. To some, they may think about the fact that it is an even number, or maybe the product of six and seven, or that this is the length of a standard marathon in kilometres. 
...
Read more...
---
Vicor releases technology predictions for 2022
Editor's Choice News
Predictions for 2022 in automotive, hyperscale computing and aerospace and defence will see innovation adapt to support electrification and drive growth.
Read more...
---
Altron Arrow FAE earns top award
Altron Arrow News
STMicroelectronics awards top trophy to Altron Arrow's field application engineer for outstanding achievement in the certification course.
Read more...
---
Septentrio and CompoTEK announce collaboration
News
CompoTEK will distribute Septentrio's mosaic multi-frequency GPS/GNSS modules which deliver high-accuracy positioning in a small form factor.
Read more...
---
KITE 2022 explored solutions to get industry back on track
News
The KwaZulu-Natal Industrial Technology Exhibition (KITE) provided an overview of the major industrial players across the country and showed that industry and technology are thriving despite the pandemic.
Read more...
---
Cellular IoT module shipments surge ahead
News
2021 was a breakout year for the cellular IoT module industry with annual shipments increasing by 39% and annual revenues growing by 54%.
Read more...
---
Vicor demonstrates highest power density automotive solutions
News
High-density power modules are set to reduce the automotive power system size, mass and component count by up to 70%.
Read more...
---
Simple replacement for legacy barrel jacks
Altron Arrow News
It is estimated that over 10 billion power tools are still using the old barrel jacks for their power needs, which will need to change.
Read more...
---