printer friendly version
SA telecommunications - a storm in a teacup?
18 May 2005
News
This year is marked by a number of significant changes and developments on the telecommunications front. Already, the deregulation of VoIP (voice over IP) has enjoyed enormous media coverage and market movement; however, the proposed Convergence Bill and movements around the SNO (second network operator) are also set to cause a few headlines, albeit some more controversial.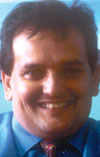 Desmond Seeley
The Convergence Bill, which is now open for comments, challenges a lot of industry thinking and is proposing changes that we believe are not necessarily good for the growth of the telecommunications marketplace.
Our concern is that with the proposed licence structure the industry will become even more regulated, requiring licensing on the applications, services and telecommunications layers, and we will end up further empowering monopolies. As a value added networking company (VAN), we have proposed that the application layer should not be regulated. By creating a free market one opens up the avenue of choice for consumers.
Looking at the SNO, the reality is that we are not even out of the starting blocks yet with issues around stake holding delaying the entire process. But if and when we finally have a SNO it will in all likelihood target corporate clients and not consumers. So it will ultimately be the larger corporates that will benefit from more competitive pricing and not your everyday user.
On a more positive note, in the wake of the SNO all players can now finally start negotiating with Telkom as there is a more competitive marketplace out there. If anything, the SNO will liberate the telecommunications marketplace, giving us some bargaining power.
The flip side is that Telkom is increasingly acknowledging the importance of their partners, the company has become more forthcoming and is definitely mobilising around offering even more competitive options.
The deregulation of VoIP is in all honestly a storm in the proverbial teacup. It is running on the same hype cycle as WAP, CRM and ERP. The reality is that despite the fact that we can now utilise VoIP beyond the hop-on, hop-off scenario, South African bandwidth is still very costly.
The so-called 'last mile' and interconnecting also remain key challenges, while the verdict is still out on how rigorous VoIP technology is. The reality is that we still have a long way to go to fully reap the benefits of VoIP, and some large organisations will in all likelihood never opt for it.
The market needs to look at VoIP realistically, acknowledging its challenges such as bandwidth costing and approach it in a sober and practical manner.
Further reading:
Obituary: Steven James Meyer
January 1957 - January 2022
Technews Publishing News
It is with deep sadness and shock that we announce the sudden death of SA Instrumentation & Control Editor, Steven Meyer. Steven joined Technews in October 2007 in the position of Deputy Editor. His 
...
Read more...
---
ICASA doles out provisional RF spectrum
News
The Independent Communications Authority of South Africa (ICASA) has concluded its analysis of applications for provisional assignment of radio frequency spectrum under the new ICT Covid-19 National State 
...
Read more...
---
productronica's hybrid format a success despite restrictions
News
Following its tried and trusted biennial scheduling, productronica 2021 was held on the fairgrounds of Messe München on 16-19 November. Strict hygiene rules were observed in accordance with Covid-19 protocols, 
...
Read more...
---
Report evaluates market for Li-ion battery recycling
News
In the past, the lack of end-of-life batteries meant that the Li-ion (lithium-ion) recycling market had little opportunity to prosper. The transition to electric vehicles (EVs) is changing this. Recycling 
...
Read more...
---
RFID market research explores 2021 and what to expect for the future
News
Despite a 5% drop in the global RFID market in 2020 compared to 2019 due to the impact of Covid-19, the market has recovered well in 2021. According to the newly released RFID market research report from 
...
Read more...
---
SABS launches local content verification scheme
News
A new certification and grading scheme launched by the South African Bureau of Standards (SABS) intends to harmonise local content and local production for producers and manufacturers, levelling the playing 
...
Read more...
---
DesignSpark to host new activist engineering programme
RS Components (SA) News
RS Components has launched its DesignSpark #ActivistEngineering programme, further strengthening the company's commitment to engage and inspire design engineers across the globe to 'make amazing happen 
...
Read more...
---
October semiconductor sales up 24% over 2020
News
Global sales of semiconductors were $48,8 billion in October 2021, an increase of 24,0% from the October 2020 total of $39,4 billion and 1,1% more than the September 2021 total of $48,3 billion. Announced 
...
Read more...
---
CSIR Learning Factory supports skills development and innovation in 4IR
News
The CSIR has established a Learning Factory to support South African industries in acquiring the skills needed to maximise the benefits of the Fourth Industrial Revolution (4IR). The first online course 
...
Read more...
---
Samsung breakthrough demos in-memory computing using MRAM
News
A research breakthrough by Samsung Electronics has resulted in the world's first in-memory computing based on MRAM (magnetoresistive random access memory). The research demonstrates Samsung's advanced 
...
Read more...
---