printer friendly version
Marantz Business Electronics and Zetech confirm partnership
2 November 2005
News
Marantz Business Electronics and Zetech have confirmed a distribution partnership that has successfully introduced Marantz' automatic optical inspection product range for the growing South African electronics market.
The companies' initial relationship has proven the South African demand for quality, and resulted in a number of Marantz automatic optical inspection systems being sold within the first year of co-operation.
Having successfully established the AOI product range in South Africa, Zetech introduced the new 22XDL standalone and in-line platforms, effective from August 2005.
Marantz, well known for its high quality audio/video products, developed its first AOI system in 1994 for its own use, to inspect PCB assemblies for correct component placement and soldering. The AOI system proved to be a cost-effective solution to replace the traditional visual human inspection, while at the same time reducing the need for expensive electrical tests.
After successful use in its own factories, Marantz started sales of its first generation system in 1996. With a steady growing installed base, the current level is well over 3000 units worldwide. The latest generation 22XDL systems combine the speed and accuracy of the CL systems, with a totally new lighting concept. A number of different lighting combinations are selectable to obtain best failure detection for each individual inspection point. The possibility to choose between different optical modes allows balancing of the system between resolution and speed.
The contract will continue to build on the success of Marantz Business Electronics' products reliability and technical expertise within a platform directly targeted at entry-level and mid-range markets, says Zetech. However, recent developments mean that Zetech is now able to present its South African customers with new products such as the 22XDL, which allows applications in high speed, high flexibility and modular SMT lines. The 22XDL, delivers high utilisation for top and bottom side applications and high-speed throughput.
Zetech presents a full line of best-in-class solutions, offering configuration choice, equipment capability and support initiatives. The company's personnel have completed extensive service and applications training program at the Marantz factory in Japan. In essence, this solution will provide South African electronics manufacturers with the distinct performance advantage associated with Marantz Business Electronics products and Zetech expertise, tailored to the specific needs of the local production environments.
The extended Zetech-Marantz Business Electronics contract looks set to build on the existing success of this highly-effective relationship for the exclusive benefit of the South African electronics market.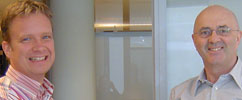 Henk Biemans, general manager of Marantz Business Electronics Europe and Zalman Orlianski, Zetech's managing director, after signing the contract at Marantz' European Headquarters
For more information contact Zalman Orlianski, Zetech, +27 (0)11 789 3230, zorlianski@zetech.co.za
Credit(s)
Further reading:
Personality profile: Jean Mearns
29 July 2020, WH Circuit , News
"No one works for me, they only work with me, for without each other our team will fail to exceed the expectations of our customers."
Read more...
---
Letter to the editor
29 July 2020 , News
I take exception to the article 'To fake or not to fake' published in the June edition of Dataweek that is clearly based on the principle 'guilty until proven innocent'. I am by no means an expert 
...
Read more...
---
Q&A with Brandon Kuhn and Steve Stafford
29 July 2020 , News
Q: What is the rationale behind the reorganisation? What impact will it have on Avnet's customers in South Africa?    A (Kuhn):
Since 2009, our shared front-end model in South Africa has differed from the 
...
Read more...
---
Avnet EMEA names two new leaders to SA operation
29 July 2020 , News
Avnet has named Steve Stafford and Brandon Kuhn as new leaders in South Africa following the completion of a reorganisation in the region.
Read more...
---
UCT chooses Tektronix instruments for training lab
29 July 2020, Comtest , News
Comtest, local partner to Tektronix, recently assisted the University of Cape Town (UCT) physics department in refurbishing its electrical training laboratory. All of the existing analog oscilloscopes 
...
Read more...
---
New electromagnetic solutions range from Accutronics
29 July 2020, Accutronics , News
Accutronics has been appointed as the reseller for the Electromagnetic Integrated Solutions (EIS) range of products from API Technologies. APITech offers a complete line of coaxial EMI solutions, 
...
Read more...
---
Fighting COVID-19 using TV white space spectrum
29 July 2020 , News
The CSIR has partnered with the Technology Innovation Agency (TIA) to enable local Internet service providers to deploy Television White Space (TVWS) networks, using the CSIR-developed Secondary Geo-Location 
...
Read more...
---
Clearing the Static: ESD wrist straps
29 July 2020, Actum Electronics , News
The human body is the primary source of electrostatic charge generation. In order to control and reduce static charge build-up and prevent electrostatic discharges (ESD), we use grounding systems to ensure 
...
Read more...
---
From the editor's desk: This too shall pass
29 July 2020, Technews Publishing , News
Things were tough enough for the South African electronics manufacturing industry before, but this year has thrown up unprecedented challenges that nobody could have foreseen and which are outside of 
...
Read more...
---
Electronics news digest
29 July 2020 , News
South Africa
• As part of the national data-driven approach to countering COVID-19, the CSIR has developed a platform that monitors human mobility to better understand movement patterns across specific 
...
Read more...
---