printer friendly version
Laser-based projector for mobile use is size of a matchbox
8 March 2006
News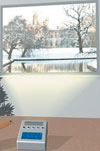 Cambridge-based Light Blue Optics has developed unique laser-based projection technology, which uses computational algorithms and novel optical techniques to allow miniature lasers to display video images in realtime using the diffractive nature of laser light.
The company developed the innovative PVPro technology for miniature projectors, which can be used to display images from a range of mobile devices, including laptop computers, personal media players, digital cameras and even mobile phones. This overcomes the size limitation of conventional projection techniques, allowing projectors to be significantly smaller than was previously possible.
Light Blue Optics (www.lightblueoptics.com) is now offering a matchbox-sized demonstrator unit, which is only 62cc in volume. The latest monochrome 'micro-mini' version represents the third generation of the PVPro algorithms and optomechanical design.
The advantage of the Light Blue Optics approach is to address the four key requirements for a small battery-powered device. These are compact size, low power consumption, which allows the projector to be battery-powered, ease of use due to the focus-free operation of the system, and robustness both physically and in terms of error-tolerance.
The evaluation kit includes a demonstration projector unit, appropriate PC software, technical documentation and support.
Further reading:
From the editor's desk: Are electromagnetic waves culpable in making us sick?
30 June 2020, Technews Publishing , News
When I started writing my column for this issue, I was determined to come up with a topic and a way to avoid mentioning the 'C' word. I came close – you will only find 'COVID-19' mentioned once or twice 
...
Read more...
---
To fake or not to fake
30 June 2020 , News
Prof. Johan Meyer explores the complex and controversial topic of the potential link between the global rollout of 5G networks and the COVID-19 pandemic.
Read more...
---
Clearing the Static: Curb the spread of COVID-19 with stringent floor hygiene
30 June 2020, Actum Electronics , News
According to the World Health Organisation (WHO), COVID-19 is primarily transmitted from person to person through respiratory droplets that emerge from the nose and mouth when an infected person speaks, 
...
Read more...
---
Personality profile: Warren Mande
30 June 2020, Altron Arrow , News
"It is said that "culture eats strategy for breakfast". Look to join companies whose culture fits your personal belief system."
Read more...
---
Not the end, but a journey
30 June 2020, ExecuKit , News
ExecuKit's Renita Fleischer and Elizna Classen offer local companies a route to help them navigate their way through what has become the 'new normal.'
Read more...
---
Elmatica CEO to vice chair IPC cybersecurity task group
30 June 2020, Elmatica , News
Didrik Bech, CEO of printed circuit broker Elmatica, has been appointed to serve as vice chair for IPC's new cybersecurity task group. The 2-12c Task Group leadership is a representation of IPC as an 
...
Read more...
---
From the editor's desk: Making and sending things to space
29 May 2020, Technews Publishing , News
In this issue, one of the topics we are featuring is the aerospace and military/defence sector. The feature includes an analysis of what it takes to successfully design and manufacture products in this 
...
Read more...
---
Electronics news digest
29 May 2020, Technews Publishing , News
South Africa
• Acting minister of communications and digital technologies, Jackson Mthembu, joined the world in observing World Telecommunication and Information Society Day (WTISD). Proclaimed by the 
...
Read more...
---
Personality profile: David Power
29 May 2020, Cadshop , News
"Aspire to work for a company that you admire, and for a boss that you want to serve, that shares your passion and motivation."
Read more...
---
Designing for military and defence applications
29 May 2020, Omnigo, Kreon Technology , News
No business can stand on its own without strong partnerships and stakeholder relationships. In this regard the military and defence industry is no exception.
Read more...
---